**Today on the blog we're featuring Kimberly Hopf, Interior Design Manager and Lyndsay Johnson, Interior Designer to hear their perspective on the process and design details that went into The Generous Home. Let's dive in!
Hello! My name is Kimberly, and I am the Interior Design Manager at Veridian Homes. It's hard to believe that we have completed construction on The Generous Home! Time seems to have flown by, when in reality we've been dreaming this up for over ten months. Today I'd like to take a little time to reflect back on the process of The Generous Home. You'll also hear from Lyndsay, an Interior Designer with Veridian as she gives you a glimpse of the project through the designer's eye and highlights some of the "finishing touches."
Let's start with the floor-plan of The Generous Home, The Olive. To give you a little background, this new floor-plan was created by a cross-functional team referred to as our Architectural Design Team (ADT). This team consists of our on-staff architect, along with a group of people that have years of experience in the areas of construction, real estate, land development, drafting and estimating and design. The ADT team worked to pull together floor plan options and exterior design features and that's where the start of The Olive floor-plan began. Creating a new floor-plan is not overnight process, and the number of hours that are poured into the vetting of a plan, drafting (and re-drafting), and all the details is extraordinary.

Simultaneously, during the home plan development process, the Veridian Design Team worked to gain a better understanding of the overall aesthetic of the home. The Veridian Design Team is comprised of myself and four talented interior designers; Laura, Bree, Lyndsay and Michaela. Since design concepts are one of those things that tend to evolve throughout a project, we always start with gathering inspiration photos, each of us individually and then compile them to help us determine an overall direction. The images below show how we gathered inspiration for two of the upstairs bedrooms.
Establishing a design concept early on in the planning process allows us to be mindful of a consistent asethtic throughout the home. For The Generous Home, we landed on "moody-modern-traditional" theme giving this home a dramatic statement. The Olive floorplan features a two-story foyer and great room, so we wanted to create a space that showcased the drama and visual interest of the home, while also making sure it felt comfortable and cozy.
You'll see in our inspiration photos below (and in the finished home) that we used a lot of black and dark tones on interior walls and ceilings, as well as cabinets, wainscoting, plumbing fixtures and even the black metal spindles that wrap up the open stairway. Black, as a design color, can often be intimidating for many people, but it can also bring warmth and coziness into a space. Black can also help create a moody vibe without being overly contemporary. We also brought in traditional design elements as seen in the new cabinet stain color (honey) – a modern update to a basic honey-oak stain. The beautiful LVP flooring used throughout the first and second floor also mimics that same color tone, and the two-story natural stone fireplace ties the interior to the exterior.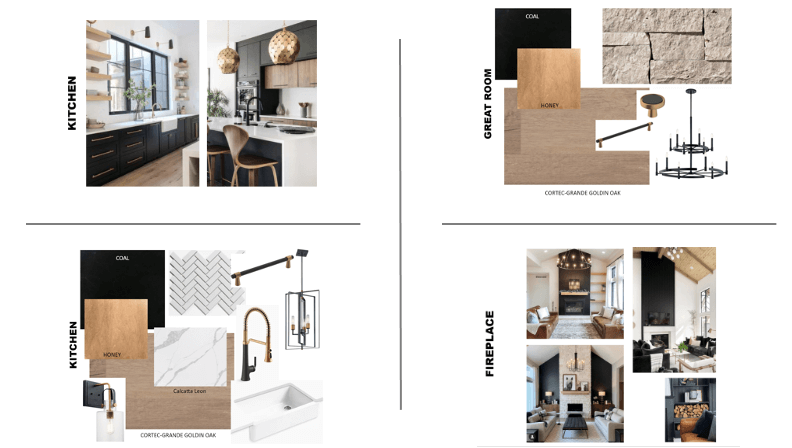 Now I'll turn it over to Lyndsay so she can shed some light on how we carry the same aesthetic throughout the home, but at the same time give each room its own unique identity.
Hello! I'm Lyndsay, Interior Designer, at Veridian Homes. I'm excited to share with you all some of the home details and elaborate a little on our staging process.
Let's start on the first floor. We wanted the office space (flex room) to have a very dramatic feel, so we brought in the same black painted cabinetry as the kitchen, painted the interior walls to match the cabinetry, and added crown molding on the ceiling to give it that extra level of drama. Upstairs off of Bedroom Two, you will find the en-suite bath light and airy with a mixture of greys and whites, but this room also stands out with its glam gold fixtures and hardware. We even carried the black finish from the first floor to the main bath upstairs but introduced a playful hexagon pattern shape in the flooring.
Although the flooring, cabinetry and countertops in these rooms are prominent on their own, additional finishing touches complete the space and pull the whole look together. We find it helpful to play around with visual boards (shown below) and a lot of time is spent looking at light fixtures, faucets, cabinet hardware and paint colors, to allow us to give each space a distinctive feel.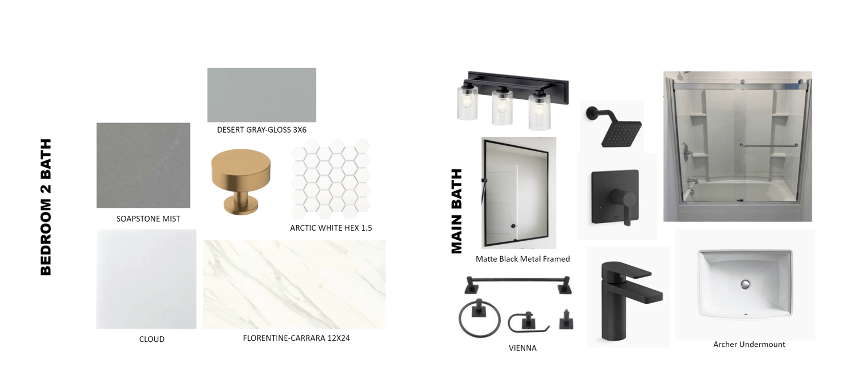 Once all the design elements come together, it's time for us to bring our vision to life as we enter the staging phase. This can happen a lot of different ways. Sometimes we are moved by individual pieces that we want to design around, like a beautiful sofa or dramatic bedroom set. Other times, we may see a photo that gives us inspiration for an organized pantry, a space-themed bedroom, or a kid's study area. From there we make it our own. Items like rugs, wall art, bedding and window treatments can potentially add feelings to a room that wouldn't be there otherwise. And for us, the small details count just as much as the larger ones, so we look high and low for the exact tray, pillow, or lamp that gives a room the perfect finishing touch.
In the end, what makes all of this design magic possible is the collaboration and teamwork that is essential to everything we do. Working with each other and off of each other's individual ideas has proven to be successful (for us) in creating an outstanding design.
We are so excited to present to you, The Generous Home 2021! We hope you are able to see if for yourself this weekend at the Madison Area Builders Association Parade of Homes and spot some of the fun design details we talk about!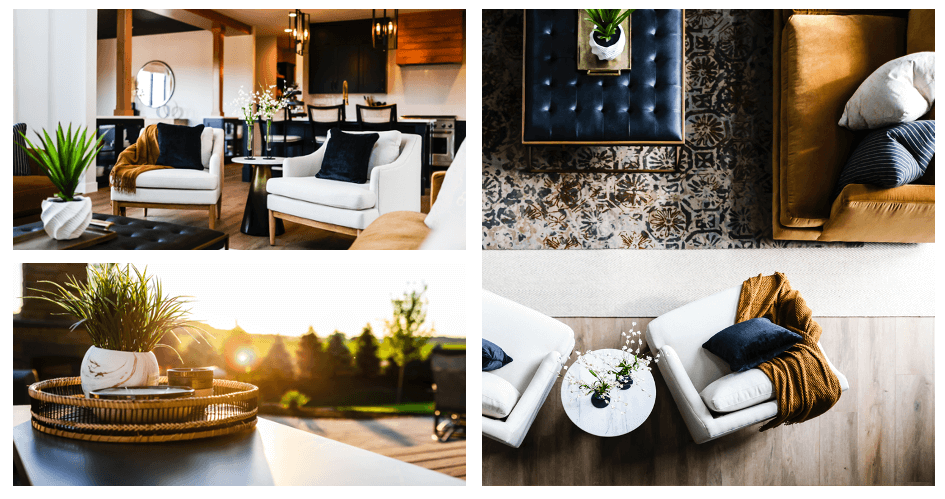 ~ Kimberly & Lyndsay