The sun is shining, the weather is warming up and the first day of spring is right around the corner. Longer days, sunshine, and blooming flowers can only mean one thing: It's time to open your windows and start that big spring clean.
Though no doubt rewarding, sometimes the idea of cleaning your house from top to bottom can feel overwhelming. The first step to overcome that overwhelming feeling is to create a plan or routine that works for you. Understanding the psychology behind your housekeeping can help you discover ways to do it better and faster. Some people are stress cleaners, others are chore procrastinators, finding out your cleaning personality can help you be more efficient and less stressed out in your cleaning.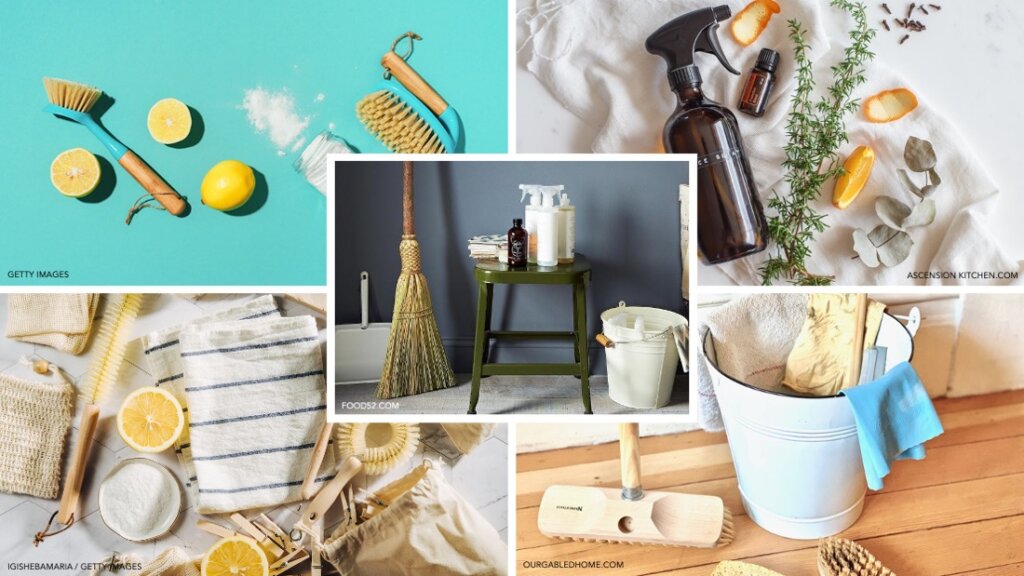 We've also put together some tips and tricks to help you master the mess once and for all…
Cleaning Products: First things first, make sure you have all the best cleaning products to remove stains, vacuum dirt, shine floors, and so on. And, whether you're trying to clean with less chemicals or just want a backup for when you run out of your usual cleanser, it's a good idea to know how to mix up your own homemade cleaning solutions using ingredients you likely already have around the house.
Cabinets: Over time, build-up can collect on your kitchen cabinets. Mix a 50/50 solution of vinegar and warm water and pour it into a spray bottle. Mist on cabinets, let sit for a minute or two and then wipe clean with a soft cloth. Add a few drops of liquid dishwashing detergent to the vinegar and water solution to clean extremely grimy cabinets
Windows: Follow these tips from the Family Handyman to wash your windows the fastest way with crystal clear, streak-free results https://www.familyhandyman.com/list/how-to-wash-windows/
Purify the Air: Freshen your home and improve air quality by just leaving the windows open for a few hours to release the stagnant air that filled your house all winter.
Flush Kitchen and Bathroom Drains: To help keep drains clog-free, pour a cup of white distilled vinegar down them once every two weeks. Allow the mixture to sit for a half-hour, then run cold water to flush it out.
Window Blinds: Window blinds come in a variety of forms, from horizontal slats and vertical blinds to mini blinds and more. They're also made from a number of different materials, each with their own unique benefits and care instructions. Check out this site for the best way to clean each type.
Clean Your Washer: Remove mineral and detergent residue from your washer by running two cups of white vinegar through a full hot water washing cycle without any clothes or detergent.
Ceiling Fans: Turn the fan off. Place a pillowcase over the fan blade, then pull it toward you to collect the dust. After dusting, use a cloth dipped in warm, soapy water to clean off each blade. Then dry.
Vacuum Your Mattress: Once all bedding is removed, vacuum the top and sides of the mattress using an upholstery attachment. If your mattress has any odor or shows signs of staining, sprinkle baking soda over the top of it and let sit for 30 minutes before vacuuming up. Finally, rotate the mattress 180 degrees.
Clean Your Fridge: Remove everything and throw out any expired goods. Wash removable items, like bins and shelves, in warm, soapy water. Then, wipe down the interior with a clean soapy cloth. Be sure to wipe down the outside as well, including handles and door seals, with soapy water or stainless steel spray.
Treat Your Shower Curtains to TLC: Remove fabric curtains and plastic curtain liners and put them in the washing machine with a towel for added scrubbing action. Add a small amount of laundry detergent and run the cycle on warm/hot. Fabric curtains can generally go in the dryer on low; for a plastic liner, simply run a dry towel over it and rehang.
Erase Wall Scuffs: You can clear most scuffs with a light mixture of soap and water. For those tougher scuffs, use a magic eraser.
To help keep that "just cleaned feeling" throughout your home, here are a couple tips to keep things tidy
Trim down what you own
Give everything a home
Place baskets and bins in high traffic locations
Use trays to visually organize countertop items
Spend a little time picking up each day
And finally, here are a couple websites to help you tackle those spring cleaning projects for a more livable space just in time for summer!
What are your favorite spring cleaning tips? Let us know in the comments below.