Today is the day!  Our first batch of freshly cooked homesites at The Woods in Cathedral Point are ready for you to devour.  If you haven't connected with a New Home Specialist yet, now is the time to do so. 
The Woods at Cathedral Point (WCP) is our newest Verona neighborhood, located just across the street from Cathedral Point.  WCP is pretty perfect for many reasons, but maybe the best is that it offers up homes of all sizes and price-points to fulfill a real need in the City of Verona.  Whether you're looking to move into your first home or if you just need an upgrade from your current home, WCP has something for you. 
WCP is located right next to the Verona Ice Age Trail entrance, our team of developers even worked to incorporate trail access points right inside of the neighborhood.  If you're an avid (or casual) hiker, this is the place to call home.  Not to mention it's located within picturesque Verona, which in and of itself is a perk! 
So, you want in?  The next step you'll need to take (besides reaching out to a New Home Specialist) is to put down an intent.  Here's a map of WCP and a refresher on how to put down an intent.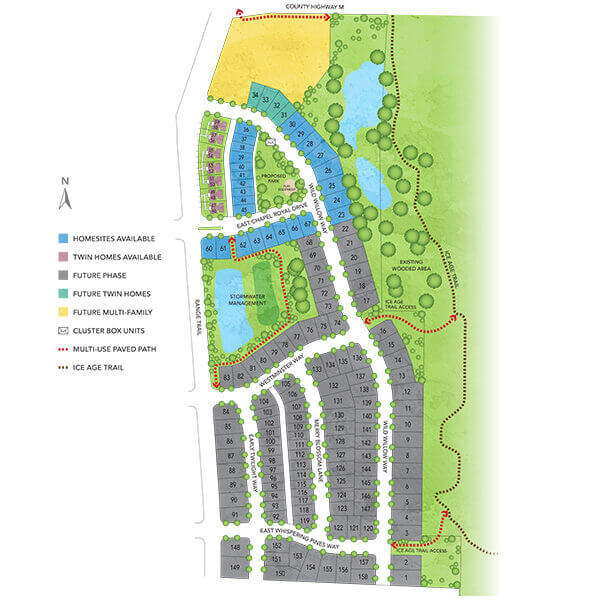 Step One: Select your homesite.
Review the neighborhood map, or plat map, and figure out which homesite would best suit your needs.  I'd suggest driving out to the property either on your own or with your New Home Specialist and map out where the homesite will be – this will give you a better sense of the space overall.  Think about what is important to you, i.e. will it fit my favorite home plan?  is it facing the direction I want it to face?  is it a corner lot?  or near a park?  Once you've found that perfect homesite, then move on to Step Two.
Step Two: Submit an intent on your homesite.
An intent is perfect because it reserves your homesite for when you're ready to build, but is also great for those non-committal types… So if you decide building might not be your thing, and you want to purchase a move-in ready home instead, you'll get your money back. One thing to remember with an intent, is that it does hold the homesite for you, but not forever… You'll have a limited amount of time to sign the build contract. If someone else really wants your homesite, they can submit an offer on it, but you will have first dibs.
i.e. If someone says, "Hey I want to build a Jackson on homesite #123", but you have an intent on homesite 123. Your New Home Specialist will let you know someone has submitted an offer. You can say (a): "I'm ready to build, let's sign my contract now" or (b): "Now's not the time for me, please cancel my intent and let's look at a different homesite".
That's it!  Want to learn more about The Woods at Cathedral Point?  Click here. Just be sure to snatch up your homesite now, these are sure to go fast.