Mother's Day is right around the corner, and while this holiday can look different for us all, it's a great excuse to pamper the special women in our lives to let them know just how much they mean to us. Whether you're shopping for your mother, mother-in-law, a new mama, an old mama, or even yourself – we've got you covered with a range of feel-good gifts below.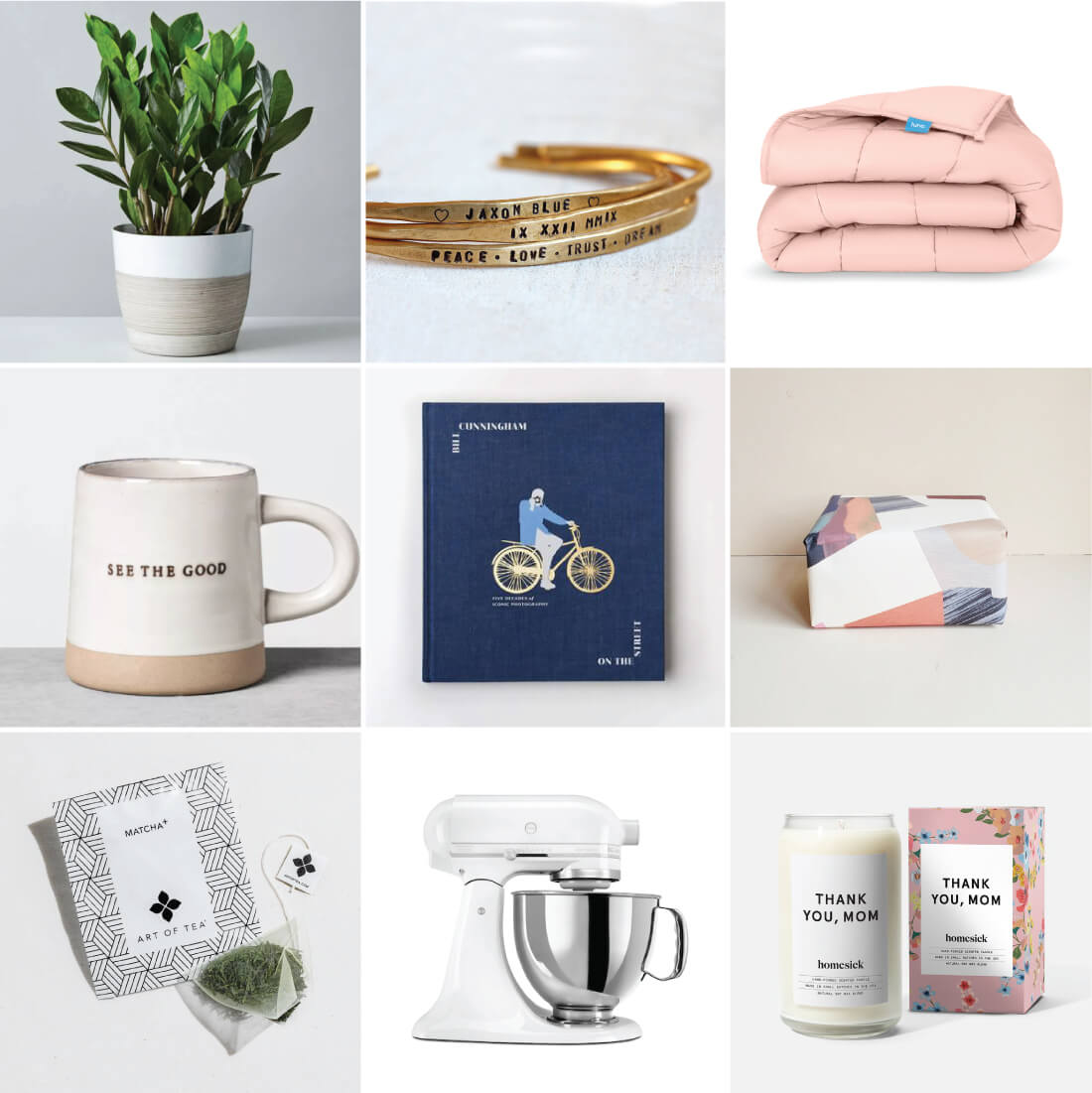 Medium ZZ Plant – This is quite literally one of the easiest plants to keep alive. According to its description, it thrives on neglect so you can breathe easy as it purifies the air around you. A win, win!
Personalized Cuff in Brass, Silver or Gold – Chelsey surprised me with this personalized cuff with my son's name on it when I returned to work from maternity leave and it's one of my most prized possessions. I wear it on days when I'm feeling all the feels and it helps ground me.
Weighted Blanket – Designed to naturally reduce stress and relieve anxiety, this is a wonderful addition to any nighttime routine.
'See the Good' Stoneware Mug – This mug is a good reminder (especially right now) to always see the good – in life, in people and in the world around us.
Bill Cunningham: On the Street – This is the perfect coffee table book for any home, featuring decades of fashion, culture and New York City street style captured by photographer Bill Cunningham.
Curated Gift Box – Stumped on what to get the special lady in your life? The gals over at Good Day Shop will curate the perfect box of unique gifts for you!
Matcha Teabag Sachets – What mama doesn't need an excuse to pause, take a deep breath and sip some soothing (yet caffeinated) tea?
Artisan Stand Mixer – This KitchenAid Artisan Mixer makes baking cookies, and other goodies a breeze!
Thank You, Mom Candle – "Fresh flowers on the kitchen table. The smell of breakfast sizzling on Sunday. A house made a home because of you."  We adore this gentle reminder of thanks to the woman who raised us. An added bonus, it smells good too!
If gift giving isn't really your thing, we recommend hosting brunch in honor of Mom as a simple way to say thanks for all of those home cooked meals and packed lunches over the years. If you're not much of a chef in the kitchen, give yourself a break and support a local restaurant by ordering take out. Add some pretty table linens and a vase or two of fresh flowers for a special touch. Voila! If you need more guidance than that, check out our post on brunching like a champ.
How are you celebrating Mother's Day this year? Let us know in the comments below!