At Veridian Homes, we are constantly striving to craft the best homes for our homeowners, which is why we've established Quality 360, an energy program we participate in to further our commitment to high-performance, quality homes. We do this by exceeding expectations and providing heating/cooling loss protection, better energy performance and overall peace of mind.  Read on to see how Quality 360 makes a substantial difference in our homes.
EXCEEDING EXPECTATIONS – Every high-performance, Veridian home is tested by a third-party company, Perfect Environmental Performance (PEP). This testing allows us to individually certify each and every home we build meets the high standards of the Veridian Homes Quality 360 program. Quality 360 requires that all homes meet the highest standards in energy-efficiency, combustion safety, comfort and durability. This means that your dream home will not only look like a dream, but it will run like one too.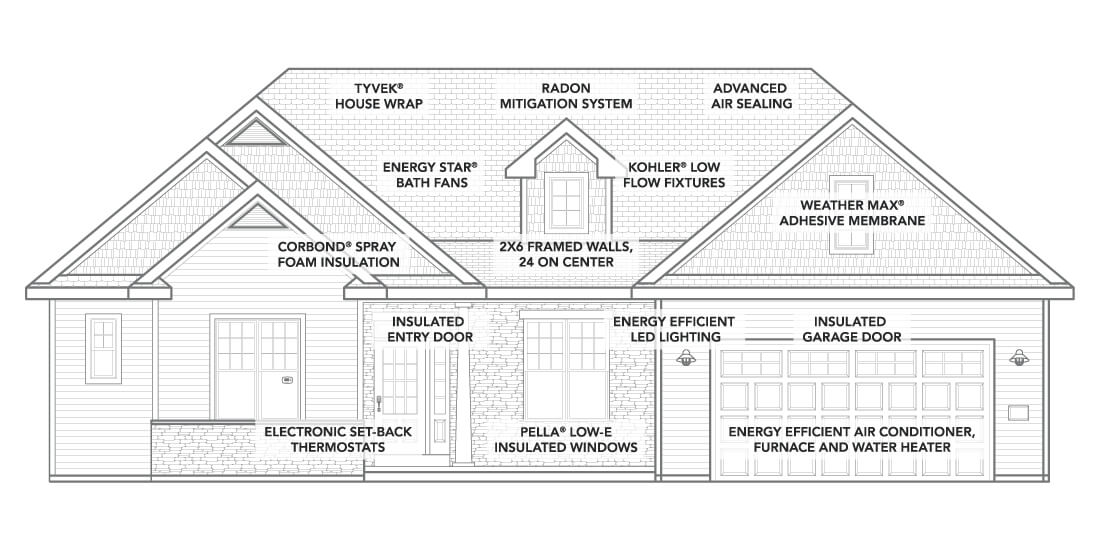 HEATING/COOLING LOSS PROTECTION
Advanced thermal systems: blown fiberglass attic insulation at the top and Corbond® spray foam insulation at the base of the home
Advanced air sealing with Weather Max® adhesive membrane and Tyvek® house wrap
Insulated windows, entry and garage doors
2×6 framed walls, 24 on center giving you more insulation in your walls
BETTER ENERGY PERFORMANCE
The Veridian Homes Quality 360 program means your new home will perform approximately 70% better than a typical used home
Energy expert certified by PEP
Energy efficient appliances installed by trained professionals
Electronic set-back thermostats, WIFI thermostats are also available
LED lighting
State-of-the-art air conditioner, furnace and water heater
PEACE OF MIND
Radon mitigation system, guaranteeing only fresh air in your home
Kohler® low flow fixtures, Energy Star® bath fans
Properly ventilated attics prevent excessive moisture and heat, allowing your home to cool itself more easily
Dedicated exhaust system means odorous gases are removed from the home through venting
To learn even more about Quality 360, take a look at the video below with our Personal Builder, Rodney Stauffacher. Enjoy!