Spring is such a wonderful time of year. Why, you ask? Well other than the obvious signs of warmer weather and brighter (longer!) days, I actually find it to be the perfect season of balance as we all emerge somewhat sleepily from a season of hibernation.
Sunnier days bring more motivation to get outside after work, but because there is still a limited number of daylight (and warmth) available, spring also gives you the permission (sans guilt) to sit on your couch and cuddle up with a good book, or the newest Netflix series. As Midwesterners, there is nothing worse than the guilt that comes with being inside on a sunny summer day, but the pressure to seize every moment isn't quite there in spring. After all, the warm weather isn't fleeting, it's just beginning!
With that said, we wanted to find a way to celebrate change within our homes while still embracing the comfort that has been this last season. So we put together three unique looks using one couch to shake things up solely with different materials, textures and color. Let's take a look!
First up, a look that's cozy yet versatile. Use the flannel throw for cold nights, or toss it to the side on warmer days for an airy, neutral feel. Mix and match patterns with a solid lumbar pillow for a unique yet sophisticated feel.

I love the way the unexpected patterns on the throw pillows above, embroidered chandeliers and vertical stripes play together.
Second in line, a look that is subdued, yet slightly nautical! I love the crisp look of these minimally patterned throw pillows paired with the neutral couch. Slouch a chunky knit throw over the back of the couch and you'll be transported ocean side while you sip your cup of coffee in the mornings.

Quick tip – solid colors paired with soft patterns bode well together with little to no effort on your end. If you feel like something is missing, throw in a darker colored lumbar pillow for added contrast.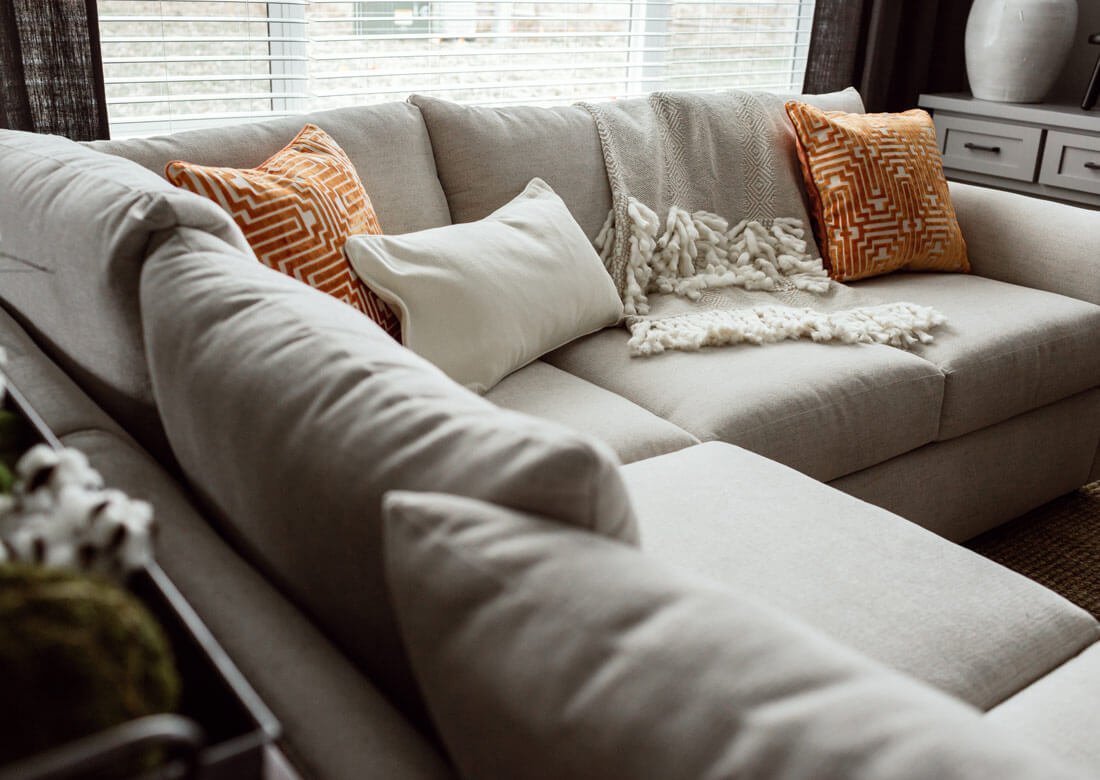 Lastly, and admittedly my favorite, a look that celebrates a mishmash of color, pattern and texture! I love that this look is functional for the occasional chill in the air, yet the spontaneous pop of color inspires a feeling of brighter, sunnier days ahead.
Are you itching to shake things up in your home? We hope this post helped you see how simple it can be! Which look above suites your style best? Let us know in the comments below!