A couple of weeks ago, I had the opportunity to visit the infamous Magnolia Market in Waco, TX and it was everything that I hoped it would be and more.  There were an abundance of food trucks, a large green common space with ornamental cabbages to boot, and of course, some really fantastic home goods shopping.  But (cue sad face) I did not meet Chip or Joanna Gaines…  I suppose that's acceptable, seeing as they were out helping children and launching their new Target collection.  But Chip and Jo, if you're reading this, and if you're ever in Wisconsin, we'd sure love to have you visit us at Veridian Homes (we'll bribe you with fried cheese curds)…  Okay, let's get to it!
This adorable little shed is located next to the Magnolia Seed and Supply shop, which sells, you guessed it, seeds and garden supplies.  Let me just say, the whole market has such a great attention to detail, nothing seemed to be overlooked.  I mean, just look at these plant beds filled with ornamental cabbage, perfect little pumpkins and gorgeous perennials.  Also, can we address the "X" detail on those doors?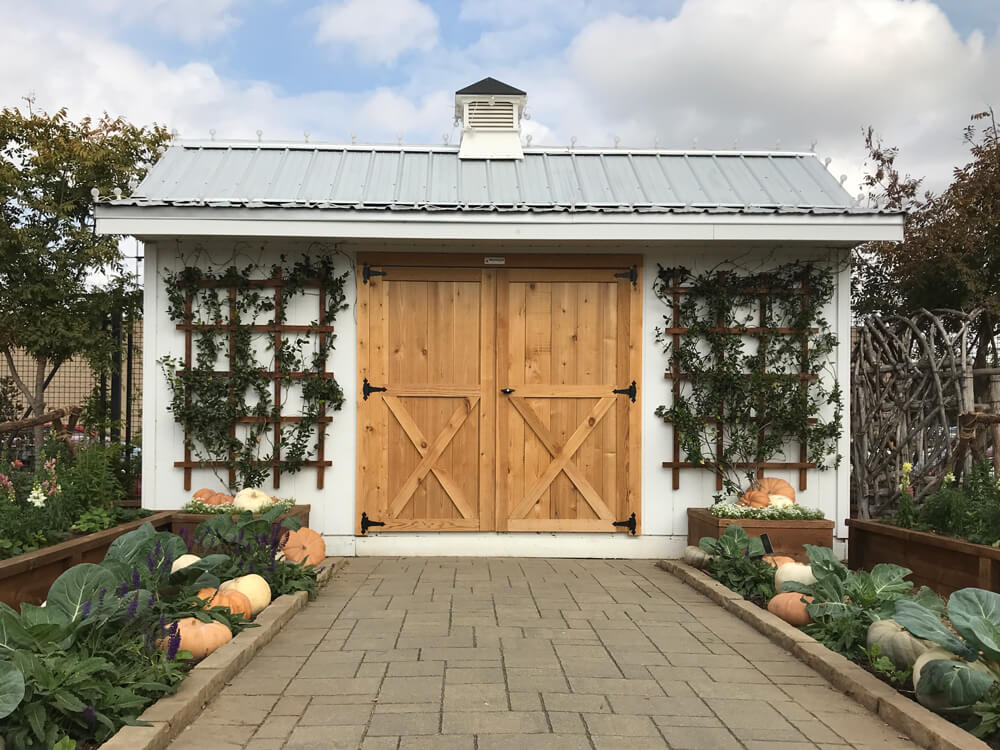 I am a subscriber to The Magnolia Journal, and I'm always drooling over the recipes that they provide.  The Silos Baking Co. did not disappoint.  I tried the Lemon Lavender cupcake and oh my goodness, it was so good.  Notice the sweet tiny fondant leaf on top?  I'm telling you, soooo much attention to detail.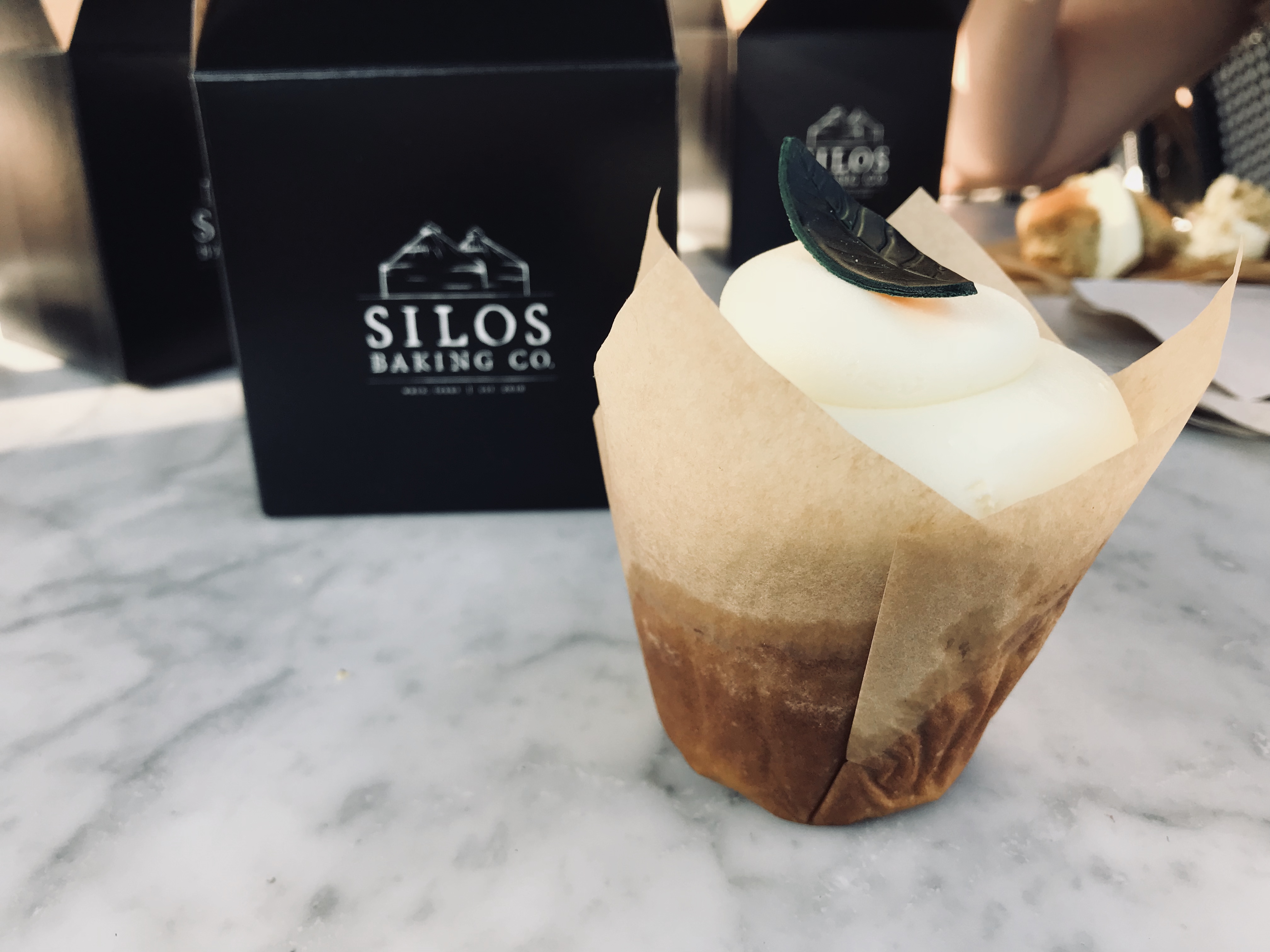 Once we filled our bellies with cupcakes, coffee and crepes, we visited the actual market.  We didn't all check empty bags for nothing.  This place was so gorgeous, I realize now that I didn't take any photos inside, probably because my hands were filled with decor goodies.  My friend, Lisa, got the quintessential Fixer Upper cotton stems, which you can see peeking out of this bag.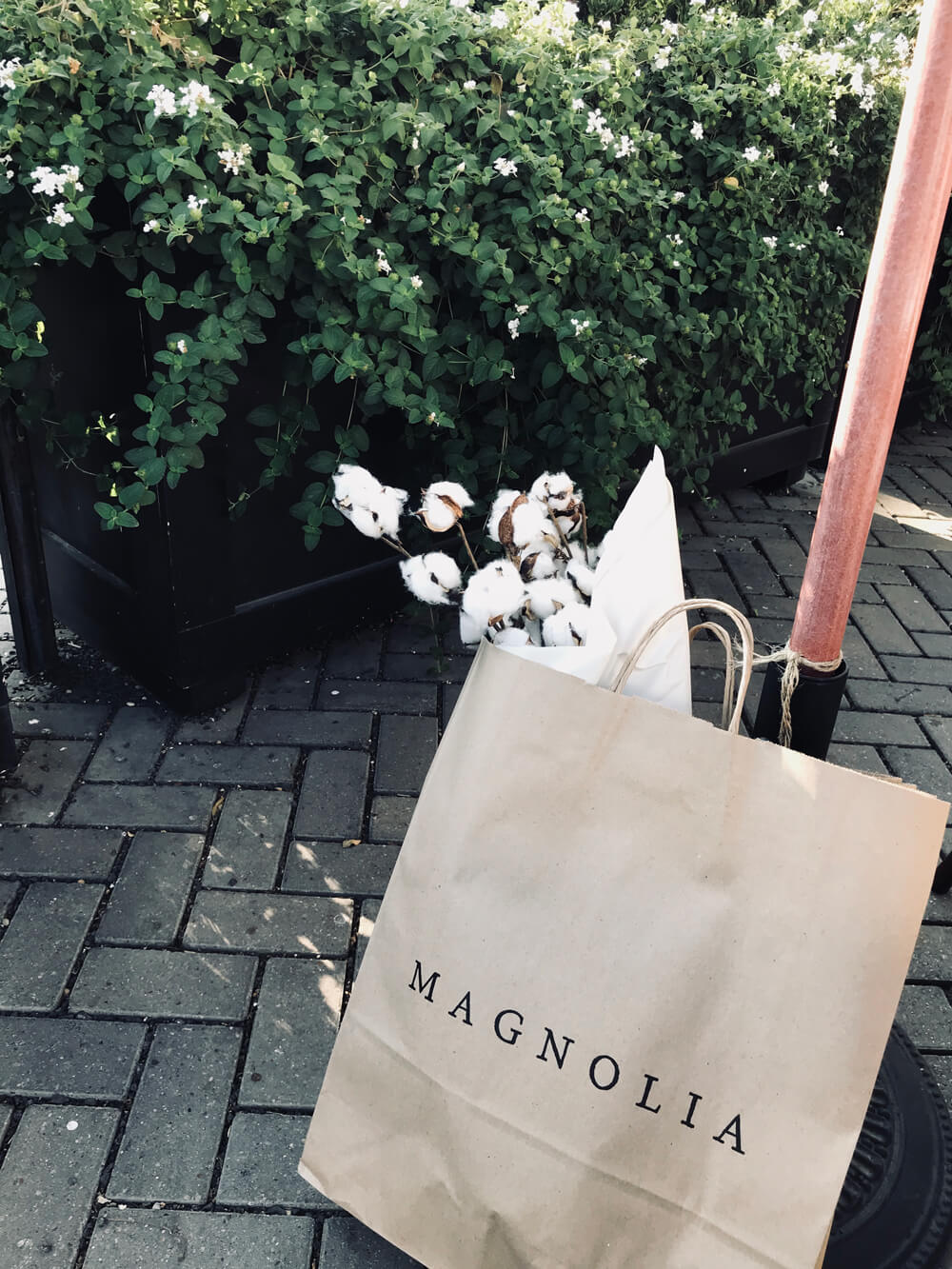 I ended up walking away with this wool tree skirt (detail shot below), a few jarred candles and some wooden recipe cards for apple and lemon pie.  Everything in the shop seemed to be of very high quality.  I envision handing this tree skirt down to my grandchildren one day (hopefully they'll want it!).  The candle that I purchased is called "Twelve Nights" and it just smells like the holidays – with notes of pine and spice, it is wonderfully fragrant, but not overpowering either, which I appreciate.  The wooden recipe cards made for great little souvenirs for friends and co-workers, a little something special that they could display in their kitchens (or actually put to use to make delicious pies).
Believe it or not, we did end up leaving the Silos for a bit, to check out the "Shotgun House", Harp Design Co. and a couple other adorable shops.  The "Shotgun House" is referenced frequently in the book, The Magnolia Story, and it is currently available for rent on Airbnb, so we thought, what the heck, let's be a little creepy and slowly drive by the place taking pictures.  Sorry.  Anyways, I digress, the Shotgun House was super cute, here she is!
Let's talk about Harp Design Co.  This place was a little smaller and a lot cleaner than I imagined, I was thinking we'd walk into a wood shop and someone would carve me a candlestick to order.  Wrong.  There were however lots of wonderful candlesticks and so many other great wood items available.  I felt that the prices were pretty reasonable too.  Let's take a moment to stare at this wonderful slatted chandelier.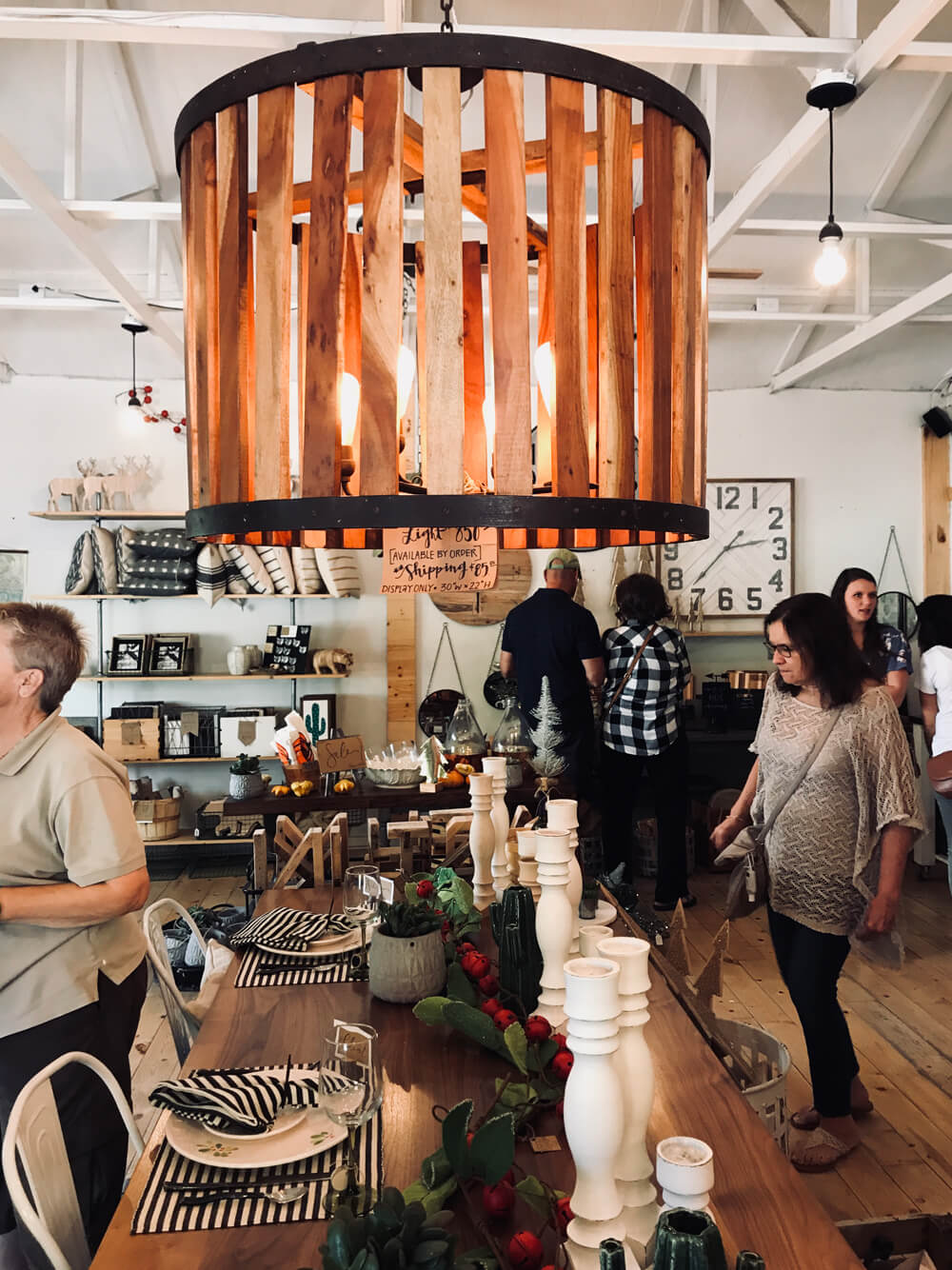 We did also visit a few other great shops, The Findery, Spice Village and Roots.  The Findery seemed like an extension of Magnolia Market with tons of great farmhouse inspired homegoods.  Spice Village reminded me of a farmhouse Forever21, a bit overwhelming, but you can find some really great pieces if you take the time to look.  Roots was a boutiquey clothing store near Spice Village, they carried very well made apparel pieces with a unique twist.
It also just so happened that the day we were flying back home, Target launched the new Hearth and Hand line by Jo and Chip.  After visiting the store, I can attest that these items (that I saw) seem to be of similar quality to the items at Magnolia Market.  The Balsam and Spice candle from Hearth and Hand reminds me of the Twelve Nights candle that I purchased at Magnolia Market – but available for about half the price.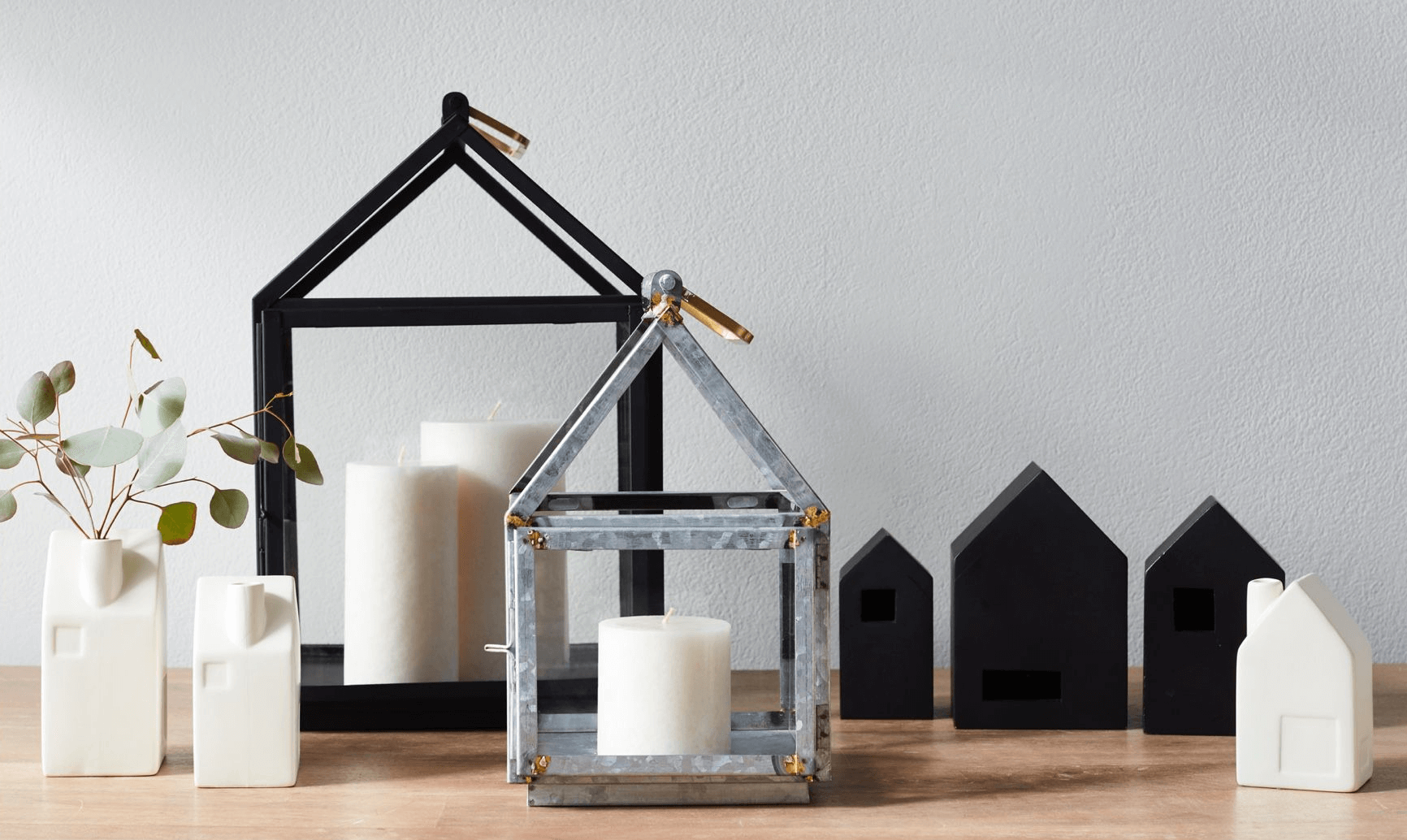 If you've got the farmhouse itch, but can't get away to Waco, I invite you to check out our newest furnished model The Carmichael in 1000 Oaks (below).  Our design team had so much fun creating this gorgeous space.  I'm certain that you'll enjoy it too.  Click here for open house hours.  Later y'all!