**We are thrilled to bring you our third guest post, by one of our amazing Interior Designers, Lyndsay Johnson!  Let's dig in to her insights on the Interior Design process that went into building our newest furnished model, opening this weekend in The Village at Autumn Lake.**
Building a Veridian furnished model is an exciting creative outlet for us on the Interior Design team—which of course is fun, but that is not the only reason we do it. It's actually a wonderful tool for so many reasons as well as a great demonstration of how our design process works.
First and foremost, as a Design team, we spend a lot of time making sure that we are offering the most up-to-date and fabulous products for our homeowner's—because we know you all are watching HGTV and using Pinterest just like us! Therefore, when designing a furnished model, we try to showcase these products in the best way possible. This means keeping function, ability and cost in perspective, just as our homeowner's would.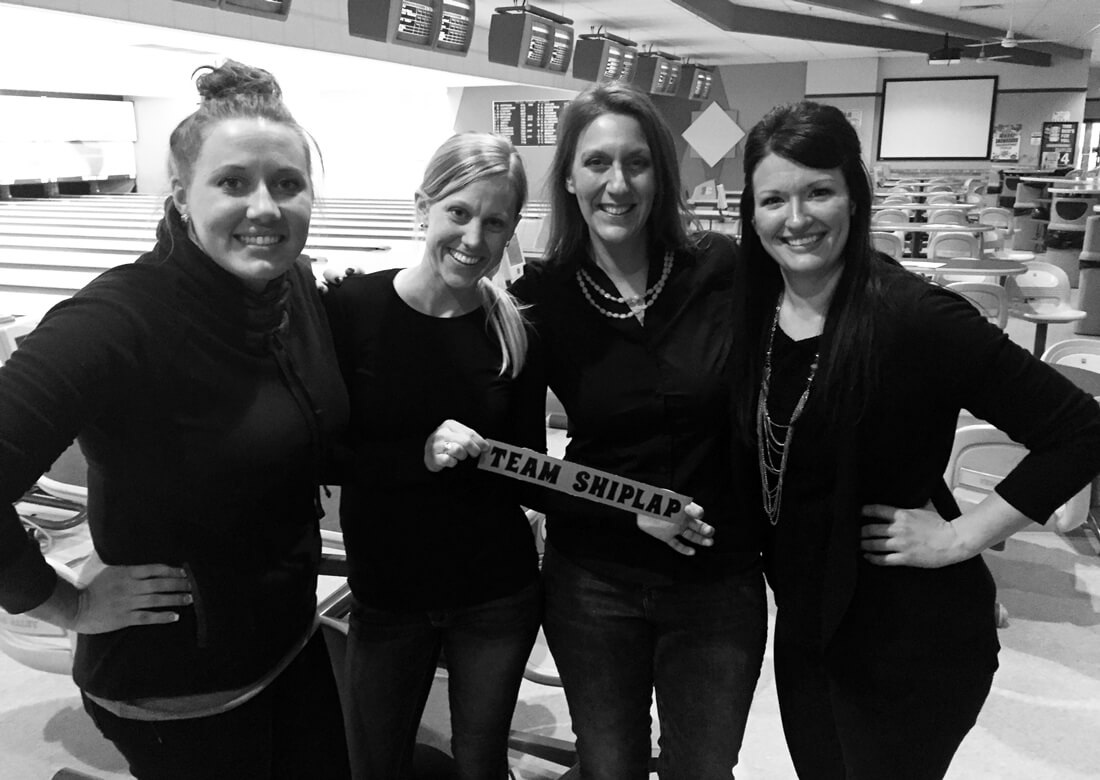 On a typical day, our homes are designed with our customer's dreams and desires in mind and that goal isn't much different for us when building a furnished model—even if our homeowner's are fictional. To start out, we develop a "homeowner profile" then choose the homeplan that we feel fits best with that profile. This gives us the perfect inspiration for making all of our selections for the home. For example, a five-bedroom house would most likely be built for an established family, a three-bedroom home for a growing family and a starter home for a younger couple.
In the instance of our newest furnished model, The Oscar in Village at Autumn Lake, our homeowner's are an empty nest couple who have recently retired. They are downsizing and want to keep their home on a reasonable budget, but of course still want quality finishes throughout.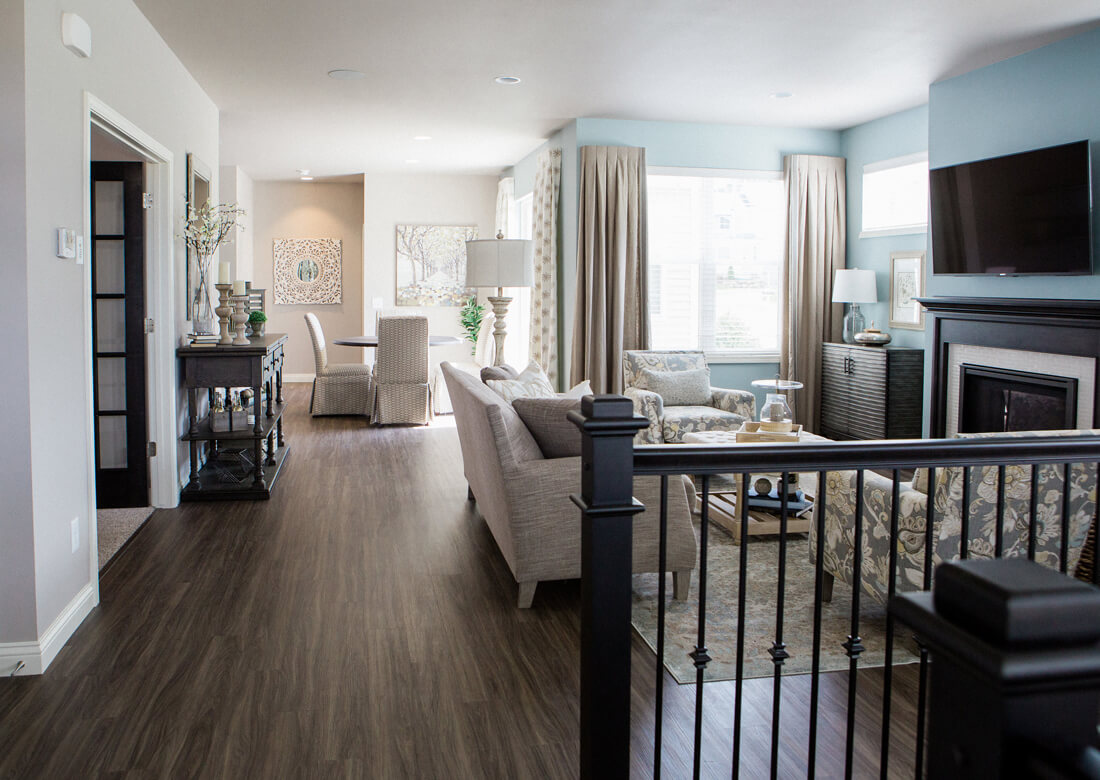 Now, the fun starts! We take our homeowner's age, budget and floorplan in mind and decide what exactly we think someone with that profile would most likely select. What would they want to spend their money on? Where would they splurge and where would they be mindful of their costs? What kind of finishes and colors would they mostly likely be most comfortable with?
For The Oscar, our emphasis was definitely on the kitchen, which is undeniably a trend for our homeowner's in general, as it is a very important space for most. We upgraded the cabinet color, choosing dark cabinets with a white island. The cabinet door style, complete with raised panels scream sophistication and the staggering heights of the cabinetry add dimension to the space.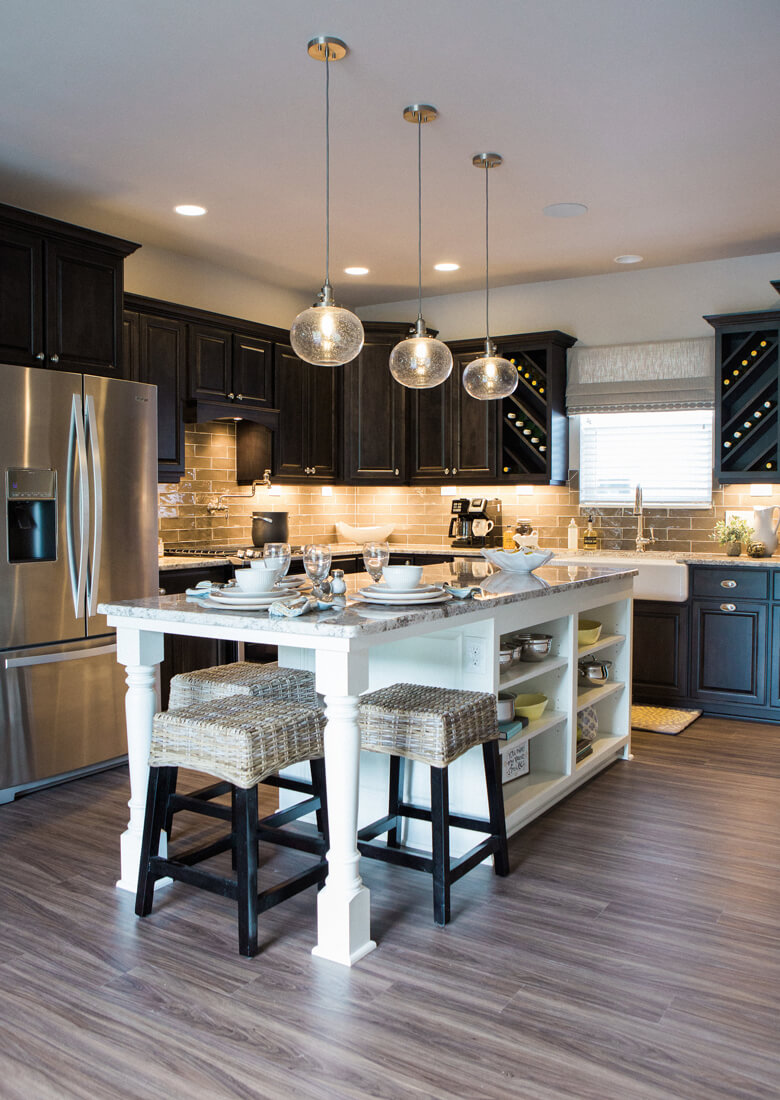 We also included many great cabinet accessories such as a wood range hood, slanted wine racks, open base shelving, glass doors and our newest feature, an updated version of the appliance garage, with a flip up door! And since the homeowner's love for cooking was a large influence on our selections we added a big farmhouse sink, an upgraded Kohler faucet with multiple spray settings, and the real splurge was the matching Kohler pot filler over the stove.
There are so many excellent features to this home; it's hard to pick one that stands out as the most significant.  Several of the additions were a huge value for this particular homeowner, getting them a great product, but for a reasonable price point. A barn door was added to the owner's suite which showcases a fun, new product we have not had before, but will now be offering. It demonstrates a great way to add some privacy, while still being trendy! And in the owner's bath we also displayed a shower module with grab bars and a removable seat. While you may not see these on Pinterest, it makes a lot of sense for an aging homeowner, especially for the small cost incurred.
Probably one of the most predominant upgrades for this home is the LVT flooring that runs from the foyer, to the laundry room and almost every space in between. This multifaceted product is something you will see more and more of and is desirable because of its durability and low price point. More styles and colors are on the market now and they will only continue to evolve.
The other highlights of this home all had a purpose in mind in which we thought our homeowner would spend a little more money on, but in return would also add ease and value to their everyday life. The open stair railing in the foyer and dark stained French doors in the living room make a statement the minute you walk in the door. Extra cabinetry in the laundry gives the homeowner amazing storage potential and who doesn't love some storage options! Lastly, the added hand shower in the main bath tub shower area gives the homeowner an easier way to wash her grand pups.
One of the best aspects of our jobs as designers is getting to work with a vast range of people. Whether it's with a single homeowner buying their first home, a family of five looking to build their dream home, a newly engaged couple looking to make a start or an empty nest couple, newly retired and looking to build their forever home. Each and every one is just as important as the last; no one's dreams are less significant based on their stage in life or their budget. This is why we are able to realize dreams, one home at a time, one customer at a time.
**Now that you've gotten a sneak peek, check out The Oscar furnished model in person this Saturday, September 9th and Sunday, September 10th during our Grand Opening Event from 11am-3pm in our Village at Autumn Lake neighborhood at 1803 Autumn Lake Parkway, Madison.**