**We are thrilled to bring you our second guest post, by our fantastic Human Resources Assistant, Megan Sukovich!  Let's dive in to her unique perspective as she uncovers the top reasons our employees love working for Veridian Homes.**
Hi, my name is Meg and I love my job. Yes, you heard me correctly! I know that this makes me some kind of an anomaly, seeing as how two-thirds of the entire country reports that they feel disengaged at work. As the Human Resources Assistant here at Veridian Homes, I have a unique perspective on the relationships that people have with our organization. Whether it's an employee of 25 years or a first time homebuyer, I get to see people realizing their own dreams while enriching the lives of others.
So, what makes Veridian Homes different? Why do 9 out of 10 employees feel that their work gives them a sense of personal accomplishment, and why have most of our employees spent their entire careers with our organization? We asked our team "Why do you love working at Veridian Homes?" to find out! To get insight into who we are behind the scenes, here are a few reasons why our employees say Veridian Homes is a great place to work!
1.) THE VERIDIAN WORK ENVIRONMENT – Many companies have "open door policies". Well, here at Veridian, we take that to a whole new level. Not one person, including our owners, works in a dry walled office. Our open-aired environment allows us to easily communicate as a team and gives us the opportunity to really get to know each other. I would argue, however, that one of the best parts about our work environment is having access to the Design Studio. That is where the magic happens, people! If you have ever visited our Madison Design Studio, chances are pretty high that you were greeted by our wonderful receptionist Phylis, or as we like to call her, our official "Director of First Impressions".  A smile from her is the best way to start the day!
2.) LIVING IN SOUTHERN WISCONSIN – Rooted in Wisconsin, we wear our local heritage with pride and many of us share a passion for all things Madison and Milwaukee. Veridian employees can often be seen decked out in red and white at Badger Football games, perusing the Public Market in Milwaukee or strolling down State Street in Madison on summer Saturday mornings at the Farmers Market. And what's not to love about all of the local breweries and outdoor sports?!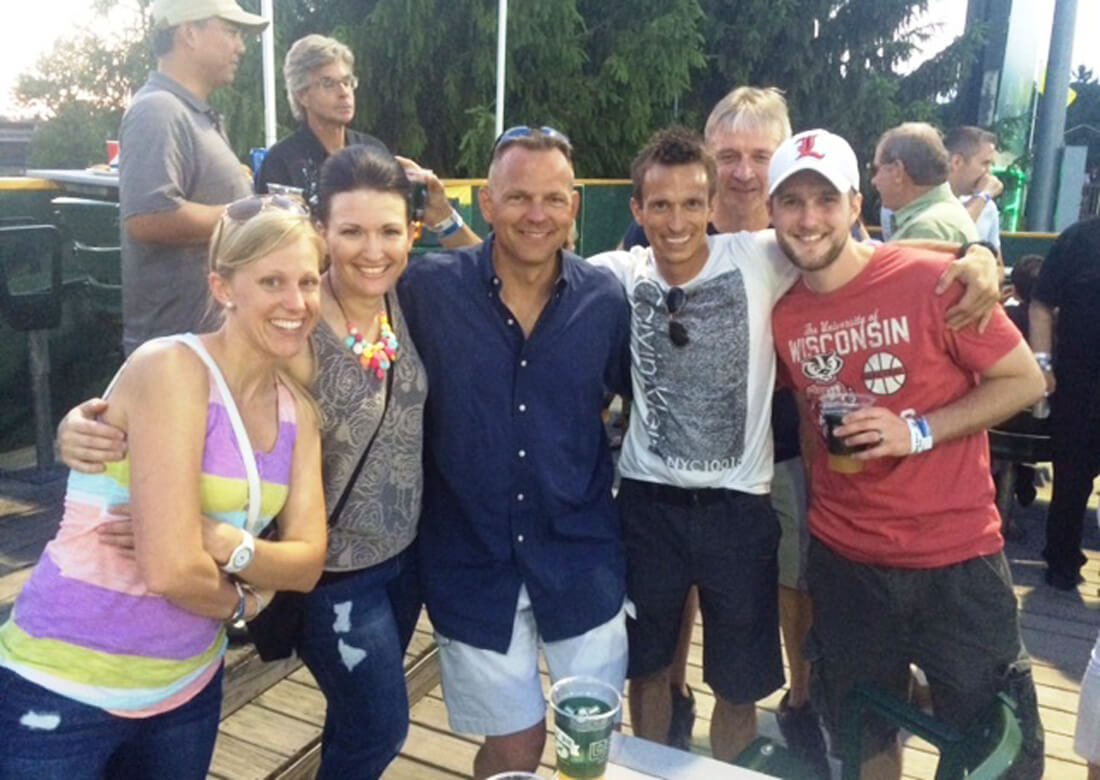 3.) OUR EXCEPTIONAL PEOPLE – We've grown to be Wisconsin's largest builder by never losing sight of what actually makes our company successful—our employees. Our people are what makes Veridian Homes so unique. From our New Home Specialists to our Customer Relations team, we pool together our individual life experiences, passions, and talents to enrich the lives of others and bring dreams to life. What could be better?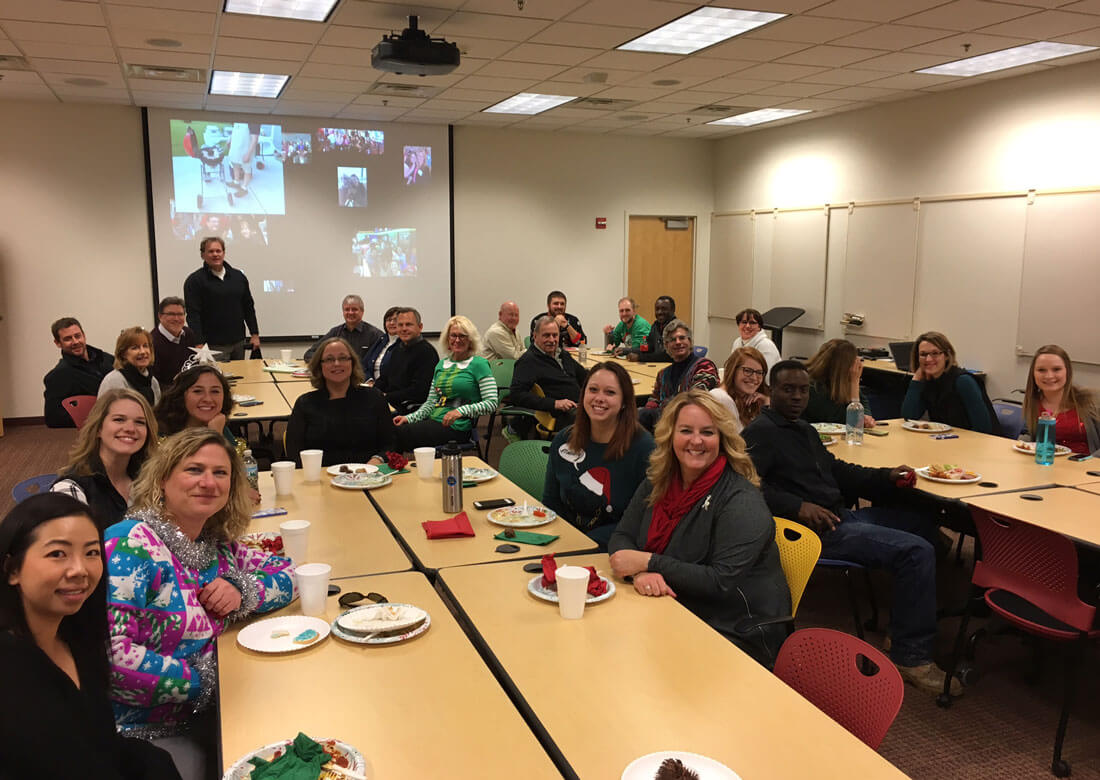 4.) WORK-LIFE BALANCE – Finding balance is hard. That's why it's so important to surround yourself with people who value a professional and rewarding career while balancing it with other passions in life. Whether it's spending more weekends up north with the family, or training for your next marathon, our team inspires and supports each other to find that happy place between work and lifestyle.
5.) GREEN IS GOOD – Sustainability and energy efficiency is another great feature of working at Veridian Homes. Some builders use Wisconsin Focus on Energy℠ certification. Others use Green Built Home™ standards. We use both in order to build high-performance homes. That's right, every home we build is both Focus on Energy℠ and Green Built Home™ certified. Our employees rest easy knowing that they are doing right by Mother Nature and putting a green product out into the world.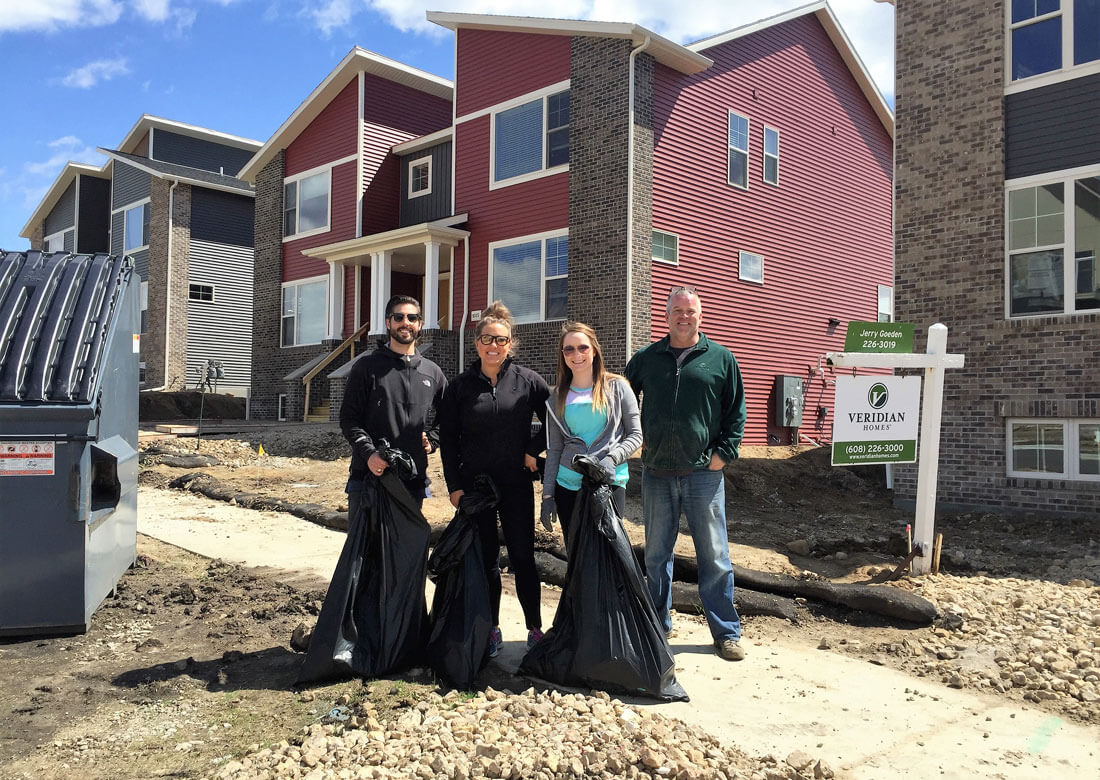 6.) COMMUNITY COMMITMENT – Giving back is an important piece of who we are. We believe in strengthening not only the neighborhoods that we build, but also the community in which we live. We realize that we are only as strong as those around us, and that's why we are we make volunteering our time to our community a priority. Many Veridian Employees regularly volunteer time to local organizations, or even are board members to the Veridian Foundation, which donates thousands of dollars to local charitable organizations each year.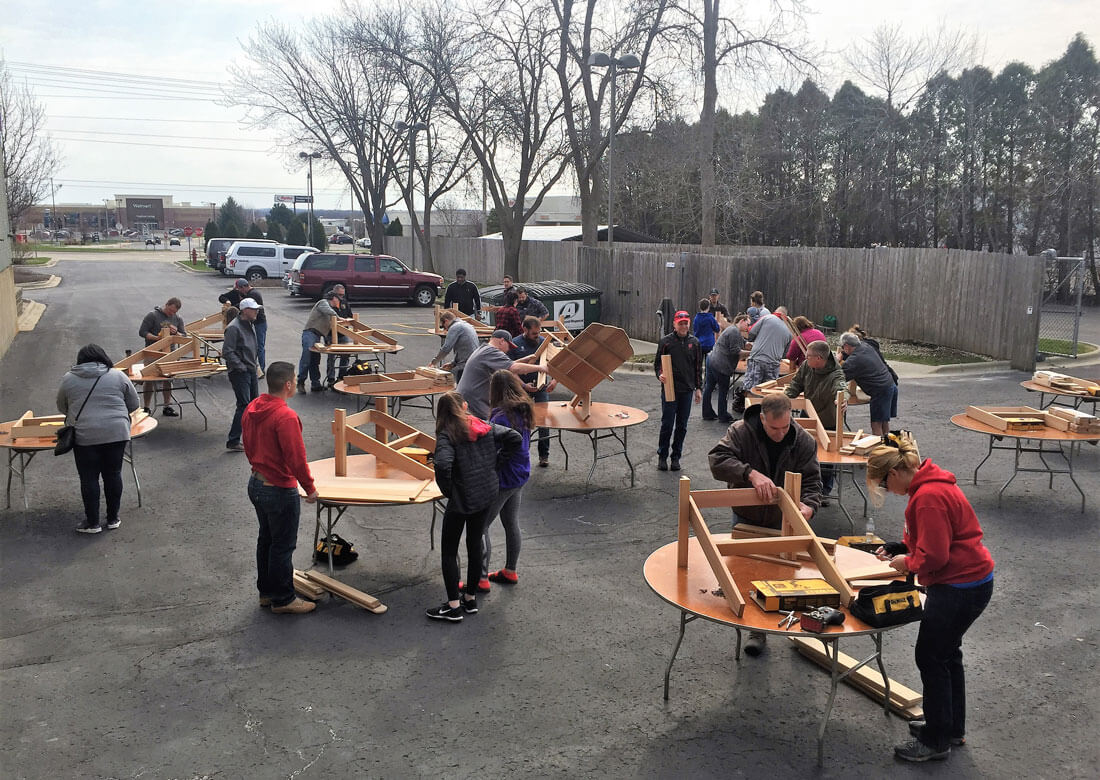 7.) BENEFITS – I get it, health insurance and 401k aren't the most exhilarating topics, but our comprehensive benefits package is another perk of being on the Veridian team and plays a huge role in our work-life balance. Valuing health and wellness is something we are passionate about as individuals and as an organization. We offer a wide variety of benefits, including health, dental, vision, life, and disability insurance. Not to mention other great benefits like our Employee New Home Discount Program or our Profit Sharing Program! It truly is the total package. Click here for more info!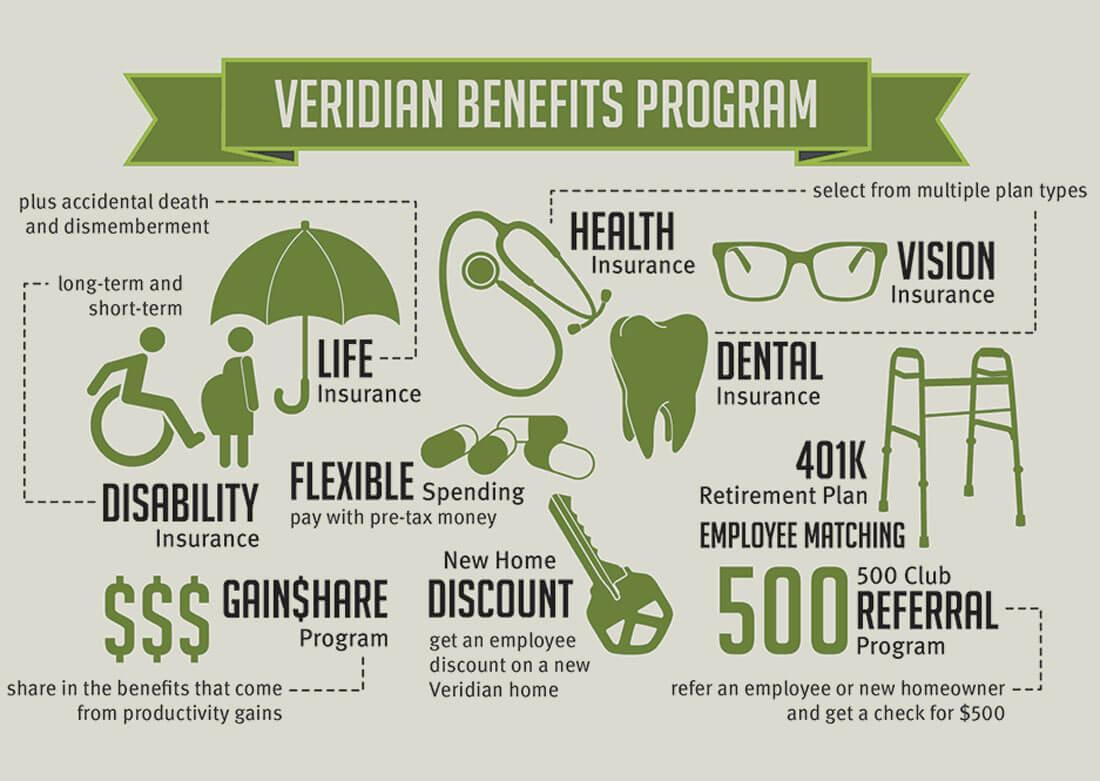 8.) PERSONAL & PROFESSIONAL GROWTH – We believing improving the lives of our employees is just as important as improving our business. From annual safety training, to team building, to personal growth seminars, learning is vital to creating the best experience for our homebuyers. One of the most impactful trainings that Veridian held this year was our Active Shooter Training facilitated by our friends over at the Madison Police Department. Talk about employee empowerment!
9.) BEING ABLE TO DO WHAT YOU LOVE – It takes many people to build just one home. Likewise, it takes many talented individuals working together to build the best homes in Southern Wisconsin. Being able to embrace our talents and do what we love while being supported by our leadership team and coworkers is the biggest reason we create such beautiful homes, and are happy doing it.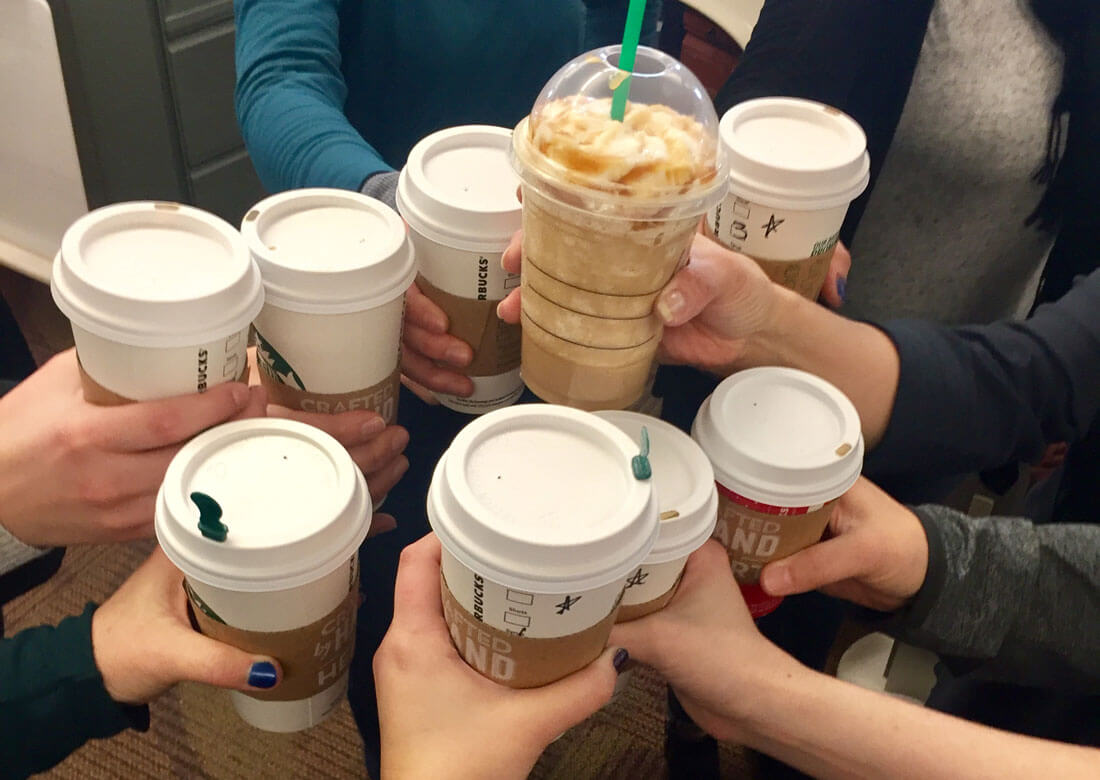 So, there you have it. We are a team of people, passionate about what we do and passionate about who we do it for. We are committed to continuous improvement and employee education, and strive to build communities that make this world a better place. Sounds pretty great, right? If this sounds like the right place for you, or if you are inspired about the communities we create, head over to our careers page and see if there are any employment opportunities to grow your talents in!