For this post, I've decided to talk about two of things that I love most – home decor and fashion!  Below, I've compiled a few of my favorite trends in home decor and matched them with a coordinating apparel option.  Take a peek below, and be sure to let us know your favorites in the comments section.  Enjoy!
Stripes:  Director's Chair vs. Bardot Top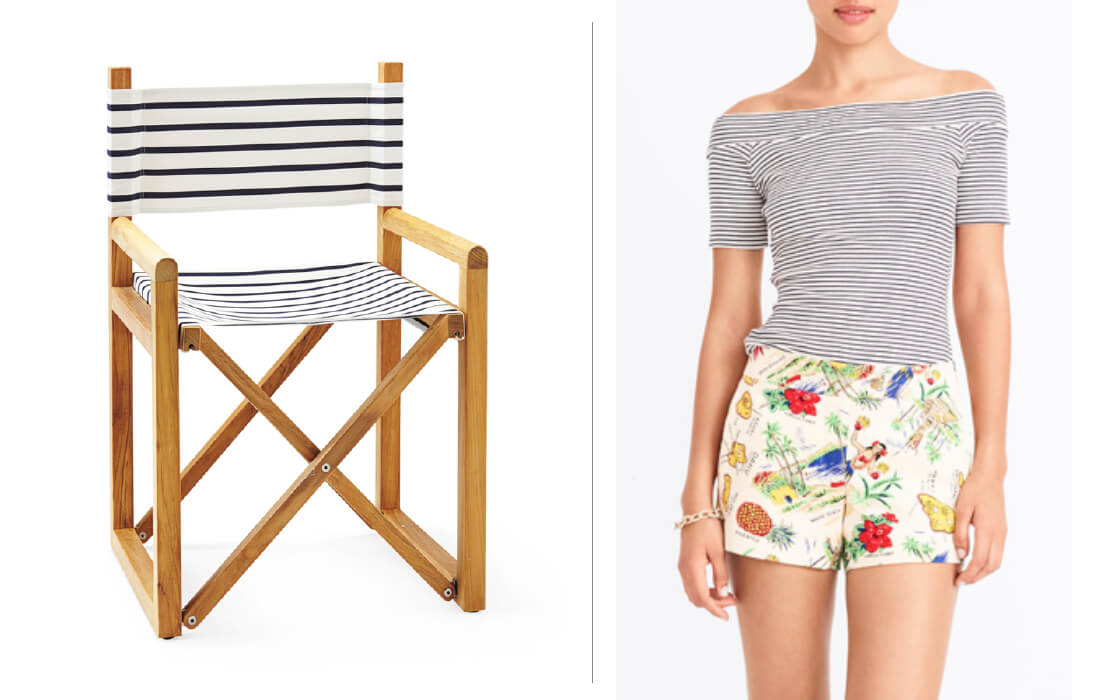 Stripes!  Stripes on pretty anything seems to make me a happy camper.  This director's chair is a classic piece that could blend well with almost any decor style.  Use it for your dining table, breakfast nook or home office/homework station.  The Bardot style top is also a great classic piece.  Dress it up with a pencil skirt and statement earrings, or pair it with jeans and your favorite sneakers.
Leopard:  X Benches vs. Pumps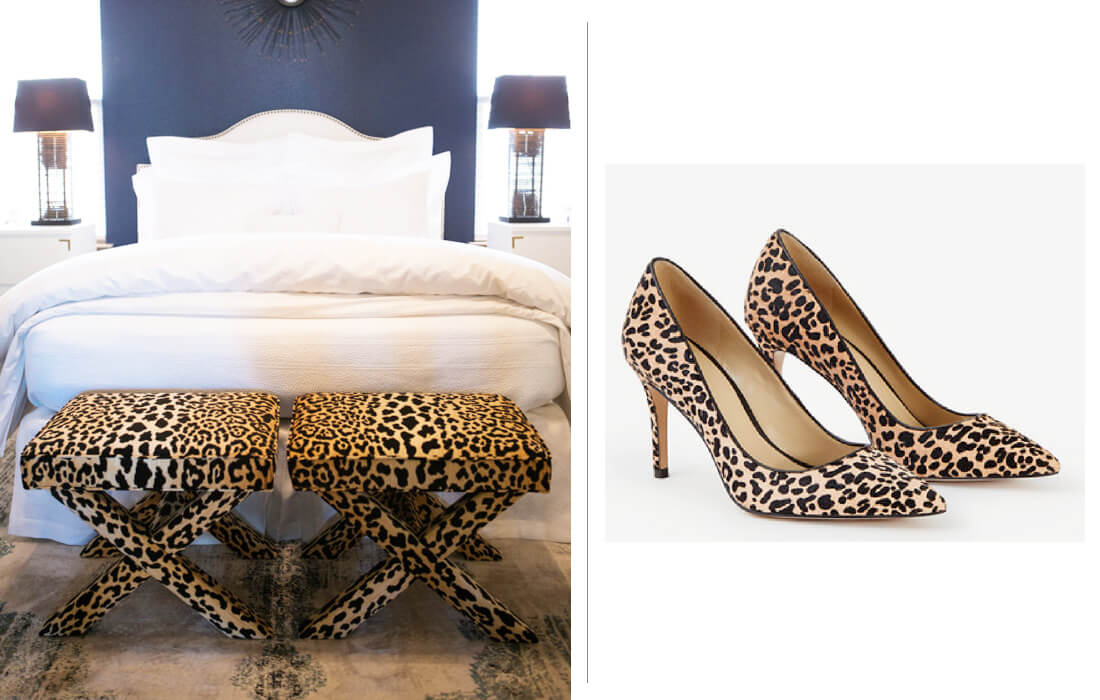 Leopard is my favorite kind of "neutral".  It works with almost any color and it looks great at home or on you!  Check out these fabulous x benches – I love how she styled two of them at the foot of the bed.  Similar sold here.  To up your wardrobe ante, throw on a pair of leopard pumps.  Again, these go with so much!  You pop them on with a little black dress, or go more casual with some skinny jeans and a half-tucked white button down.
Blush: Statement Chair vs. Satchel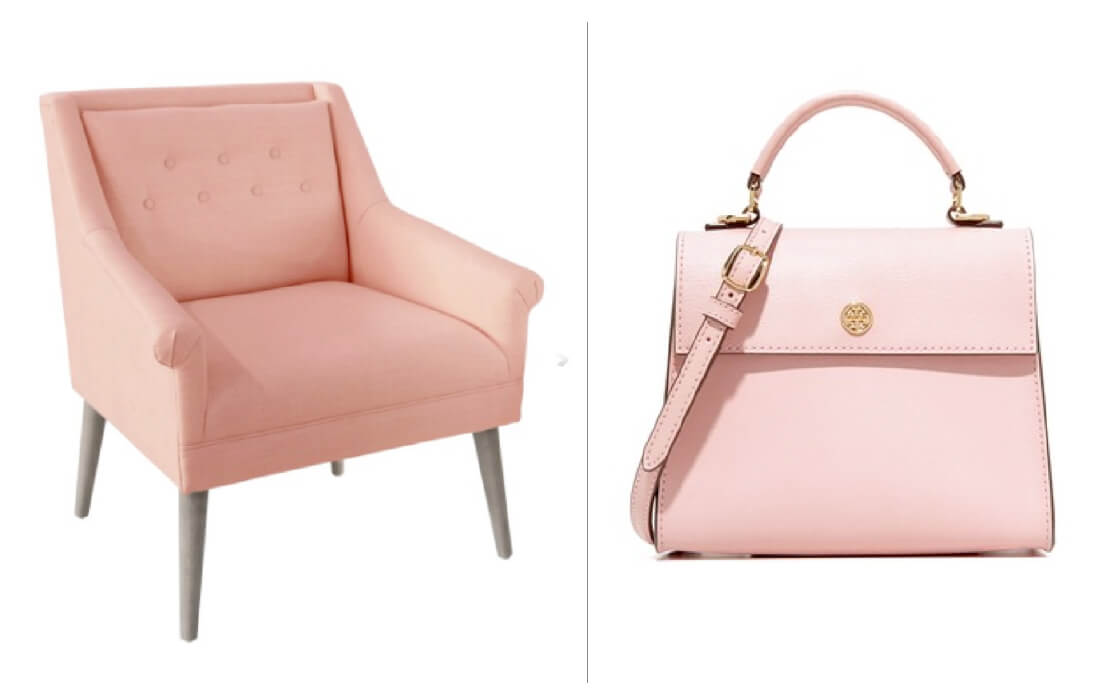 Blush, AKA Millennial Pink, is showing up everywhere.  You can't escape it, so you might as well embrace it!  This accent chair injects a fun pop of color to your space.  Plus it looks pretty cozy?  This satchel is also perfect for taking your outfit to the next level.  If you're like me, you tend to stick to neutrals, i.e. black, gray, white, tan, navy…  This is a easy way to bring some life into your wardrobe.
Botanical: Lumbar Pillow vs. Skirt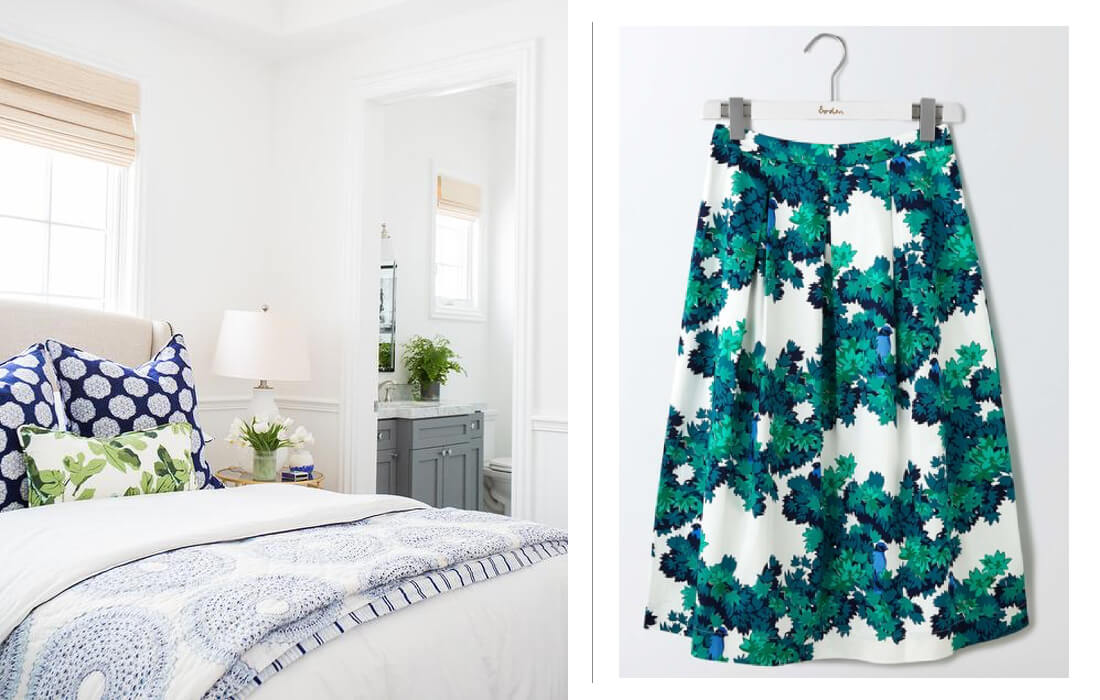 Ah botanical prints, how you soothe me…  Did you know that the color green is supposed to invoke happiness in you?  Well, it does for me.  It seems like banana leaf, fig leaf, palm leaf, you-name-it-leaf prints are everywhere these days!  Yes, they can be overdone, but I love how both this accent pillow (similar here) and skirt put the leaf print on creamy white background – giving it a little room to breathe.  I feel this print will be especially welcomed come winter, when we crave that lush green landscape.
Classic Black:  Pedestal Table vs. Sheath Dress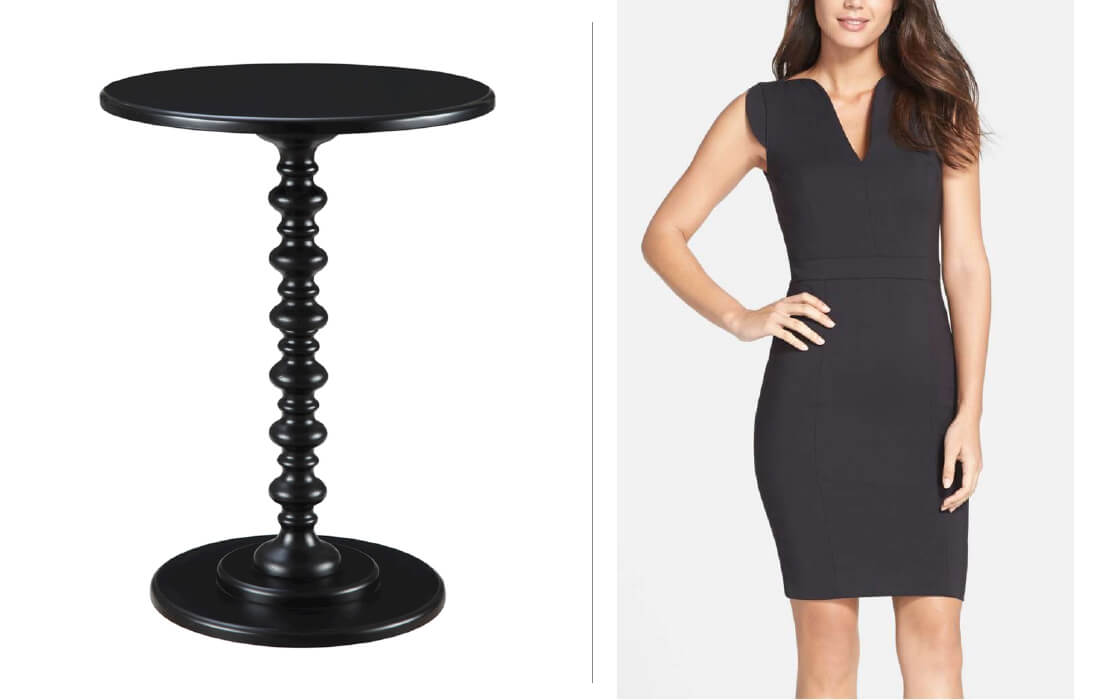 You really cannot go wrong with black.  Heck, even Joanna Gaines did black shiplap!  Sure sometimes, it can make a space feel heavy, but with the right amount of balance, it can add some real drama.  This adorable spindle table would look perfect perched next to almost any color chair or sofa.  And of course, the LBD (little black dress), has been the quintessential go-to for decades!  This simple sheath dress is one of my favorites, it has such a great shape to it.  It can be worn for special events and in the office, win-win.
So, what are your favorites?  Make sure to let us know in the comments below!