**We are thrilled to bring you another guest post by our incredible Interior Design Manager, Kimberly Hopf! Let's take a peek into the Interior Design process that went into building our newest furnished model, The Sawyer in The Woods at Cathedral Point.**
For those of you who regularly follow the world of Interior Design, you may have noticed that 2021 brought some interesting and delightful new trends! It's hard to believe that we're seeing warm color tones again after living in a world of gray for so many years, but my goodness, it feels soooo good!
Our newest furnished model, The Sawyer in The Woods at Cathedral Point highlights a beautiful mash up of modern, bohemian and warm, rustic vibes. Our design concepts often evolve throughout the project as we plan for a furnished model, but we always start by gathering inspiration photos. We knew from the get-go that we wanted this home to feature a bold statement through color…and wow does it deliver!
The stage is set as you pull-up to the home and are greeted with a new modern elevation in a simple, warm gray color scheme, featuring a rusty orange front door.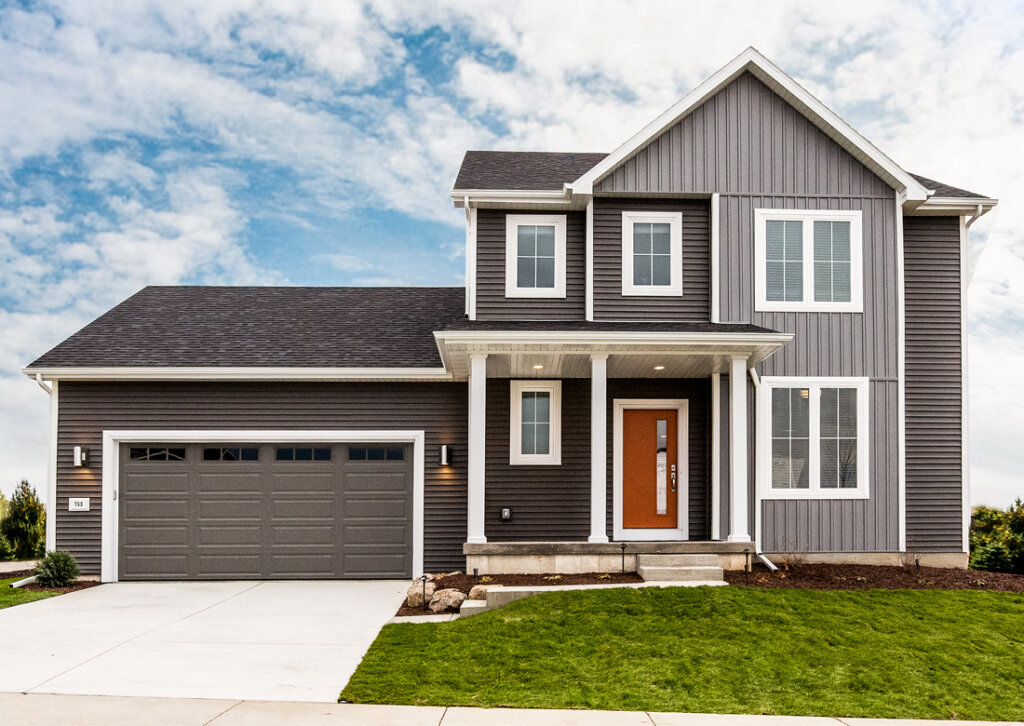 Upon entering the home you have a direct siteline into the open great room, kitchen and dining space which connects the exterior color scheme with an accent wall color in a warm orange/brown tone.
Don't get me wrong, I love a good neutral, but it is so stunning and refreshing to see COLOR on the walls. For this specific color, we gathered our furnishings first and then pulled the perfect color tone Hallman Lindsay, Evolution from the rug we used in the great room which tied the warm and cool tones together beautifully.
The main living space features a new laminate flooring that highlights 20 unique plank visuals combining three of the most popular flooring species; White Oak, Hickory and Maple. We also featured a new fireplace design with a simple 12×24 tile installed in a beautiful fabric inspired tile.
The kitchen showcases a new plan option that features a corner pantry, modern, bright white quartz countertops and glossy white dome light fixtures. The kitchen cabinets are stained Silhouette which is an almost black stain and provides a needed contrast to the space. We included hints of textured rattan and faux dried stems throughout the space to capture a warm, boho vibe.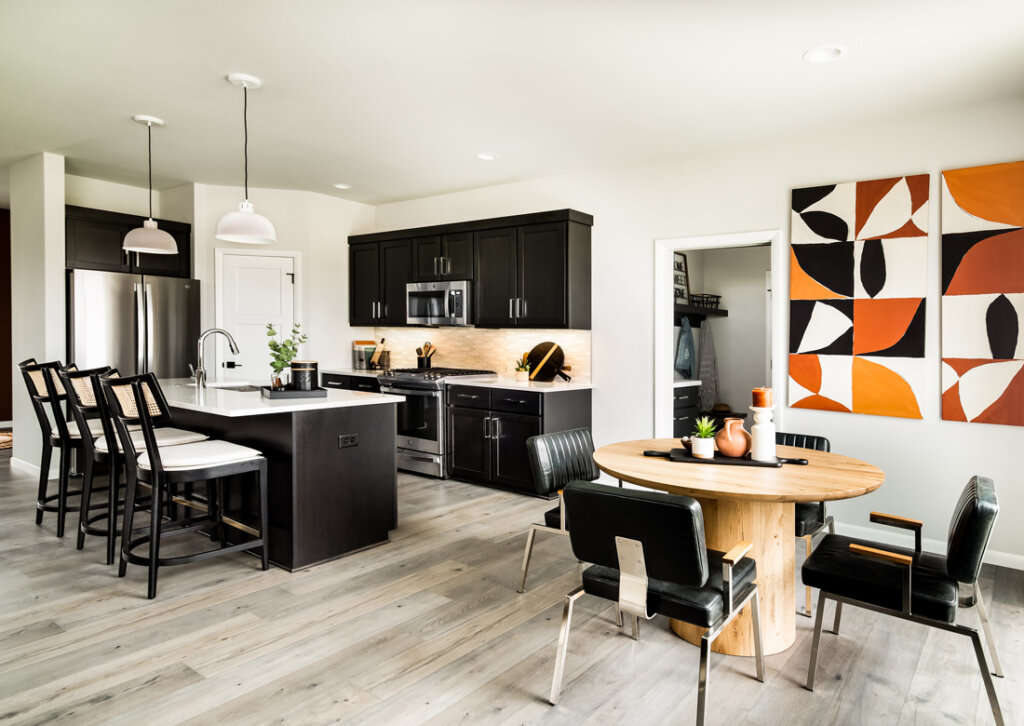 As you walk through the kitchen and dinette, you'll be stopped in your tracks by the bold patterned tile floor in the laundry room. This modern visual is stunning and does a great job connecting the kitchen backsplash tile to the laundry space. It is truly a must see in person! The laundry room is also a new plan option that adds an additional wall of storage in which we took full advantage and added a bench and drop zone space for the ultimate storage solution.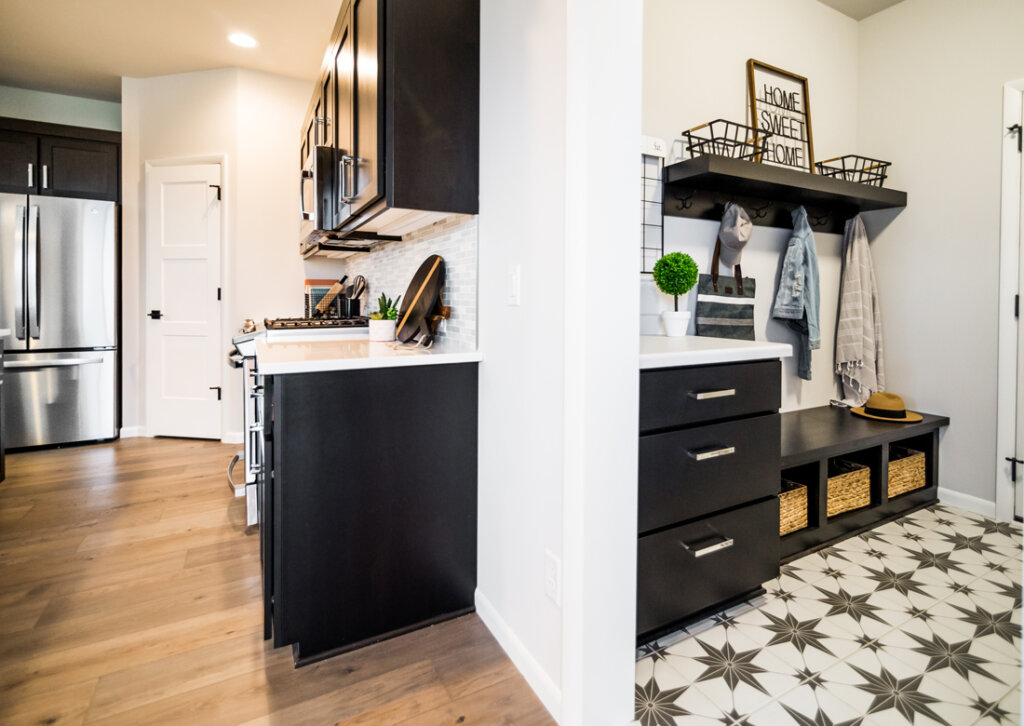 As you make your way upstairs, you'll notice the kitchen cabinet color is mirrored on the stairway wall color in Hallman Lindsay, Black Licorice, offering a bold, yet warm statement that ties the two spaces together perfectly.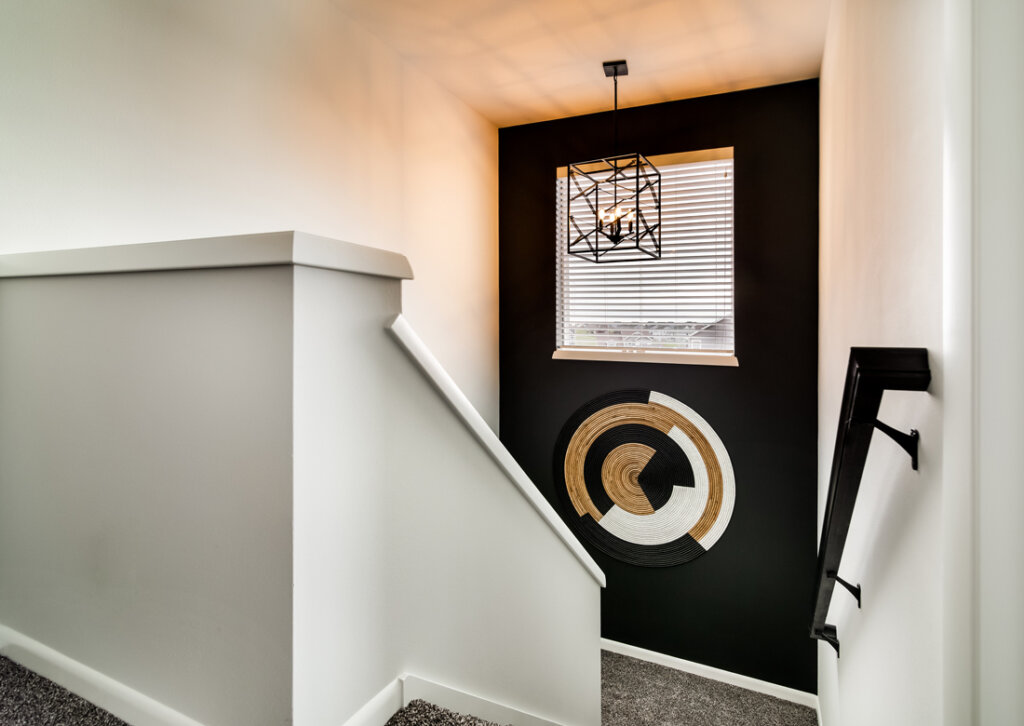 The Black Licorice color appears again as you enter the Owner's Suite and look up to the tray ceiling. We really wanted to show how painting a ceiling can make a huge design impact.
The tray ceiling also ties into the dark tile in the owner's bath floor and shower tile.  You'll notice the white painted cabinetry and shelves mimic the modern high contrast kitchen vibe from the first floor.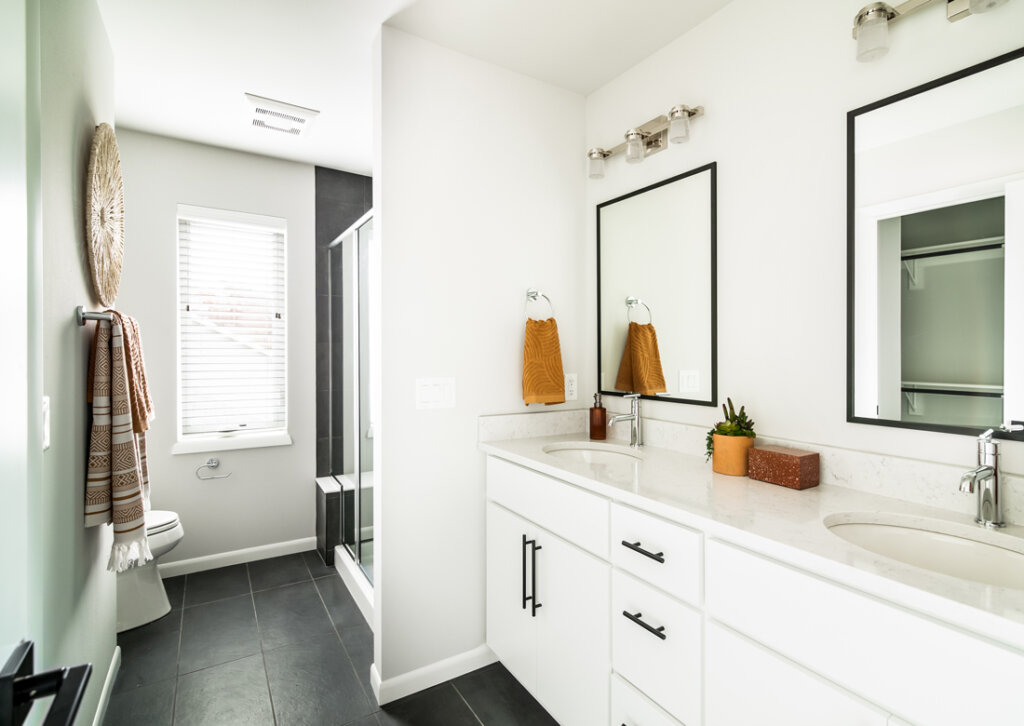 The remainder of the second floor is home to two large bedrooms and a spacious main bath. We had fun with a hint of color on the cabinetry and although it is in green family, the warm orange/brown tones are such a great marriage. It fits right in without being too repetitive.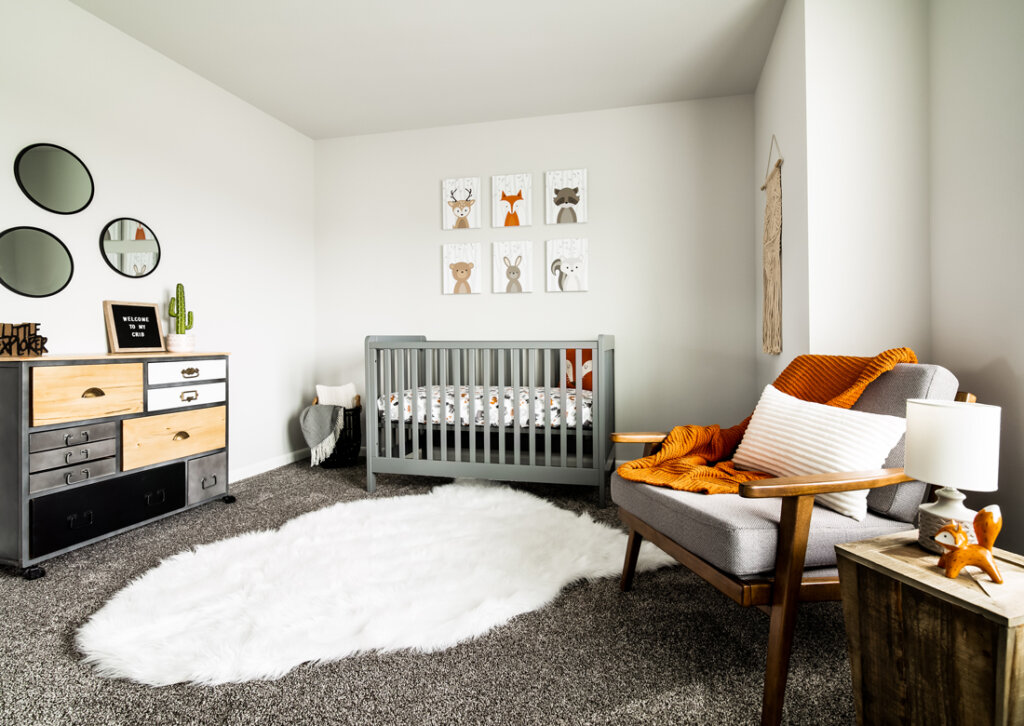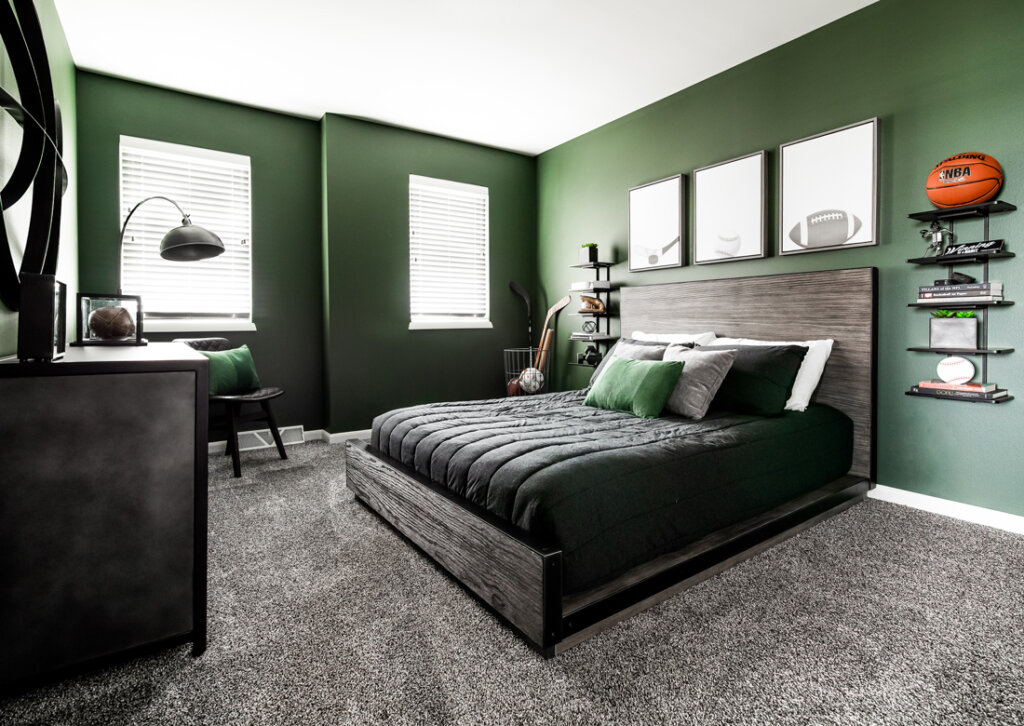 Overall, we're thrilled with how this home turned out and invite you to come look at it for yourself in person! Visit our website for location details and open house hours. We can't wait to have you!