Right now, our homes are working harder than ever, as offices, classrooms, restaurants, gyms, movie theaters, hair salons, you name it.  Today, I thought it would be appropriate to show you how I've turned my Veridian home's flex room into a combined space, i.e. an office-playroom.   The photos that I'm going to share with you have been edited and no children were in said space at the time of the photos.  So, while they are very real, know that this space is not always this picked up – and yes, I did edit out cords and my wireless router, no one wants to see those…  Let's dig in.
So here's a look at my office space.  I've been working almost exclusively from home since mid-March, so I wanted to make sure my new office space had everything that I'd need to keep doing my job normally.  But, I also have a small child.  So, while sure, I wanted a place of solitude, what I needed was a place where I could get my job done and keep my kiddo close to me.
The flex room is pretty much split in two for me now, my son's play area on one side and my office on the other (with the exception of his sweet little art easel, which I don't mind creeping into my space).  I have my desk pushed against the far wall, you can't see it here, but I do have a repurposed tall dresser next to my desk, which houses my office supplies, files and printer.  Hung directly in front of my desk are three ocean art prints, because I read somewhere that looking at water makes you feel less stressed – which I believe to be true.  And in the current state of the world, I can use all the de-stressing help I can get.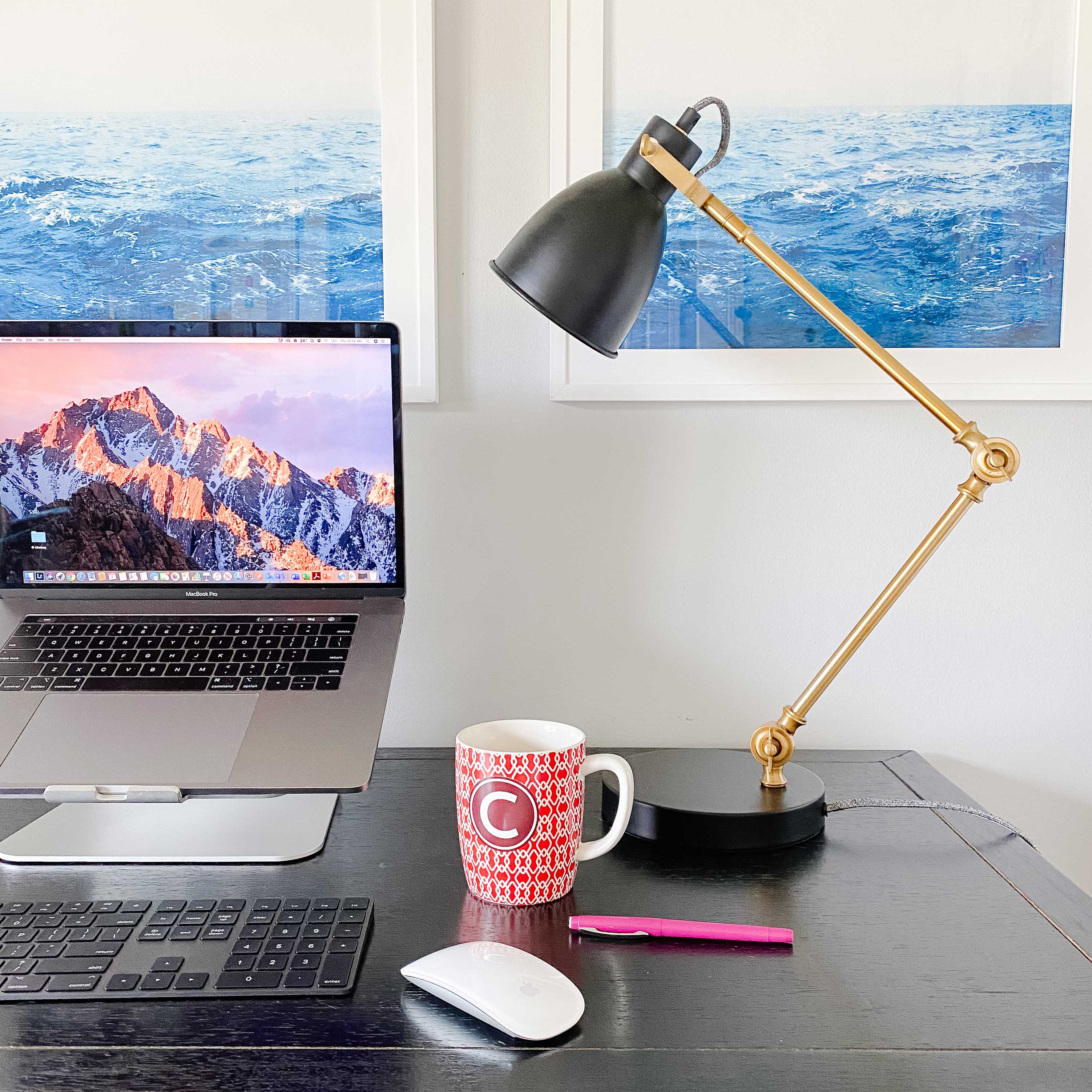 Surrounding myself with beautiful objects also seems to put me at ease.  So I treated myself and got this pretty task lamp.  I'll be honest, I rarely use it for its function, but it does "spark joy" for me, so it stays.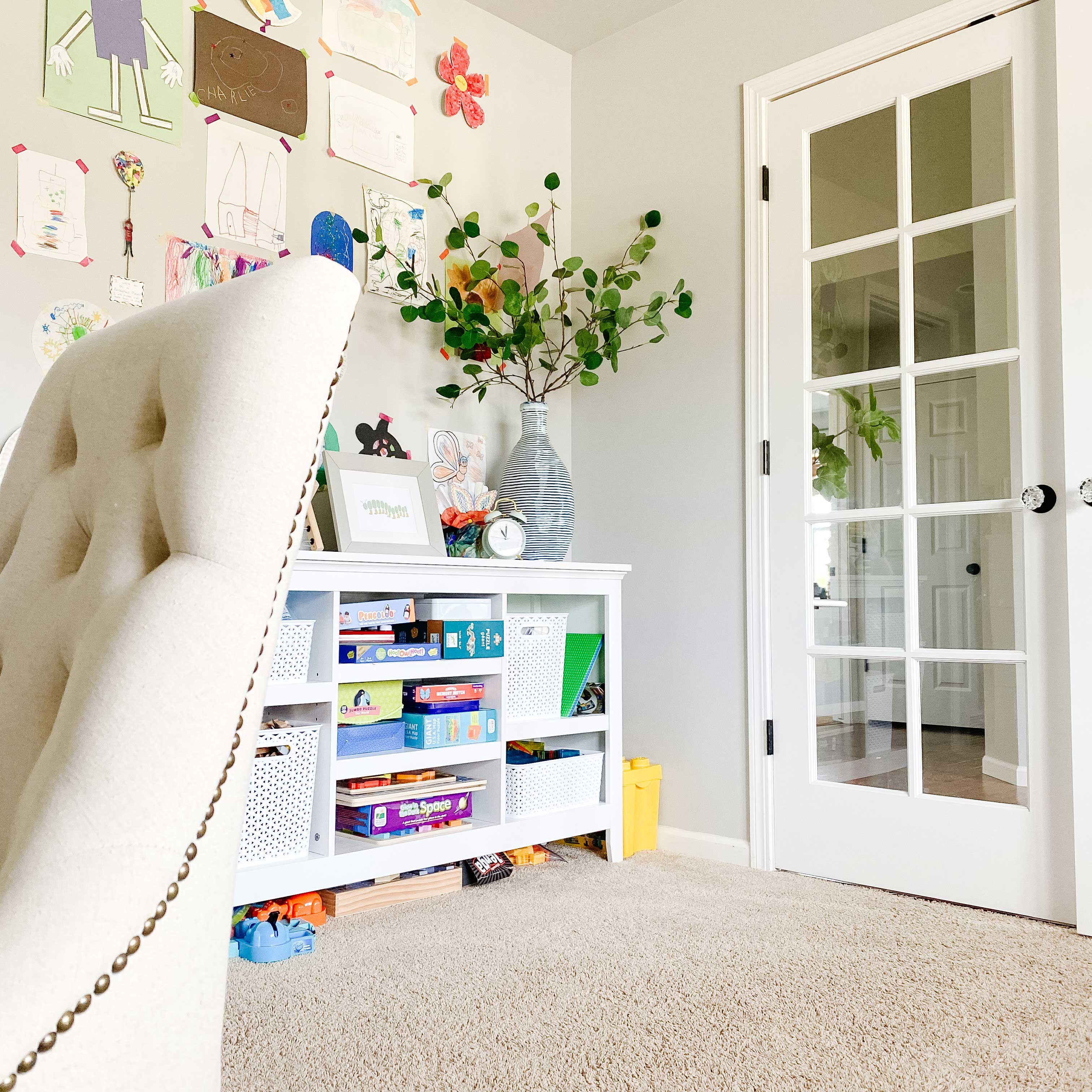 Let's move on to the view over my right shoulder, my son's art wall and play console…
You are now entering the playroom side of my flex room.  I love seeing my son's face when he gets to hang up his newest masterpiece on the art wall, he's always so proud (me too).  If you need an easy and budget-friendly way to bring some color into a space, this is it.  I simply bought a rainbow roll of washi tape, and pop the newest creations up there.  This little play console, as I've named it, is a source of welcomed distraction for my child.  In it you'll find, Legos, Magna-Tiles, puzzles, train tracks and a few board games – I see you Jenga peeking out from underneath.
I did also want to create a desk space for my son to practice writing, drawing or just doing some ABCmouse on his tablet.  Enter what he calls, his "office".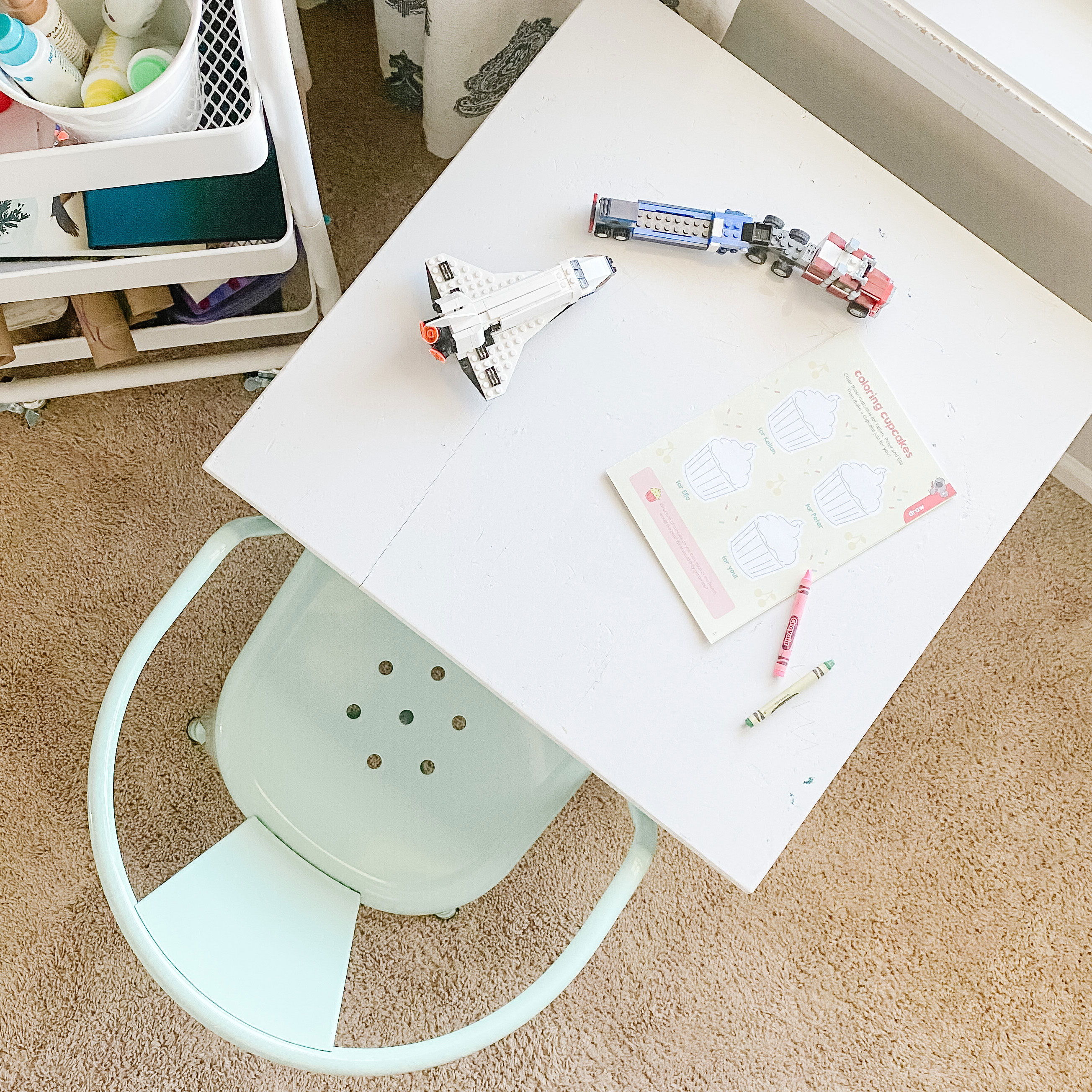 He's going to be so excited when I show him that his Lego shuttle made our blog.  This desk space got a lot of use when we were doing our quarantined homeschooling.  It's summer now, but it still gets plenty of love.  My dad actually built us the little white table, inspired by a Pottery Barn play table.  The mint green chair is a Target find.  Next to it, we have what we call an "art cart".  This is also a Target find, which is home to crayons, coloring books, a tablet and many empty rolls of toilet paper and paper towels.  There are so many fun crafts you can make out of a TP roll – who knew?
I hope this look inside of my current 9-5-? situation is helpful in some way to you right now – if nothing else maybe just a happy distraction.  Please know that I wish you well during these uncertain, and to be honest, pretty dark times.  Let's all remember to be kind to one another.