Hello summer, is that you? The days are getting longer, the sun is getting hotter and one thing has felt fairly certain in the midst of all of this uncertainty; it has never felt better to get outside and breathe in the fresh air.
Since staying home is the new going out, we put together some style options to spruce up your outdoor space, no matter which area you tend to gravitate towards. Whether you take your morning coffee on your front porch, dinner on the back deck, or dessert around the fire, we've got you covered with some unique styles that will be sure to make summer that much brighter.
First up, Bohemian – Doesn't this style excel at giving off a relaxed, casual and calming vibe? This Southport Patio Egg Chair from Target sets the stage for long, comfortable conversations throughout the day, and these string lanterns create a stunning ambiance long into the evening. Add in a couple of faux botanicals from West Elm and you'll be well on your way to your very own paradise. To cap it all off, we recommend adding a global-inspired twist to your tablescape with these free-spirited dishes from Anthropologie. Can you feel the good vibes?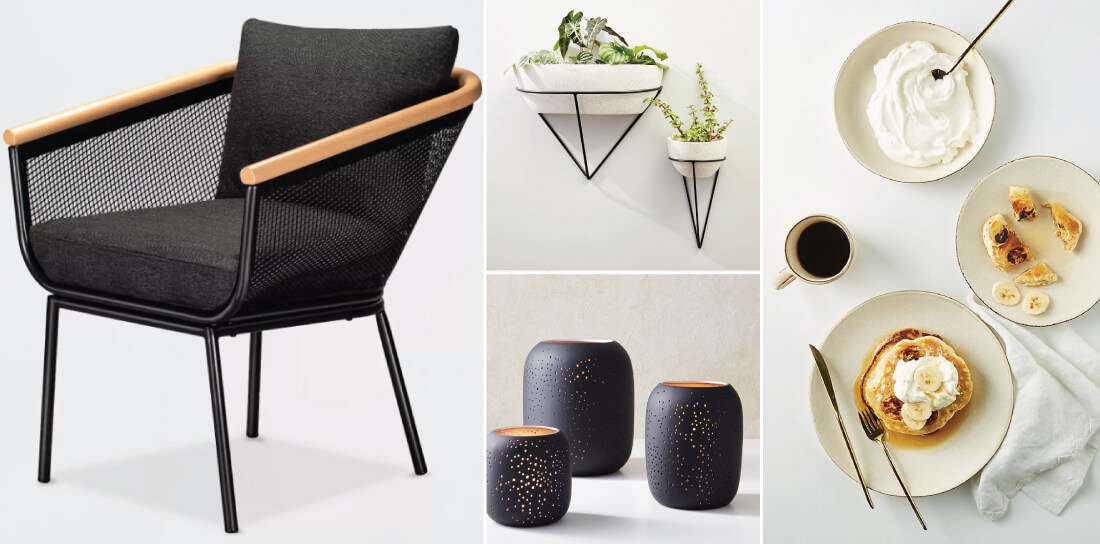 Second in line, Minimal Modern – This look is sleek, sophisticated and oh-so-beautiful. From outdoor dinners to after-hour cocktails, this Bangor Patio Dining Set from Target will fit the entire crew, both functionally and fashionably. Display your green thumb with these geometric wall planters from West Elm and invite the night sky in with these Constellation Hurricane holders. And since dinner will be the main event here, you'll be in need of this gorgeous glazed stoneware from Anthropologie.
Lastly, Farmhouse – Life has been all about slowing down lately, and this Alston Wood Rocking Chair from Target gives an extra sense of ease and comfort. Add in a pop of color with this lemon wreath from Ballard Designs and make the most of warm evenings with these wood and rope lanterns from West Elm. Savoring that cup of morning coffee, or bowl of afternoon ice cream in this farmhouse pottery set by Anthropologie will make those summer days all the more sweet. After all, it's about the little things.
How do you plan on decorating your special space for summer? Tell us in the comments below!