**We are thrilled to bring you our fourth guest post, by our incredible Interior Design Manager, Kimberly Hopf!  Let's take a peek into the Interior Design process that went into building our newest furnished model in 1000 Oaks.**
It's music to our ears when we hear, "It's time to plan the next furnished model." This is a process that we look forward to and is definitely our creative outlet as a Design team. We page through endless Pinterest pins and Houzz photos while we begin to dream up details about our newest furnished model family. Just as Lyndsay said in her previous post, we take this process very seriously and know that ultimately our furnished models are for you, our homeowner's, and it is a priceless tool. We want to blow you away, show you new design trends that you've only seen online or while watching HGTV. We want to bring those concepts to our homes and we strive to be on the front end of trend line…while staying on budget of course!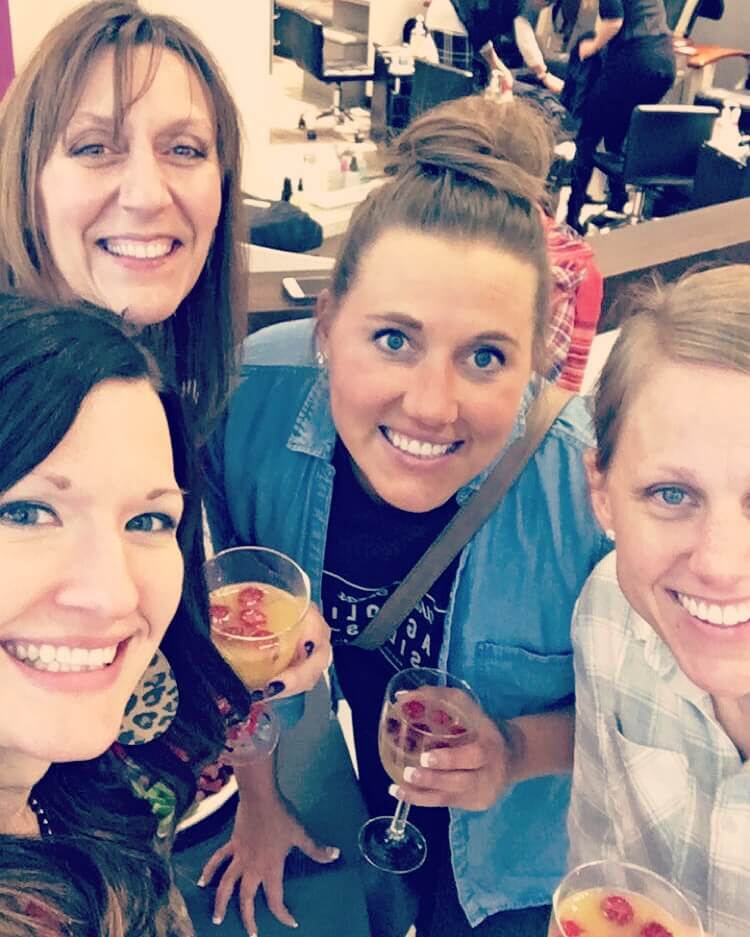 As a team, we have endless group text messages about the smallest details and we all fall completely in love with the family that we are "building" for. So let me back up a little bit and introduce you to the Johnson's who "live" in our 1000 Oaks Furnished Model. They are a young family of five that was looking for more space to expand while showcasing their new love for Farmhouse Style. They have three children, Aubrey (14), Emma (12) and little Henry (6). They fell in love with The Carmichael floor plan because of the open living, kitchen, and dining space but also because Natalie and Jason fell in love with the stunning owner's bedroom and bathroom on the main level. The plan also provided their children a dedicated second floor living space with their very own "hang-out" loft.
Once we had those details decided, it was off to the planning stage for the Design team. In terms of logistics, we establish a Lead Designer to run the project and keep the progress moving forward. This may sound like a dream job, but this Designer is also mainly responsible for all the leg work in terms of pricing new items, creating and maintaining the selection and pricing documents, and being in constant contact with our internal team to work through any bugs on ordering and installing new products as well as being the point of contact for all questions. Essentially, this Designer is the resident expert. In this project, our Interior Designer Bree took the lead and was supported by another Interior Designer, Laura.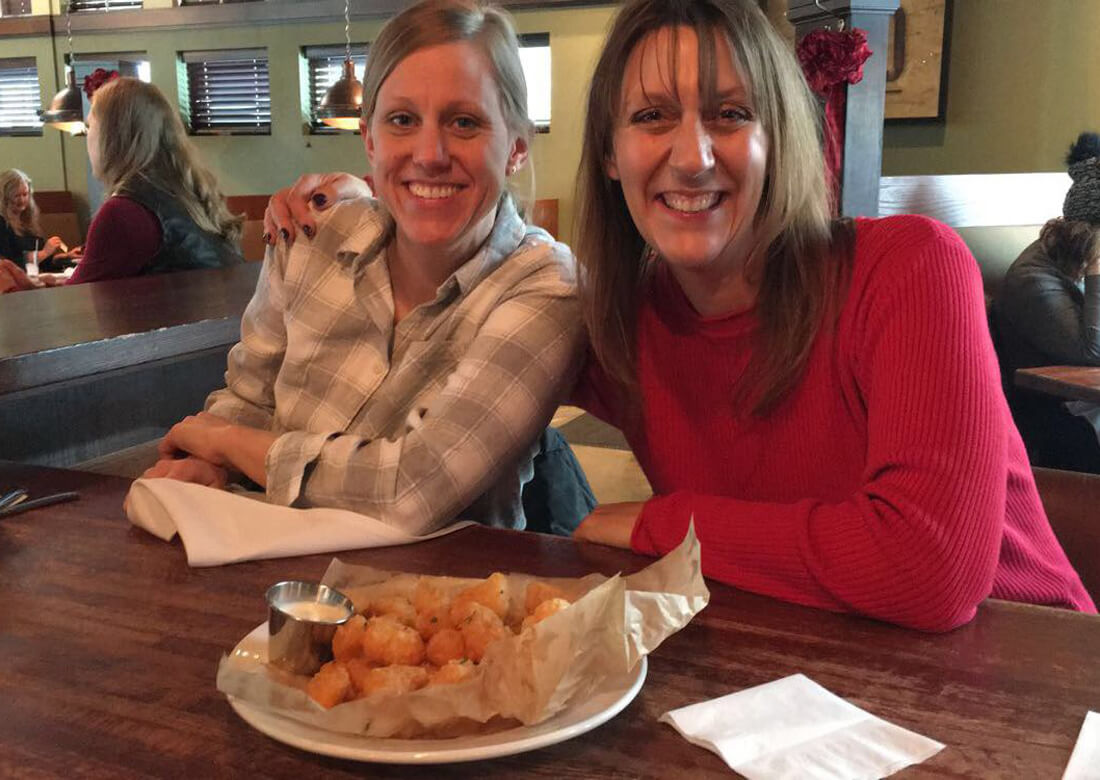 It is critical for us to establish a Design concept early on and stick to it. So you guessed it, this home is "Comfortable Modern Farmhouse." I know, I know…how original Veridian Design Team, I mean Fixer Upper is kind of a big deal and everyone knows what shiplap is already, right? Or not? We challenged ourselves to show both relatable and inspiring details and source many of the furnishing and accessories locally. But, I'll touch more on that later.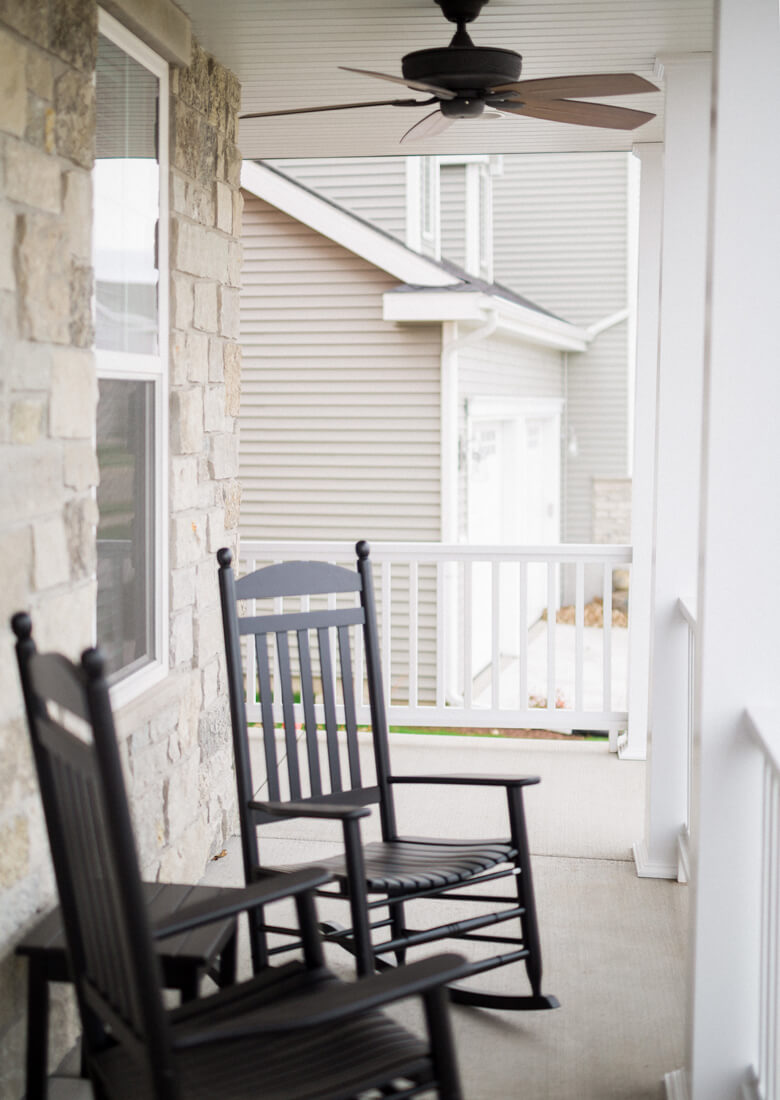 When you walk up to this home in our 1000 Oaks neighborhood, the wide front porch, complete with beautiful rocking chairs and ceiling fans really sets the tone for the home. You are not entering a stark white space, rather you are entering a family friendly, warm and inviting environment. Upon walking through the front door you'll immediately notice the warmth of the wide plank hickory wood flooring. The flooring blends perfectly with the stunning open staircase that was both a significant design feature, as well as our first splurge item in the budget. WOW, what a show stopper!
As you continue into the home, the charcoal black stone fireplace is an obvious focal point. I believe that black can often feel like a design risk, and one that our homeowners might shy away from. But, the Johnson's knew that it would actually be just the opposite. Instead of a risk, it would provide warm depth to the space while making a subtle connection to the black door and cabinet hardware, light fixtures, kitchen sink, and home furnishings throughout. Black is a neutral color and is often forgot about but it is one color that has a major payoff!
The kitchen features a blend of comfortable style with a stained wood island, a textured stone inspired backsplash and painted cabinetry. We wanted to show that gray can actually feel "warm" in a space because so many times we are challenged that gray feels cold and sterile. That may sound odd, as gray is a cool color tone, but mixed with the warmth of granite countertops, the hickory flooring and the stain color on the island and pantry door, it proves that gray is not only for the modern at heart.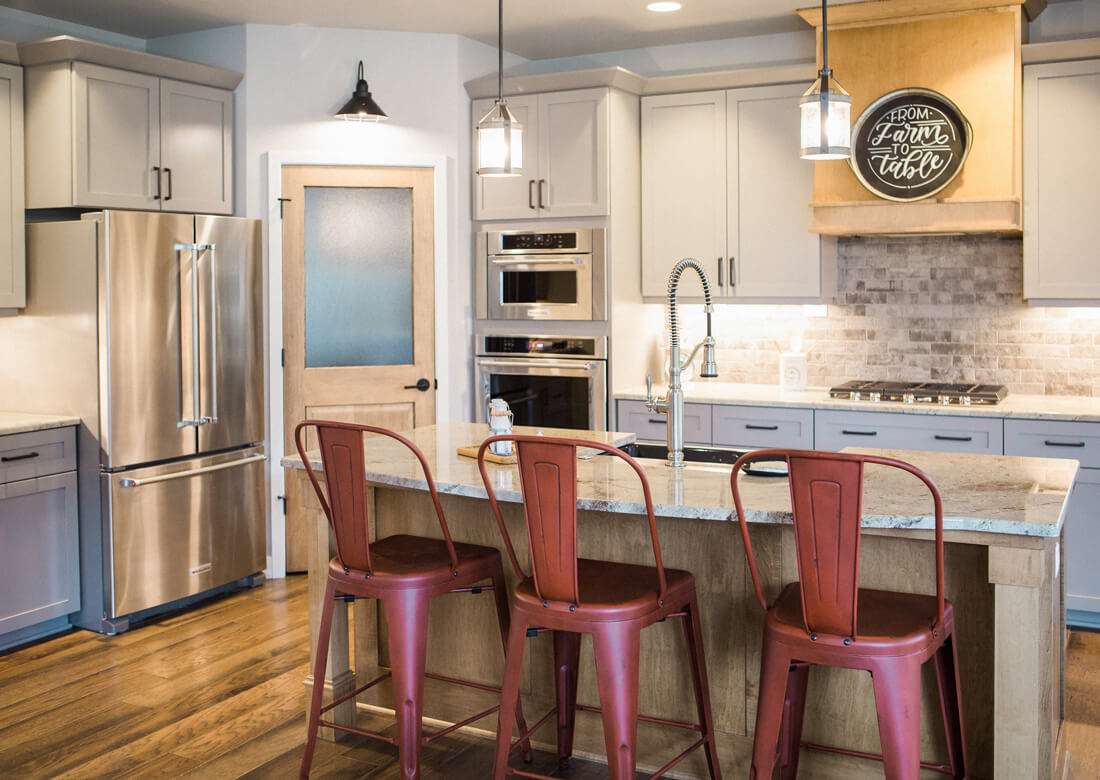 As you pass through the kitchen you surprisingly stumble upon the owner's bedroom which holds one of the biggest reveals of a new product that we've had in a long time. Drum roll please…let me introduce you to our "faux" wood beams. Installing these took a lot of work and coordination from our team but we pulled it off and are now ready to offer this amazing product to you in your next owner's oasis or great room!
The first floor also features a screened porch off the dinette area, which is a great way for the Johnson's to enjoy the outdoors and expand upon comfortable living, which we know is important to them and their family.
As you make your way upstairs you begin to realize that you're entering a much different space as you notice the navy blue wall and bright colored accents in the upstairs loft. The cabinet built-in serves as an entertainment zone and storage solution for the second floor. This space is a major feature of this plan and it is why it's perfect for a family with "tween/teen" aged children. The kid's can enjoy the freedom of having their own hangout space and the parents can still easily check on them.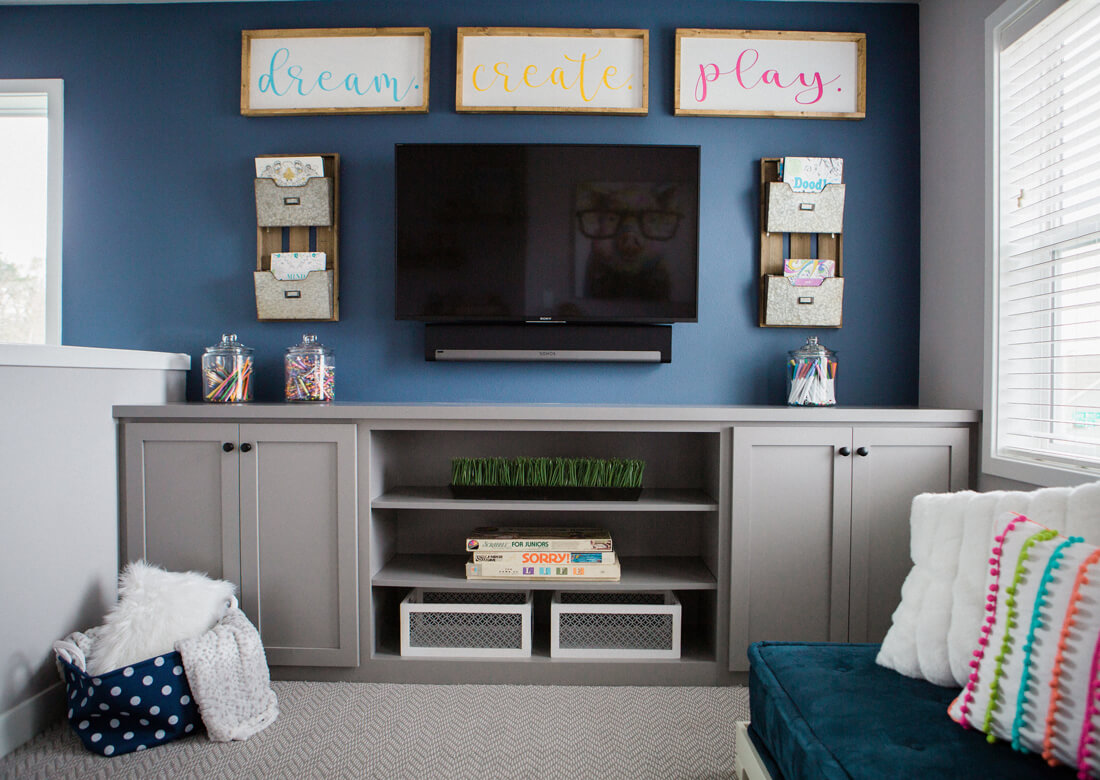 As a Design team we poured many hours into the Design concepts of the children's rooms. We had endless conversations wondering what Emma was currently reading and since she prefers quiet, solo activities, she's probably more into softer color tones. Her older sister, Aubrey, is transitioning into high school and loves to hang out with her friends, read teen magazines and is experimenting with her own hand in designing her room as she transitions from her little girl pink room to something more sophisticated. And then there's Henry, who loves trains. His father took the reigns on decorating his room which resulted in a life size railroad track installed on the wall!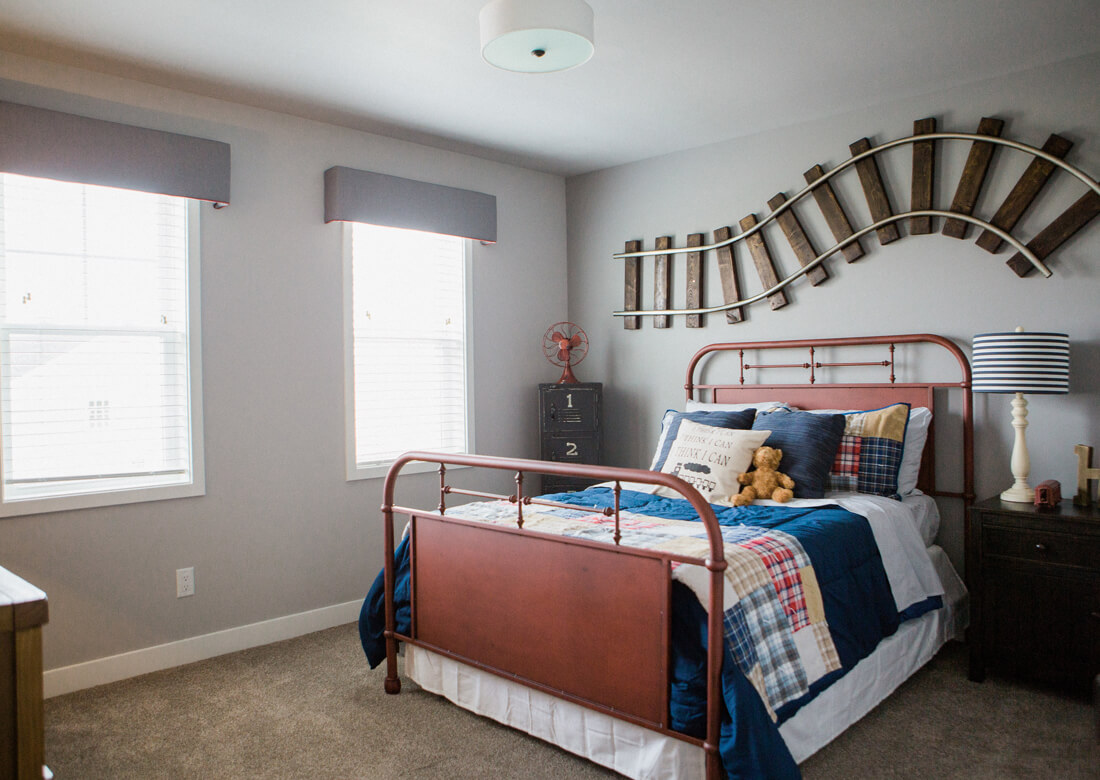 The upstairs bathroom which serves all three children has a generously sized vanity, dual sinks and a separate toilet/shower room so that Aubrey can get ready in the morning while Emma can be in the shower. There is a shiplap feature wall and Farmhouse inspired lights above each mirror for a special touch.
Like I said earlier, we really fall in love with these families as we are in the Design stage, so as we begin on the construction of the home, we hand over the baton to our Construction team and switch over to our home staging hats as we begin the furniture and accessory selection process. This is both a very fun and very stressful part of the process because we typically know exactly what we're looking for, but now we need to actually source the items and hope that we don't break the budget in the process.
It's important for me to mention budget here, because we do actually have one and we do actually have to stick to it, just like all of you. We came within $2.00 of our furniture and accessory budget and that is because I am surrounded by some of the most talented Designers. Lyndsay definitely is our "runner" and this girl can "get it done" when it comes to a shopping list. Then there's Bree, the Project Lead, and she is a super crafty, frugal, "do-it your selfer," spray paint warrior. No detail is left unturned! Laura is always up for anything and will pitch in wherever needed, and it goes to show that there are many unglamorous parts of staging a home. Do you know how long it takes to steam bedding and window treatments in a brand new Veridian home? Almost an entire day non-stop!
We couldn't have pulled off this beautiful new home without our awesome Veridian Team and local vendors. You'll find that many items in this home are sourced from local antique and salvage shops as well as are items produced by small businesses within our community. We invite you to tour the 1000 Oaks Furnished Model, enjoy the details, and Farmhouse flair. We look forward to sharing our next family with you soon!