Do you have a wet bar?  How about a butler's pantry?  What about a counter?  I'm going to let you in on a secret…  You don't need a bar to style one!  Hosting an event?  You can create a gorgeous bar set-up along your perimeter counter.
Lucky enough for us, there is a wonderful wet bar space that we were able to style for your viewing pleasure, inside of The Becket SS, the furnished model located in The Enclave at Mequon Preserve.  Haven't seen it yet?  You need to.  Check out the video tour here.
Step 1:  Designate a champagne station.
We used an art deco inspired serving tray to collect a vintage looking champagne/ice bucket, tall champagne flutes and marble coasters. When looking at our vignette, we realized that we needed more visual height, so we popped in an empty wood crate and stacked it with a cutting board and a rosemary plant.  Now, you can really impress your guests by conveniently tossing a sprig of rosemary into your champagne.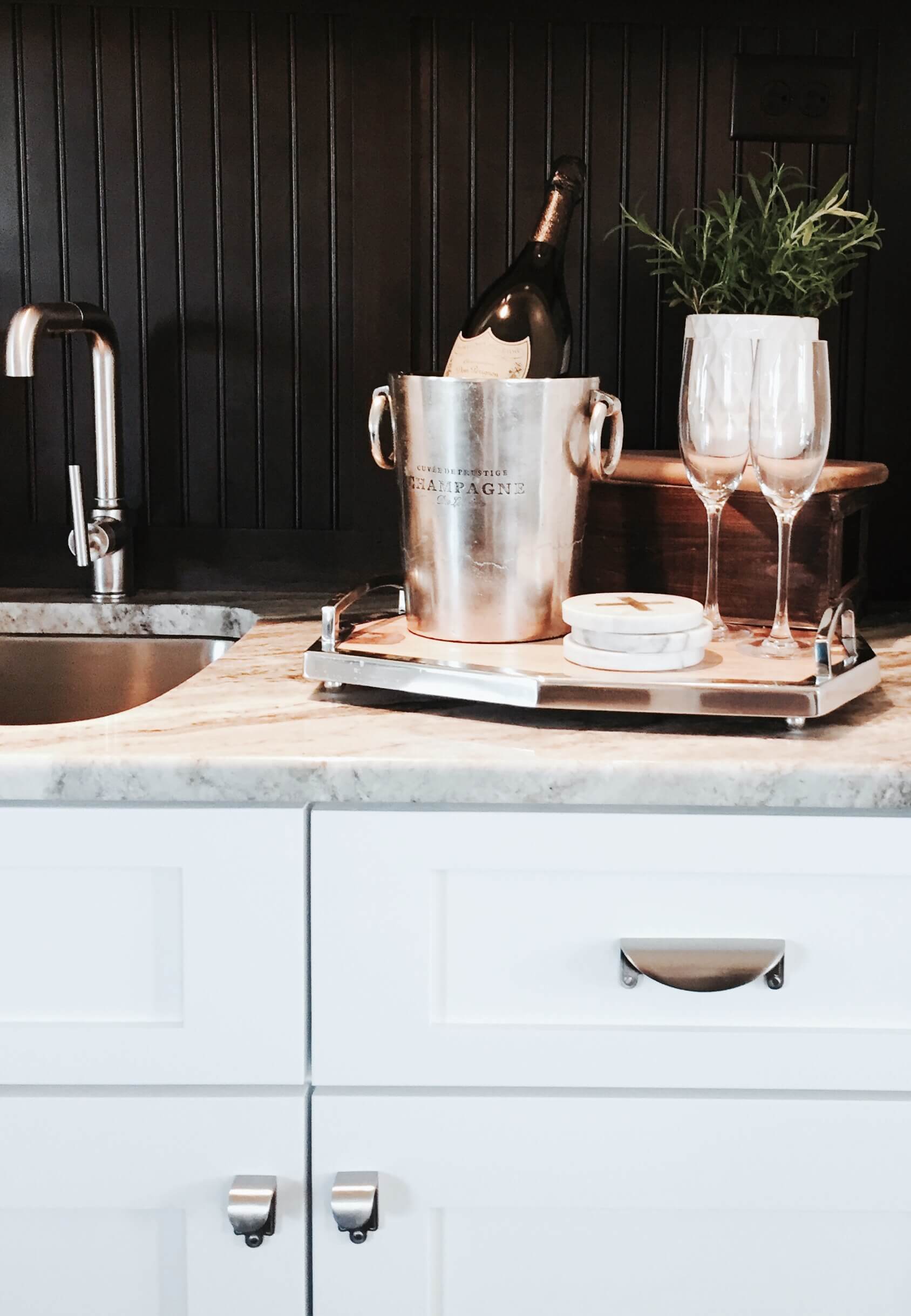 Step 2:  Assemble pouring liquors, cocktail tools and snacks.
By grouping together your spirits and tools, you'll make it easy for your guests to serve themselves their favorite drinks.  We used a round wood serving tray to corral the liquors and placed the mixology tools nearby.  Just be sure to offer up some snacks.  With all those great drinks on hand, you'll want to be sure your friends have something to ease their appetites.  We found three great types of nuts from Trader Joe's:  Sesame Honey Almonds, Salt and Pepper Pistachios and Thai Lime and Chile Cashews (these have a bit of a kick to them).  All were sooo good!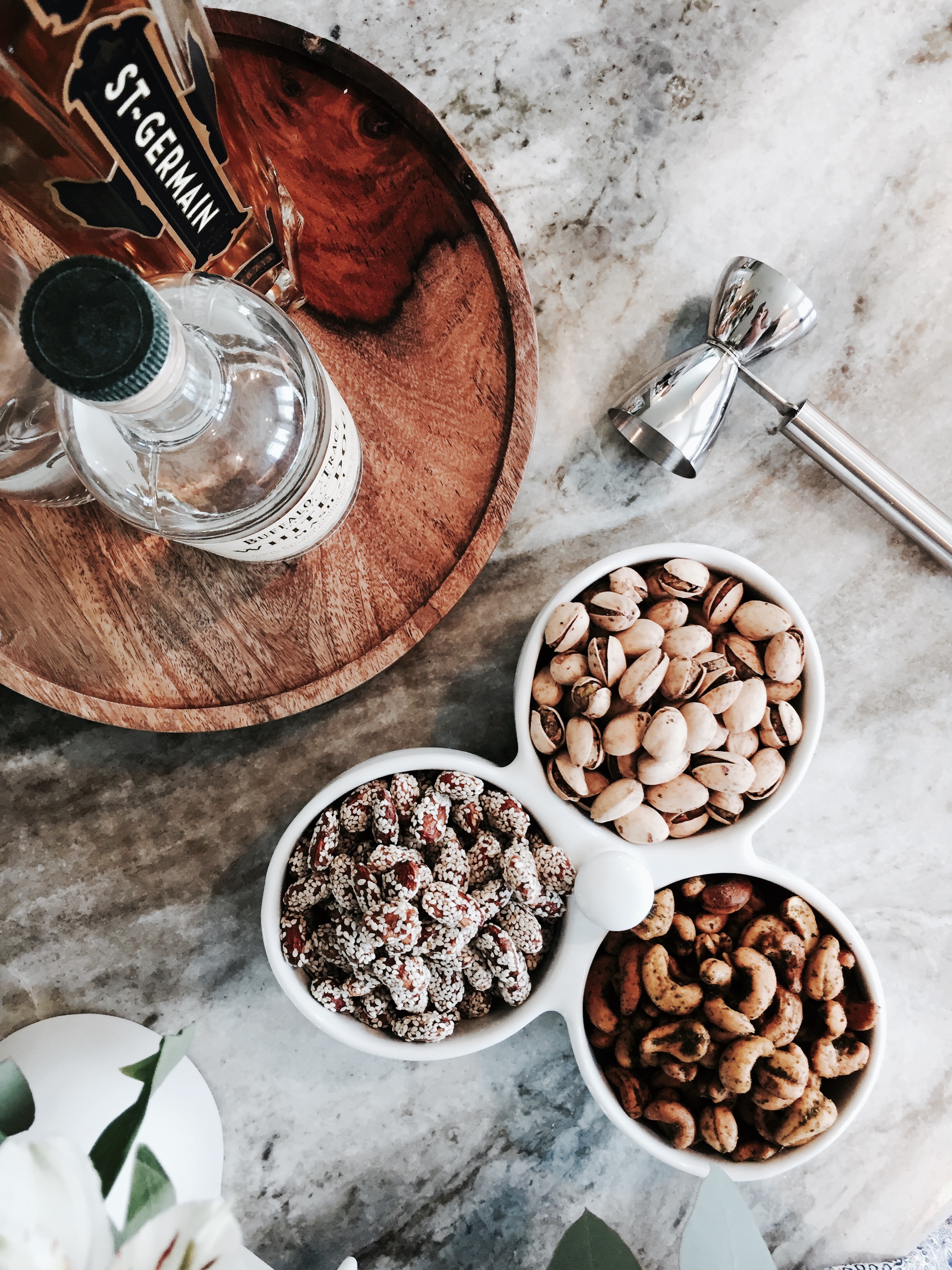 Step 3:  Display glassware.
When entertaining, you'll want to ensure your drinkware is just as easily accessible as the drinks are.  If you have beautiful glass cabinets, like these, make use of them!  If not, a grouping of glasses near your pouring station will also do the trick.  We used vintage inspired champagne coupes and old fashioned cocktail tumblers.  We didn't have enough glassware to fill all the shelves, so we popped in a few mixers, club soda and a ginger drink mix.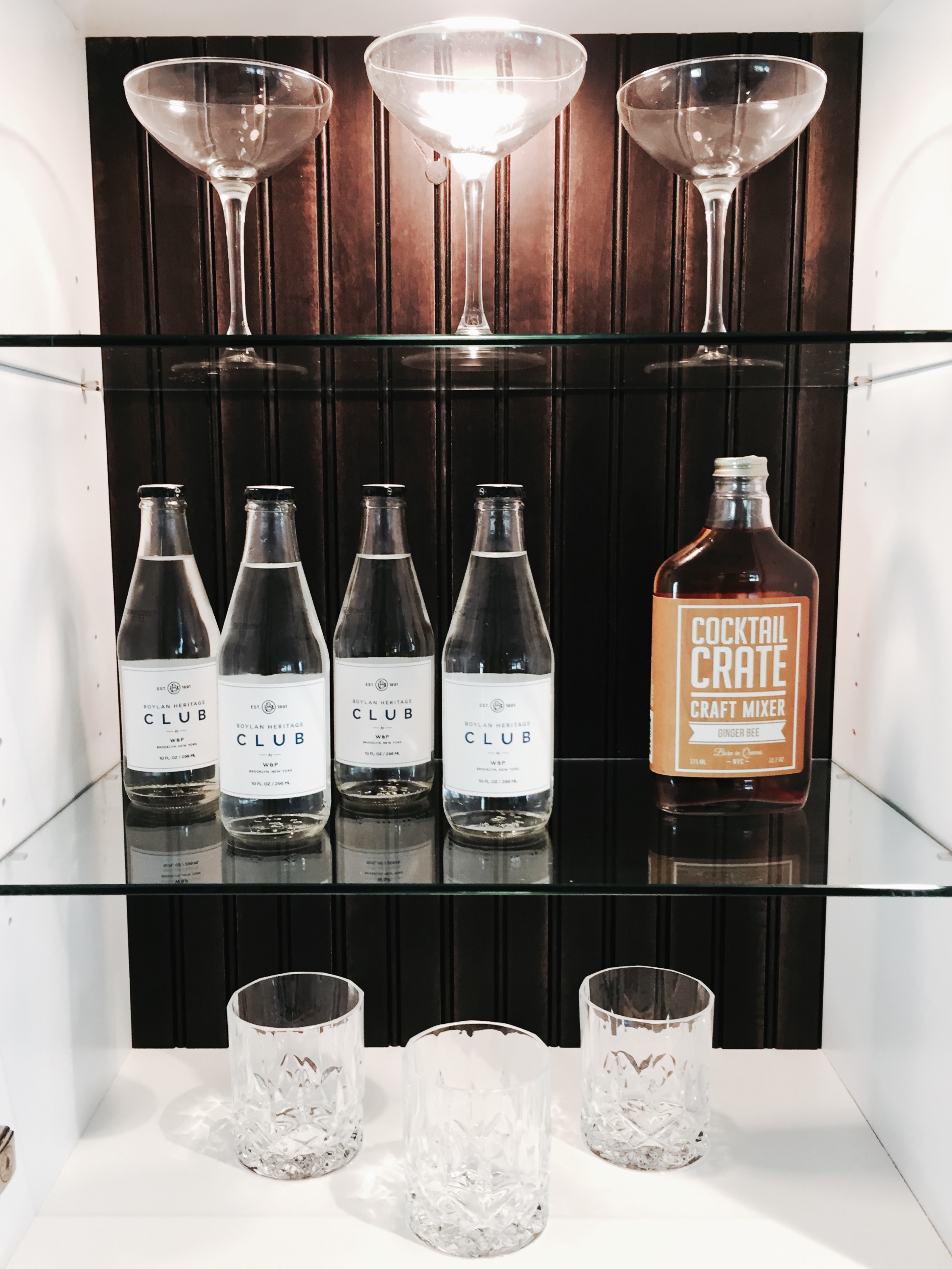 Step 4:  Bask in your glory.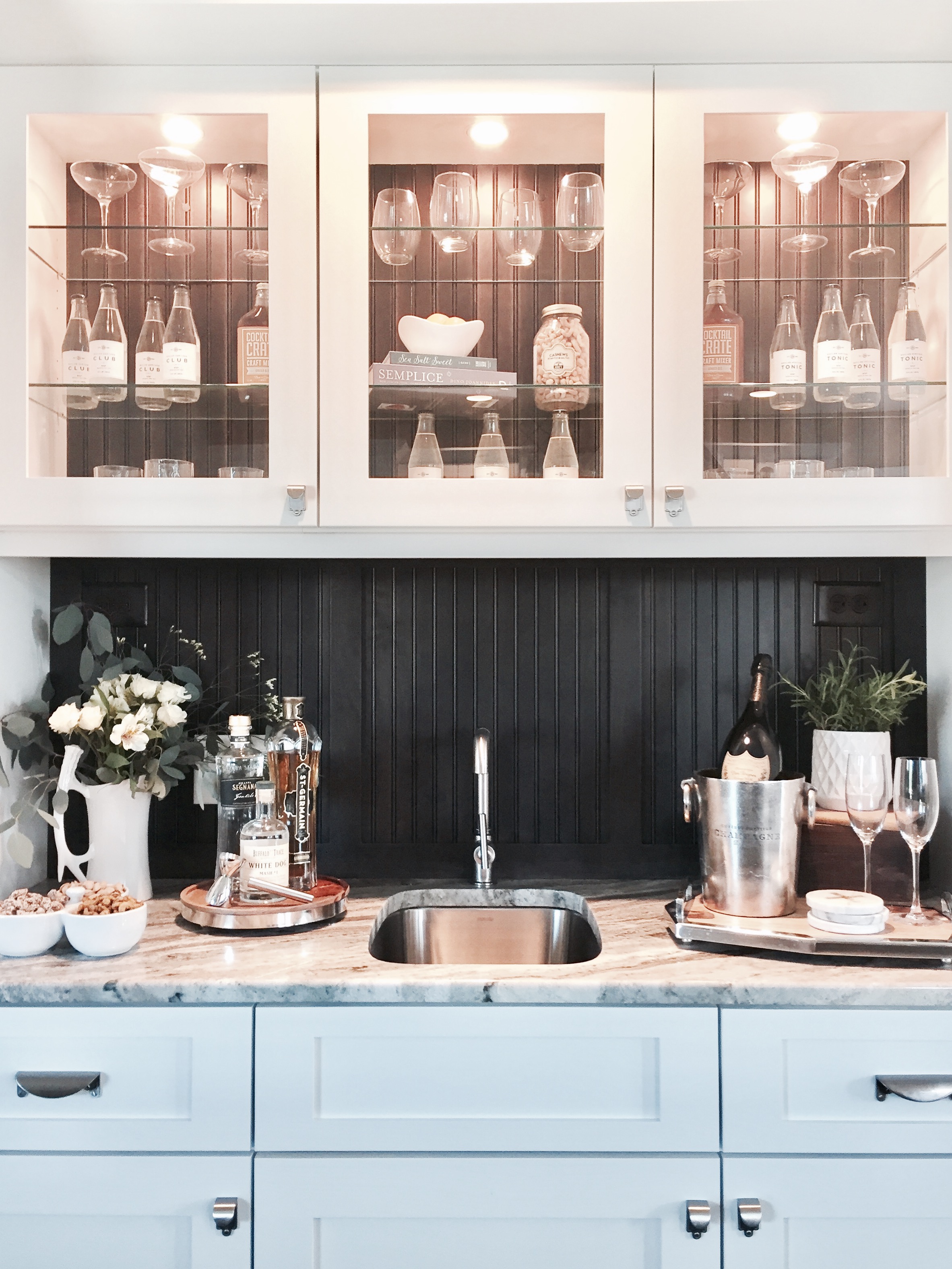 Easy Peasy Prosecco Cocktail Recipe
Ingredients: Grapefruit Prosecco, Cotton Candy…  Directions:  Place cotton candy in champagne coupe, pour Prosecco over cotton candy.  Sip with pinky up.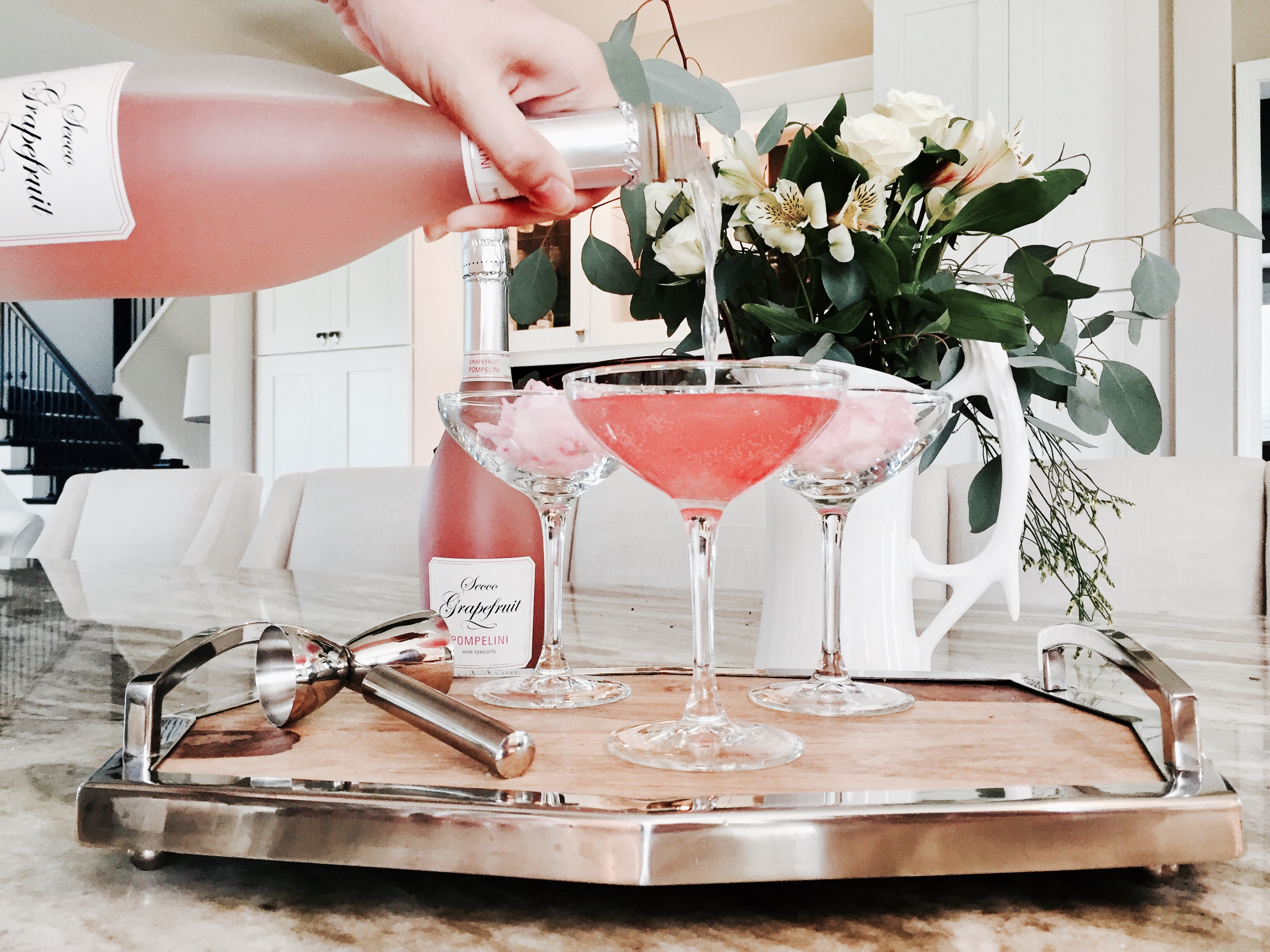 Cheers!