If you read the Veridian blog regularly, you are probably aware that Chelsey and I are comparing dream kitchens this week! Like she mentioned on Tuesday, we are lucky enough to work in an office that is located 100 feet away from the marvelous Design Studio. (Unfair working conditions, I know). While I would happily live in Chelsey's Modern Farmhouse kitchen any day of the week, I knew I wanted to push the envelope on my selections and hone in on a moody mid-century inspired design.
As Chelsey mentioned in her post, we encourage our customers to search Pinterest, Houzz and the Inspiration Gallery on our website for inspiration. Because I loved individual elements from multiple inspiration sources, but couldn't pinpoint my favorite, I brought them all to the table. After all, the more, the merrier!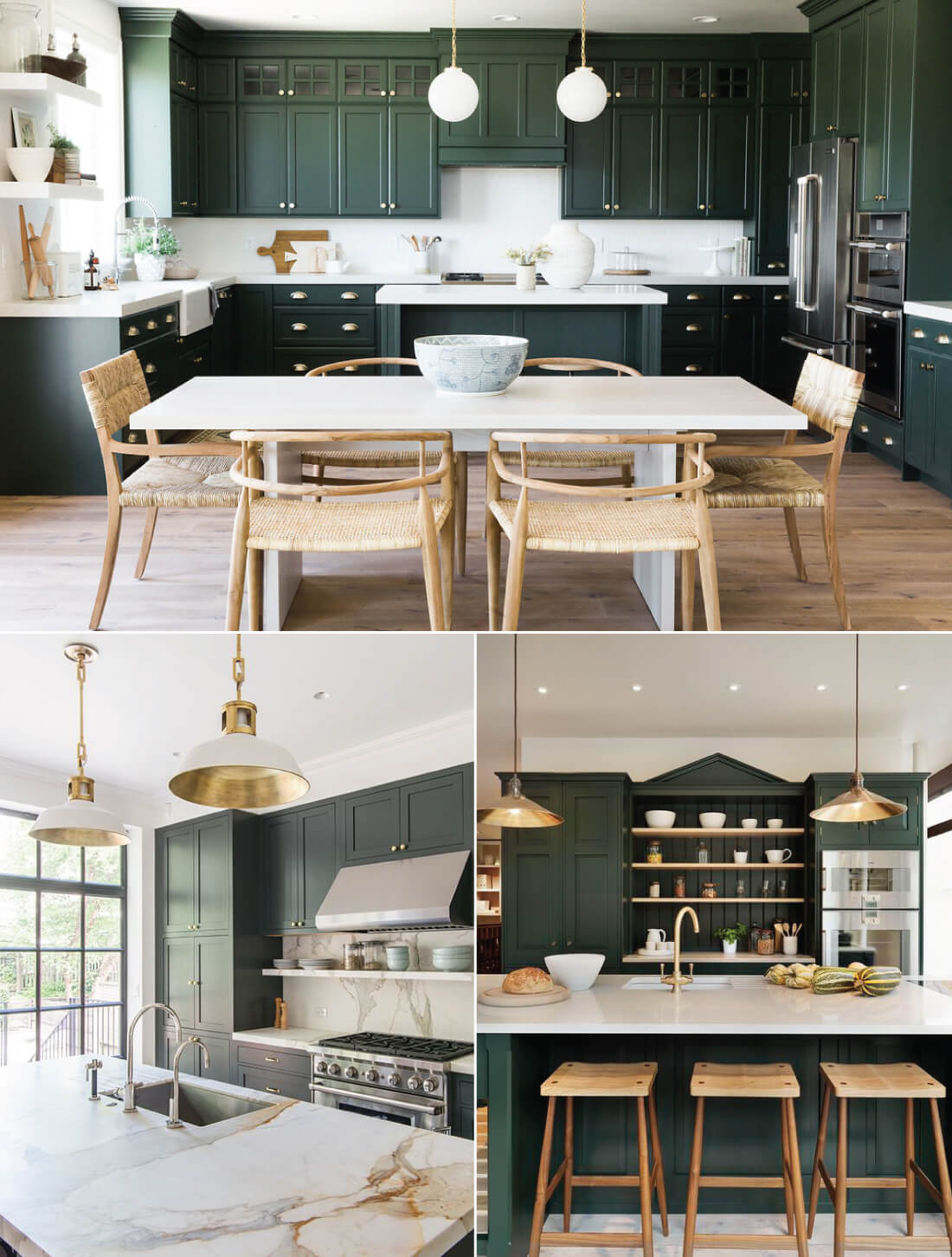 While I had a fairly open mind going into my selection process, you can probably tell that one single element was playing strong throughout my inspiration photos, and to be honest with you, in my heart. Hunter green cabinets with gold accents. I just couldn't shake the thought of them, so I talked with one of our lovely Interior Designers, Bree, and she confirmed that as long as I selected a Sherwin-Williams paint color, the beauty of Hunt Club green cabinetry could soon be mine.
With a solid start to my dream kitchen, I wanted to balance out the richness of the cabinets with some lighter elements. Since I'm no stranger in trying to master complicated recipes in the kitchen, I knew I was going to need a durable, yet gorgeous countertop with an easy to clean backsplash, so I opted for HanStone Quartz countertops in Aurora Snow with a classic 3″ x 6″ subway tile in White, semi-gloss.
Once I had the basics down, my mid-century modern spirit was still calling, so I settled on these amazing three light pendants from Madison Lighting, went gold with my kitchen hardware and threw in these gorgeous walnut counter stools from Inmod.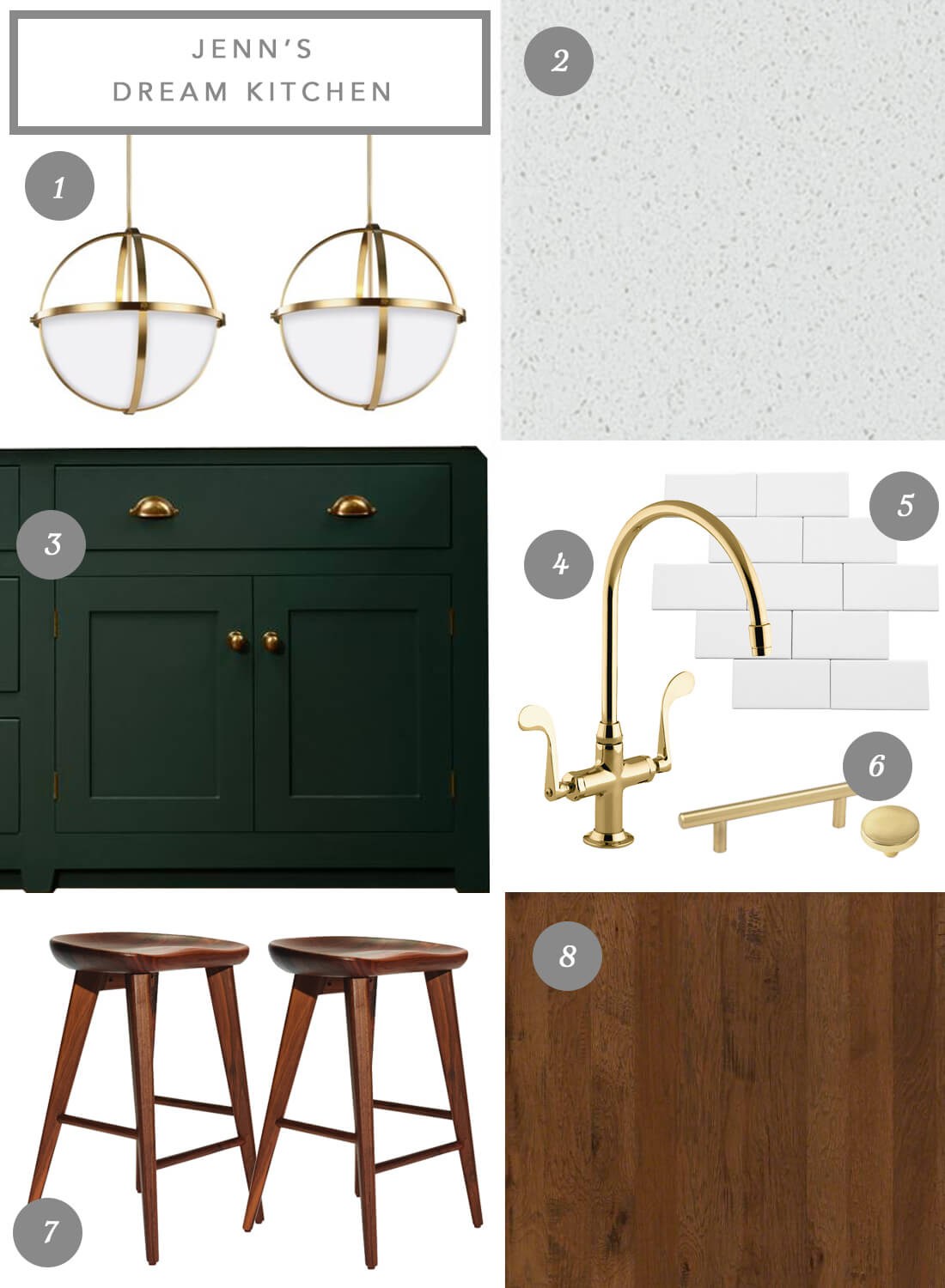 Moody Mid-Century Modern Selections:
I also decided that it was necessary to treat myself to this Dual Fuel Slide-In Range from Bosch. It will pay for itself in all of the restaurant worthy meals I'm now able to cook at home now, right?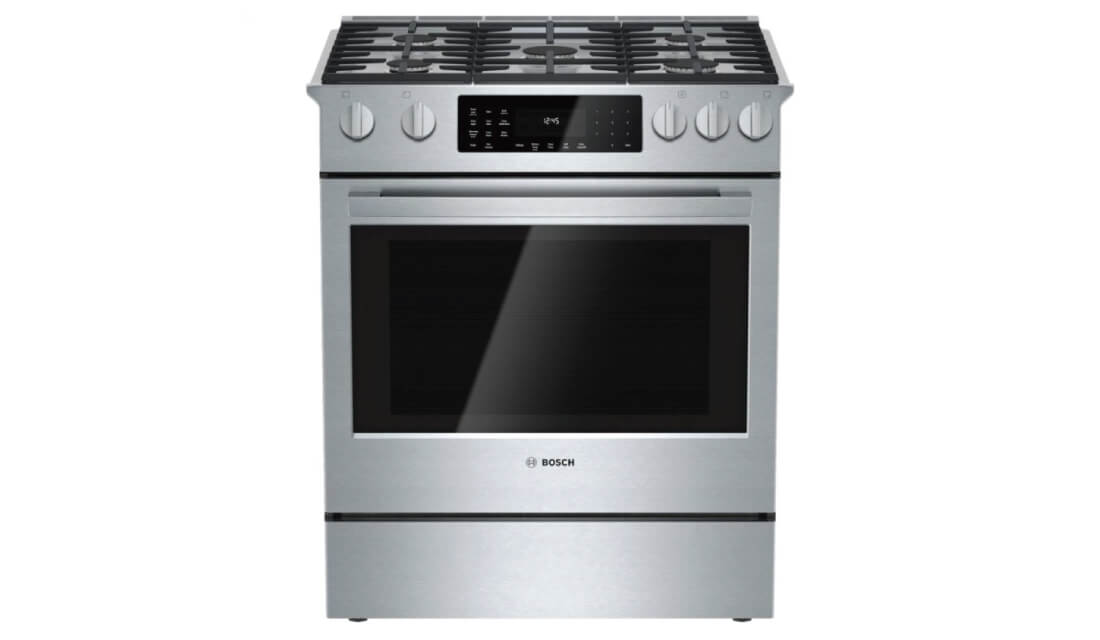 And just like that, my dream kitchen came to life. Well, at least in Design Studio samples and on my computer screen. Truthfully, going through the selection process was so much easier than I expected. Mainly because I was able to select my flooring, faucets, cabinets, countertops and more – all under one roof. Having our knowledgeable Interior Designers on hand whenever I had a question didn't hurt either.
Have you gone through our selection process? What was your experience picking out your dream kitchen?