For those of us with kiddo(s), a playroom or a play area is a must.  I'm using the term playroom loosely, i.e. it can be your child's bedroom, it can be another room altogether – like a flex room, or it can be a portion of your kitchen/great room.
Personally, we have a few dedicated play areas in our home.  Our son's room holds a play kitchen, our kitchen holds his play table/chairs and an art easel, and coming soon, our flex room will hold a train table.  My goal is to allow him to have fun in our home, but not have it looking like a toy tornado either.  That said, I am very careful about choosing items that not only will my son like, but that I find visually attractive as well (all of the aforementioned items are made of wood and constructed in a shaker style, painted white).  Lucky for me, my dad is a pretty skilled carpenter, so I've got help in this department.  But in case you don't have a skilled grandpa on your hands, don't worry, I've got you covered with some great store-bought and easy DIY sources that you'll be proud to have in your home.  Let's jump in!
DIY Play Table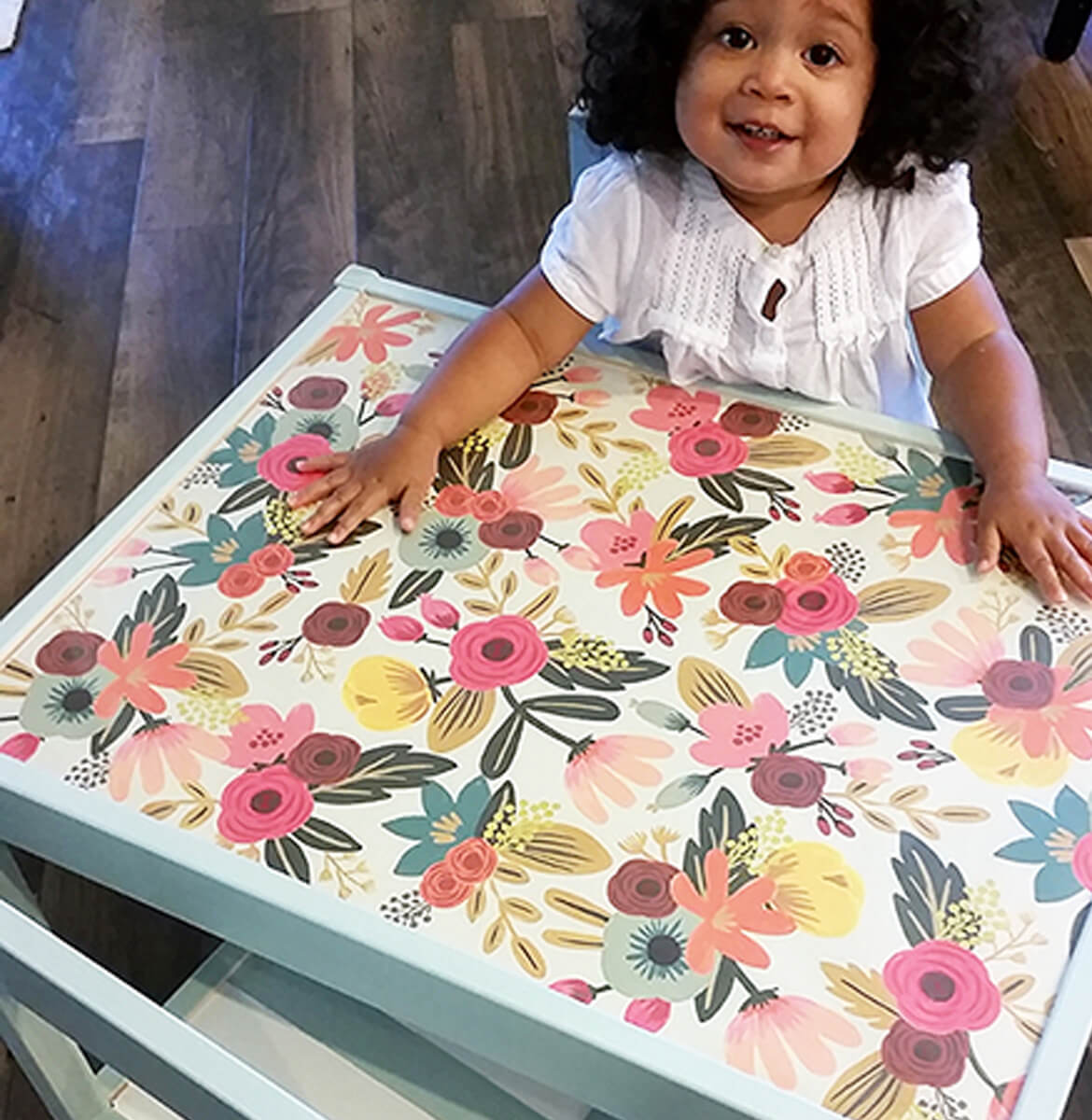 Using a $20 table and chair set, this mama created a gorgeous little play set for her child.  I love that you can swap in different paper under the acrylic to suit your child's interests.  This Rifle Paper Co. wrapping paper is pretty divine though!
Pottery Barn Chelsea All-In-1 Kitchen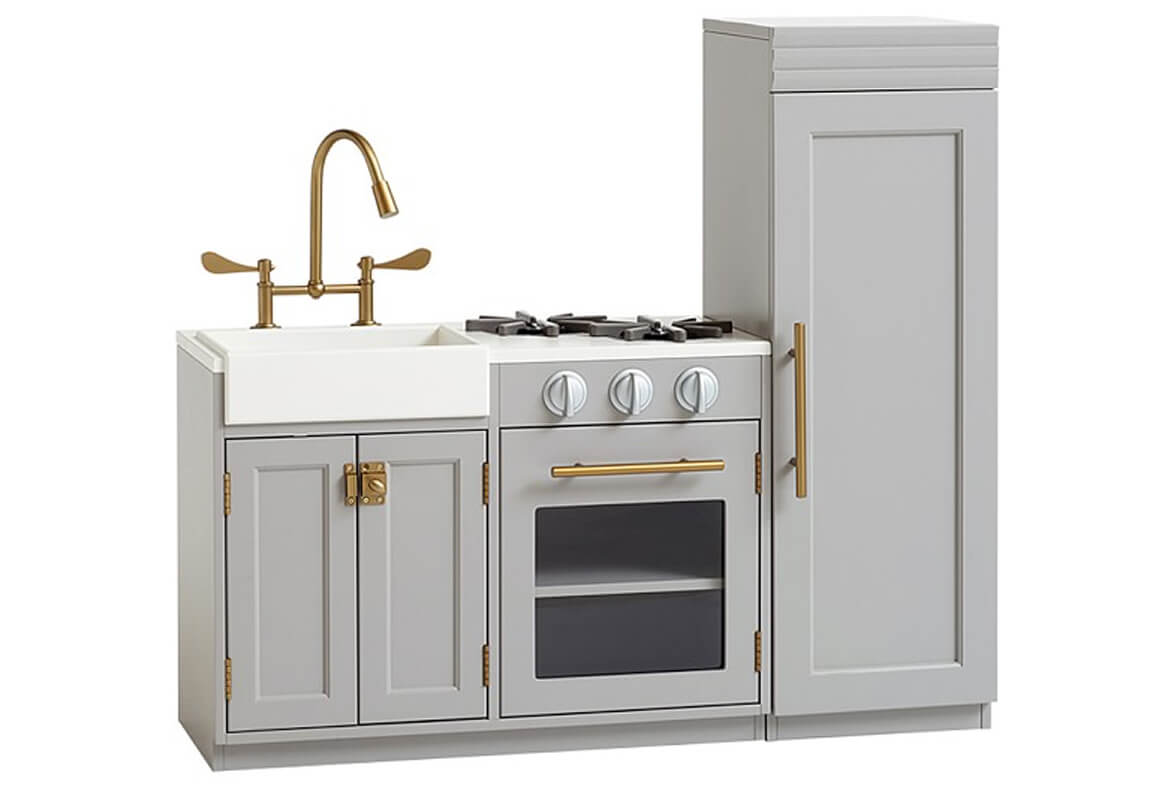 I think there are a lot of grown-ups out there that would love a kitchen as nice as this.  My goodness, it even has a farmhouse sink!  It's a bit on the pricier end, but you can find some other adorable play kitchens out there for less.  Don't forget to make sure it's stocked, check out this cute play food set from Land of Nod.  Tip:  If you plan to display your child's kitchen near yours, make sure they match!
Teepee
Teepees are so much fun for little ones.  It's their own little private oasis to read, play, image.  Teepees have gotten so popular recently, that you can find one at just about any price point.  Here's a really sweet one from Target – that would even look nice in your great room.  Like the teepee in this image?  Come check it out for yourself at our furnished model in Sun Prairie, click here for open house hours.
Storage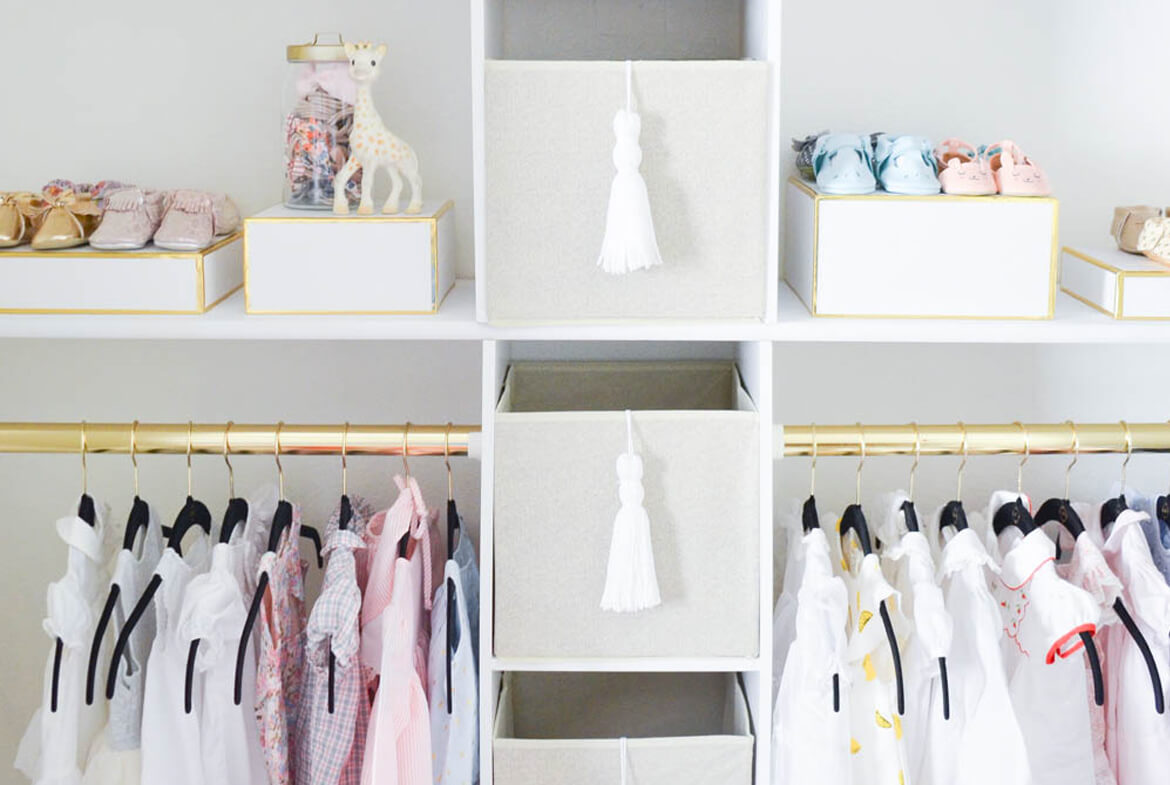 With playrooms, comes toys.  So many toys.  You'll start out thinking, that's okay, I'll just buy a couple pretty baskets and we'll be set.  Think again, those will be full in no time flat.  That said, storage is key – and lot's of it!  It's a good idea to organize your child's closet to make the most of it's storage capacity.  Check out what Momma Society did with a $40 closet kit and some tassels.  Target also makes these more rustic-looking large stackable bins for only $17 a pop.  I also am loving this little house-shaped shelf by H&M to corral little knick-knacks.
But if you're in a pinch, a nice big box will do the trick 100% of the time (here's my little guy in the box his diapers were shipped to us in).  Tell us, what's your child's favorite playroom staple?