Your kitchen is the heart of your home. It's the place where memories are made over new recipes, impromptu cocktail parties, and casual Sunday brunches. It's also the one place in your home that you'll want to be careful with when following trends. Because it's such an important room (and investment) in your home, we suggest you look to the trends that offer staying power because they address lifestyle needs, convenience and style – ensuring that you'll enjoy your kitchen for years to come.
Keeping the above principal in mind, we went on a mission to find the biggest (and boldest) color trends for custom cabinetry that not only look good right now but that we feel will also stand the test of time.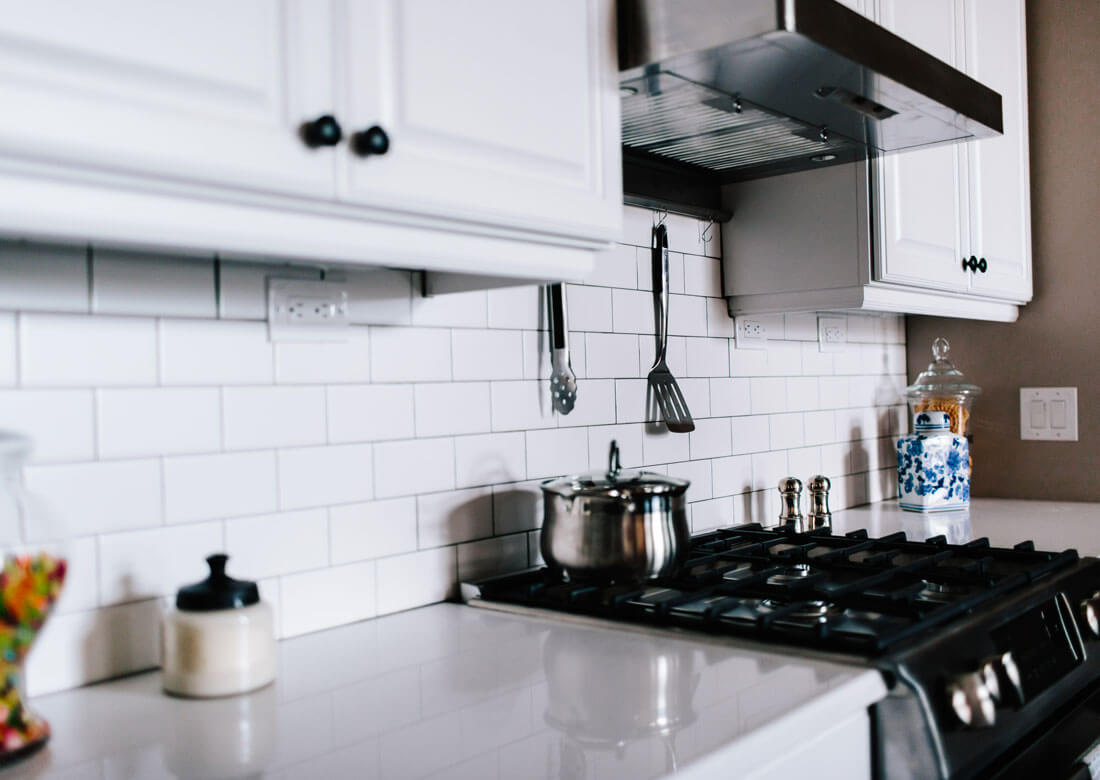 White – The preference for white cabinetry continues to soar, and for good reason. This versatile color creates a light and airy look to any type of kitchen, lending itself well to traditional, cottage, and even modern styled spaces.  Layering white on white by featuring a white backsplash beneath white cabinets on white countertops has also become a popular selection, and it is looking better than ever in our Juniper Ridge furnished model.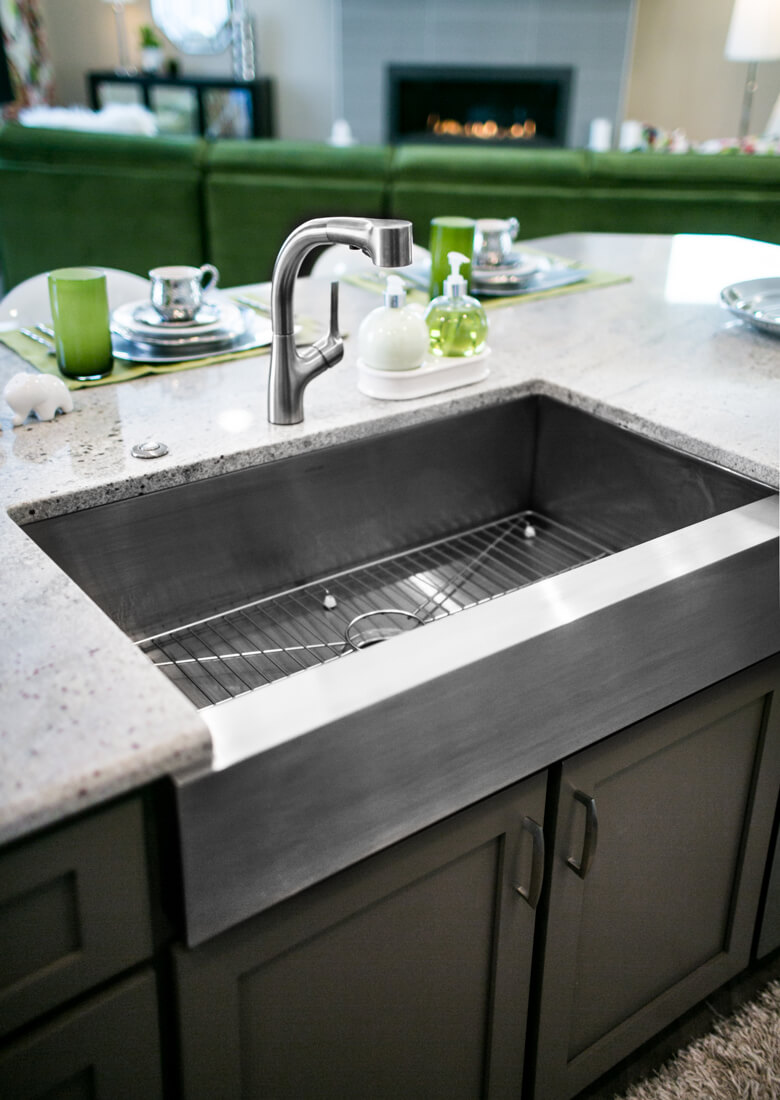 Gray – Gray is slated to become the next white in popularity according to leading industry experts. When choosing a gray color, try to look for soft purple undertones which will cast a slightly moodier yet warmer hue than it's cooler counterparts. To see in person how timeless gray can really be, check out our Birchwood Point furnished model.
Navy – Navy blue islands and lower kitchen cabinets are great at casting a soothing and nautical vibe on an otherwise monochromatic kitchen color scheme. Our Juniper Ridge furnished model strikes again with its incredible pairing of all white cabinets and a stunning navy island.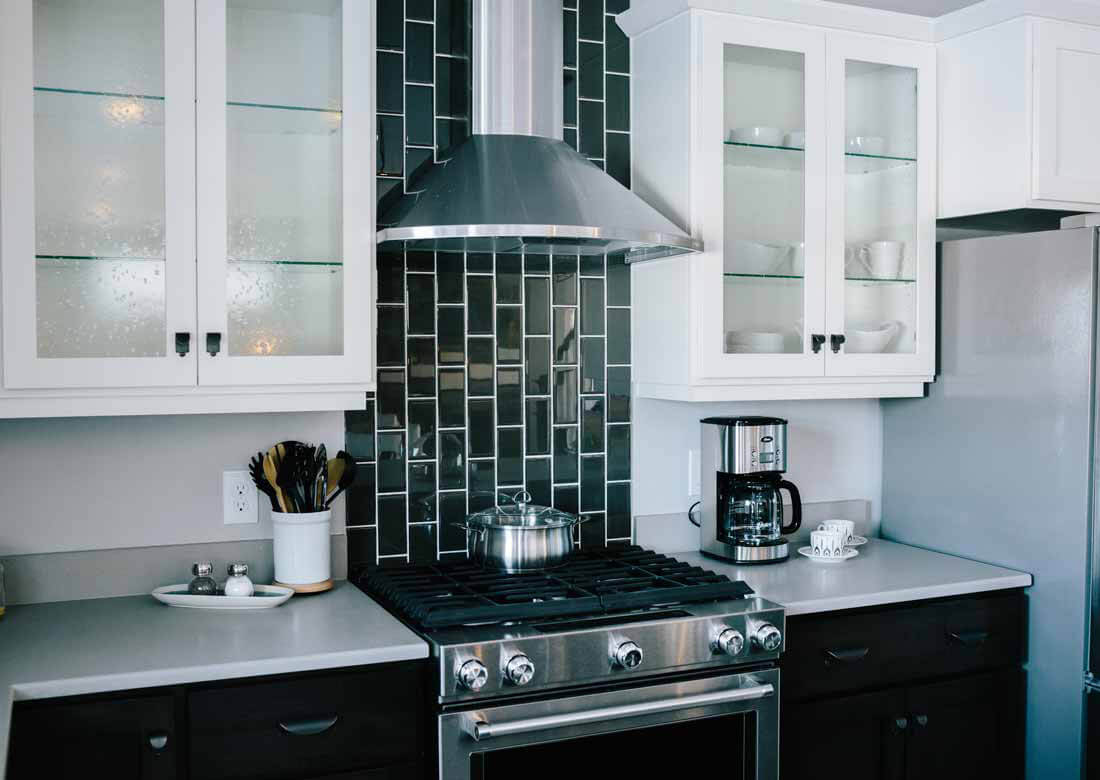 Almost Black – Inviting and dramatic, black or almost black colored cabinets provide a striking effect with high contrast. Cross over to the dark side with all black cabinets, or mix it up like we did in our Smith's Crossing furnished model with two-toned light and dark cabinets for a sophisticated, yet playful space.
Forest Green – Dark and moody tones are gaining momentum in the kitchen, and we are loving these forest green cabinets, complemented by a white marble countertop which creates a refreshing take on an otherwise moody vibe.  What's even better, green is a color choice that suggests health and vibrancy, potentially influencing you to make healthier food choices in the kitchen. How's that for motivation?
Tell us, how are you using these timeless trends in your kitchen?