Welcome Summer! Welcome warm weather, sunshine and new phase releases!
We are excited to announce throughout the month of June, we will be releasing over 75 homesites in our westside neighborhoods, as well as, our Sun Prairie and McFarland neighborhoods!
Don't miss this opportunity because these homesites won't last long! Contact one of our New Home Specialists for more details on how to build your dream home today!
Birchwood Point South, West Madison
Welcome to your haven on the westside. Your gateway to indulgent restaurants and sophisticated shopping centers. Welcome to the enclave that is Birchwood Point South.
Releasing today, Thursday, June 9th, this phase will include 20 single family homesites (421-440 – shown in blue below)
Rosewood Fields, McFarland
Nestled between scenic wetlands, recreational walking trails and rolling farm fields yet minutes from parks, playgrounds and local restaurants, Rosewood Fields strikes a quintessential balance of calm and convenience. Located on the east side of McFarland, this charming neighborhood boasts an array of single-family and twin homesites.
Releasing Thursday, June 15th is Phase 2 in Rosewood Fields. This release will include 22 single family homesites (1-10, 16-24, 36-38 – shown in blue below)
Smith's Crossing McCoy Addition, Sun Prairie
With age comes wisdom, some (wise) person once said. In this innovative Sun Prairie neighborhood, we've taken some wise ideas from old-fashioned neighborhoods — things like wider sidewalks, narrower streets, loads of greenspaces, and plenty of community gathering places. Then we've added some newer touches, from convenient neighborhood shopping and dining, to diverse homesites suited for today's wide array of housing options.
Releasing Thursday, June 22 is Phase 8 in Smith's Crossing McCoy. This release will include 22 single family homesites (1081-1092, 1095-1104 – shown in blue below)
Eagle Trace, Middleton
A stone's throw from a conservancy filled with sunflowers, surrounded by gorgeous parks and golf courses, and nestled atop of historic farmlands. A grouping of three heirloom oaks, planted by three Schewe sisters, harkens to this land's heritage. We invite you to grow your own memories here. Welcome home to Eagle Trace.
Releasing Thursday, June 29 is Phase 5 in Eagle Trace. This release will include 13 single family homesites (4-8, 90-94, 97, 501-502 – shown in blue below)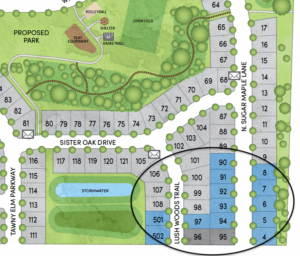 Ready to build your dream home? Contact us today about homesites available now and coming soon!
And don't forget to check out our New Neighborhood and Phase Updates page on the website. On this page you'll find everything you need to learn more about new homesites becoming available this year, including price release dates and build permit dates.
*Phases, homesites and dates are subject to change. Please talk to a New Home Specialist for the most up-to-date information.