We are excited to announce that on Friday, September 2nd we will be releasing Phase 3 in our Waunakee neighborhood, Heritage Hills. This picturesque neighborhood offers housing opportunities for every type of family. Walkable to charming shops, raved-about restaurants and a brand-new library, Heritage Hills is an ideal place to call home.
Phase 3 in Heritage Hills releases Friday, September 2nd and will include homesites 105-134 and 135-136 (located in blue below. This phase is located toward the top of the hill and along the tree line. These homesites will provide fantastic views and include a wide variety of single family home plans to choose from.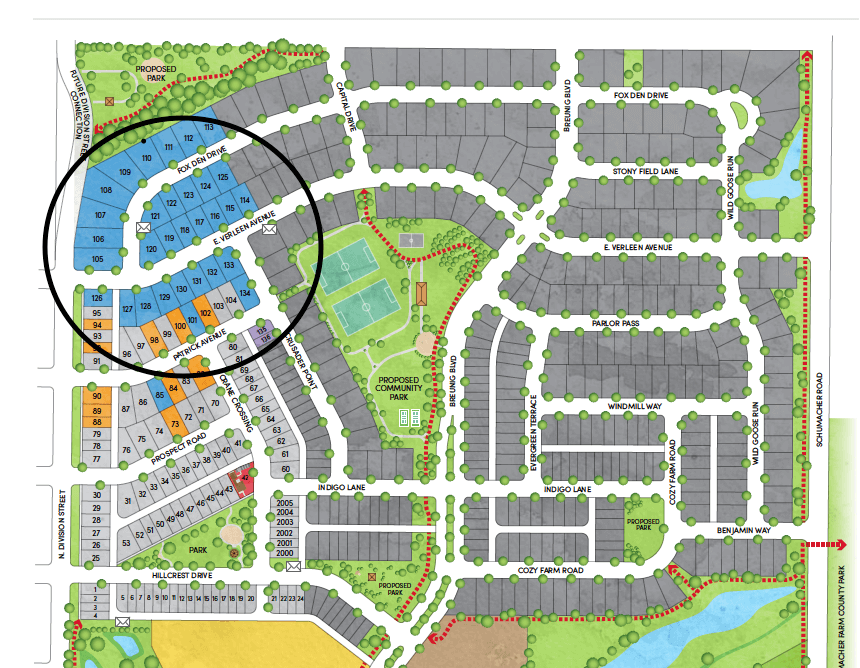 Ready to make your dream home a reality? Here's a couple easy steps to get you started…
Step One: Select your homesite. 
Review the neighborhood plat map and figure out which homesite would best suit your needs. You can drive out to the property either on your own or with your New Home Specialist and map out where the homesite will be – this will give you a better sense of the space overall. Once you've found that perfect homesite, then move on to Step Two.
Step Two: Submit an intent on your homesite.
An intent is perfect because it reserves your homesite for when you're ready to build, but is also great for those non-committal types… So if you decide building might not be your thing, and you want to purchase a move-in ready home instead, you'll get your money back. One thing to remember with an intent, is that it does hold the homesite for you, but not forever… You'll have a limited amount of time to sign the build contract. That pretty much sums it up!
Visit our website for more information on Heritage Hills and other Veridian Neighborhoods.
Ready to make Heritage Hills your new neighborhood? Contact a New Home Specialist today!