It's been a while since Jenn and I did our dream kitchens, so we thought, wouldn't it be fun to see our dream bathrooms?  So we did it.  I'm up first today, and you'll see Jenn's dream bathroom reveal on Thursday.  Let's jump in!
I've always loved a good bold contrast in a space.  This dream bathroom of mine turns out to be no different.  I found a few looks that I loved.  I'm drawn to black cabinetry paired with white counters, walls and flooring.  Here is the image that I found most intriguing.
Traditional Take: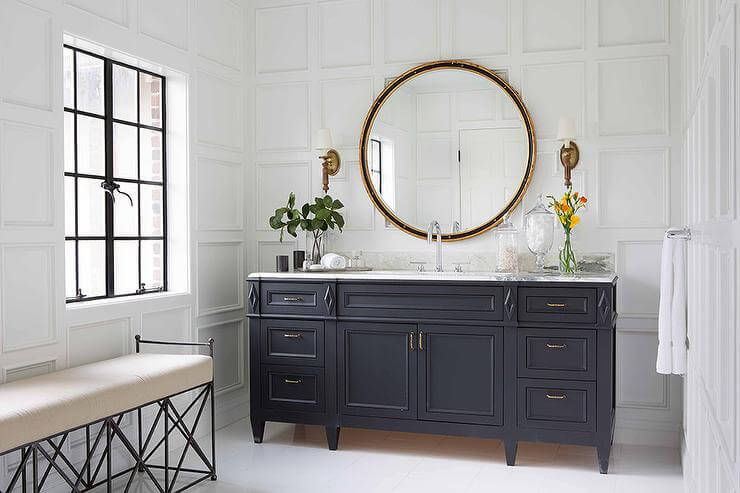 This look is a bit too traditional for my personal taste.  My style is self-proclaimed "Modern Farmhouse".  Once I narrowed down my look, I headed over to the Design Studio to checkout my options.  Carrara Marble is so gorgeous, but I have a toddler (and I'm a messy person in general), so that wouldn't work.  I did find this great quartz counter option, called Italian Waves, however.  Sold!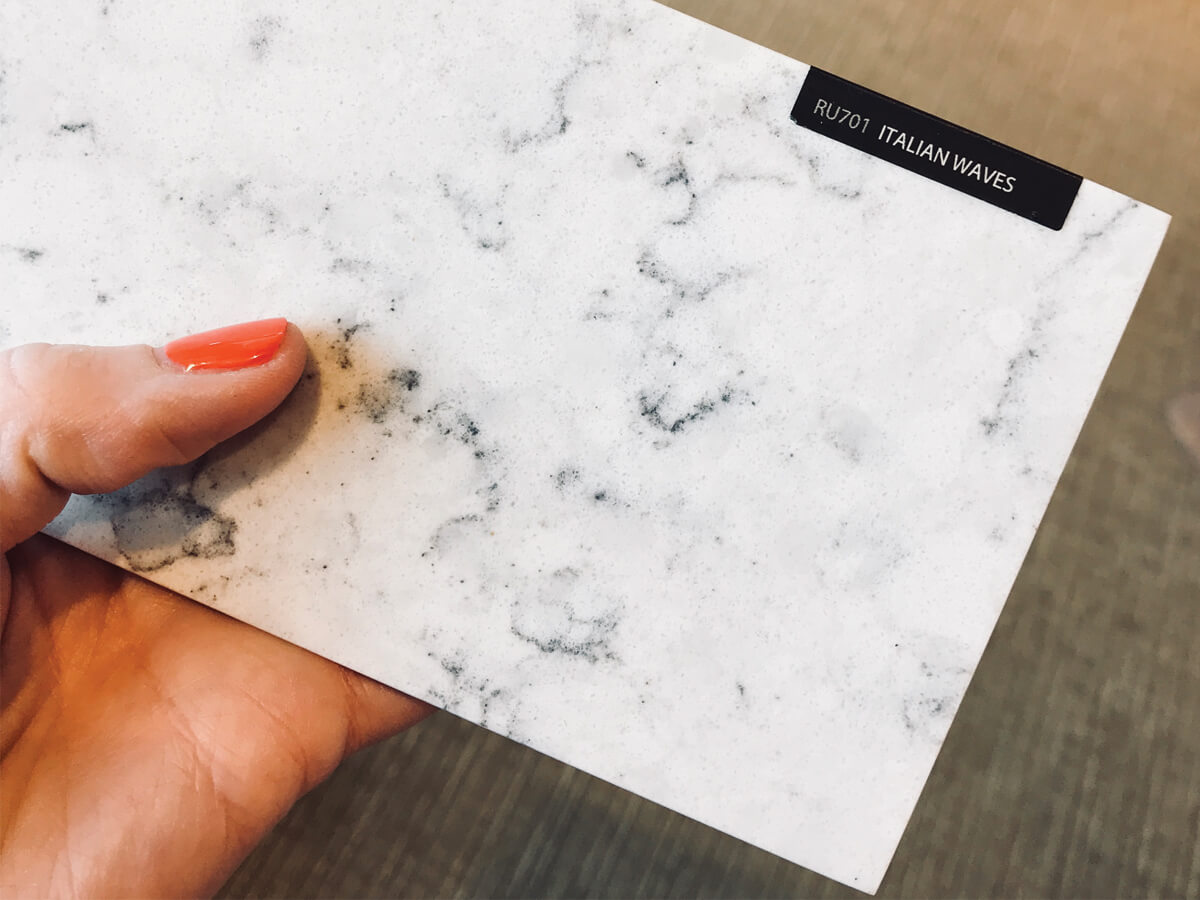 Next I thought, let's look at backsplashes.  I love the look of shiplap, but again, I'm prone to spills and make-up splatter, so I need something that I could easily wipe down.  Cue, this extra-large glossy subway tile.  I'd lay it staggered, or maybe herringbone style, from the vanity counter to the ceiling.  Yes, let's add it to the list!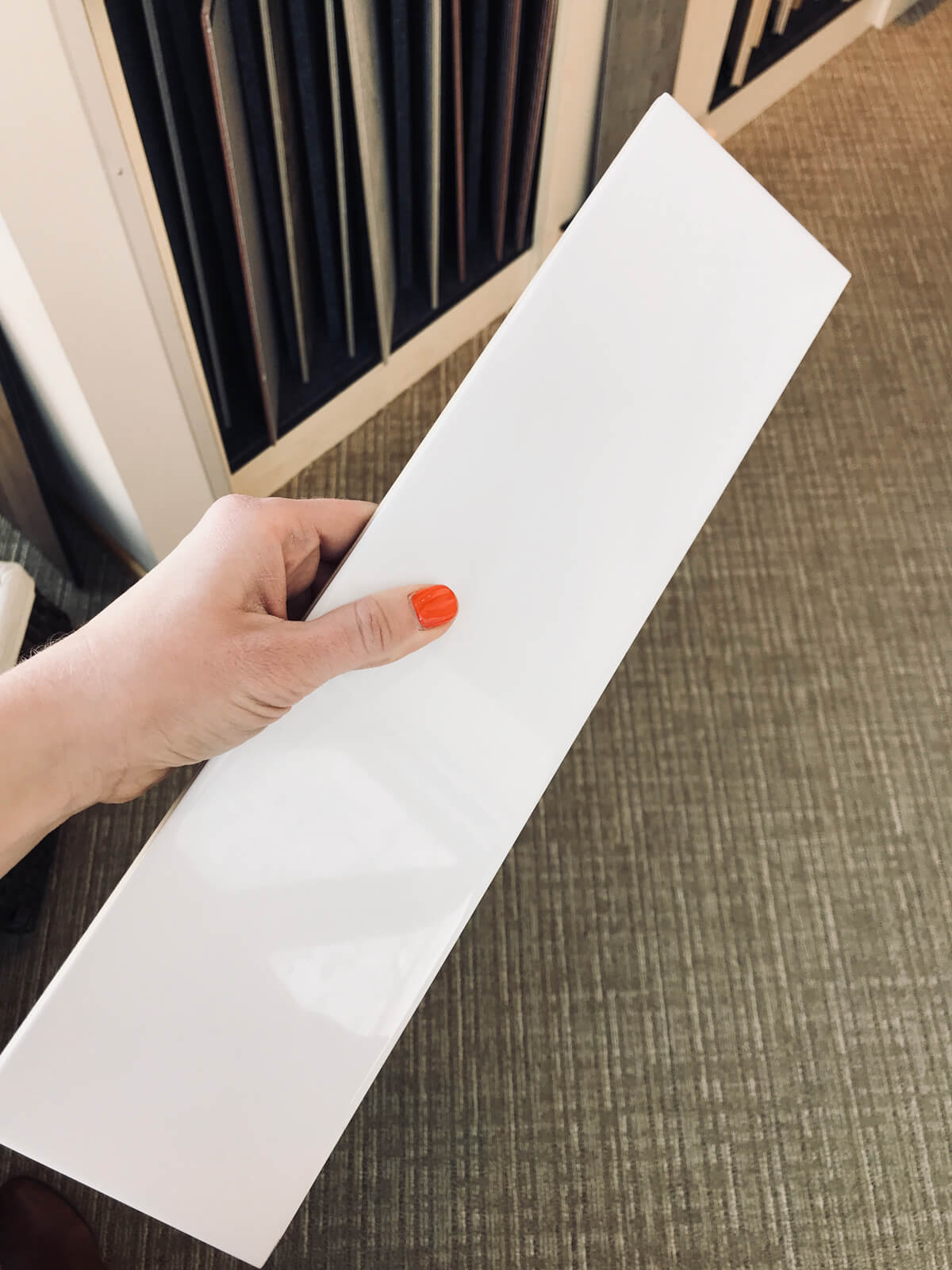 Now for the rest.  I decided to be slightly economical in flooring choices, and ended up choosing the Penny Lane Mannington flooring in "Limestone with Onyx".  I chose Hallman Lindsay's "Cloud" for my walls, to seamlessly blend into the oversized white subway tile.  I originally picked a charcoal grout, but now that I'm thinking about it, I think I'd pick white to keep with the flow that is going.  Lastly, I found some gorgeous Auburn Ridge shaker cabinets painted "Coal" – this will add so much drama, perfect!
After, I picked my Design Studio selections, I sourced the all of the other goodies that I'd love to have in my dream bathroom.  See source links below image.
Did you have a favorite piece?  Make sure to leave a comment below!  And watch for Jenn's post on Thursday, I got a sneak peek and it's so good!