Whether you love, or hate the holiday, Halloween is seen as a time of unique celebration and superstition. Thought to have originated with the ancient Celtic festival of Samhain, the holiday formed as people gathered around lit bonfires while wearing costumes in an effort to ward off roaming ghosts. In the eighth century, Pope Gregory III designated November 1st as All Saints Day and the evening before became known as All Hallow's Eve, later to be named Halloween.
Over time, Halloween has evolved into a community based, kid-friendly holiday that much to our delight, takes over the streets of our Veridian neighborhoods annually. To celebrate the light hearted yet spooky spirit of Halloween, we gathered up our ghoulish goodies and put them to good use in our Grandview Commons furnished model.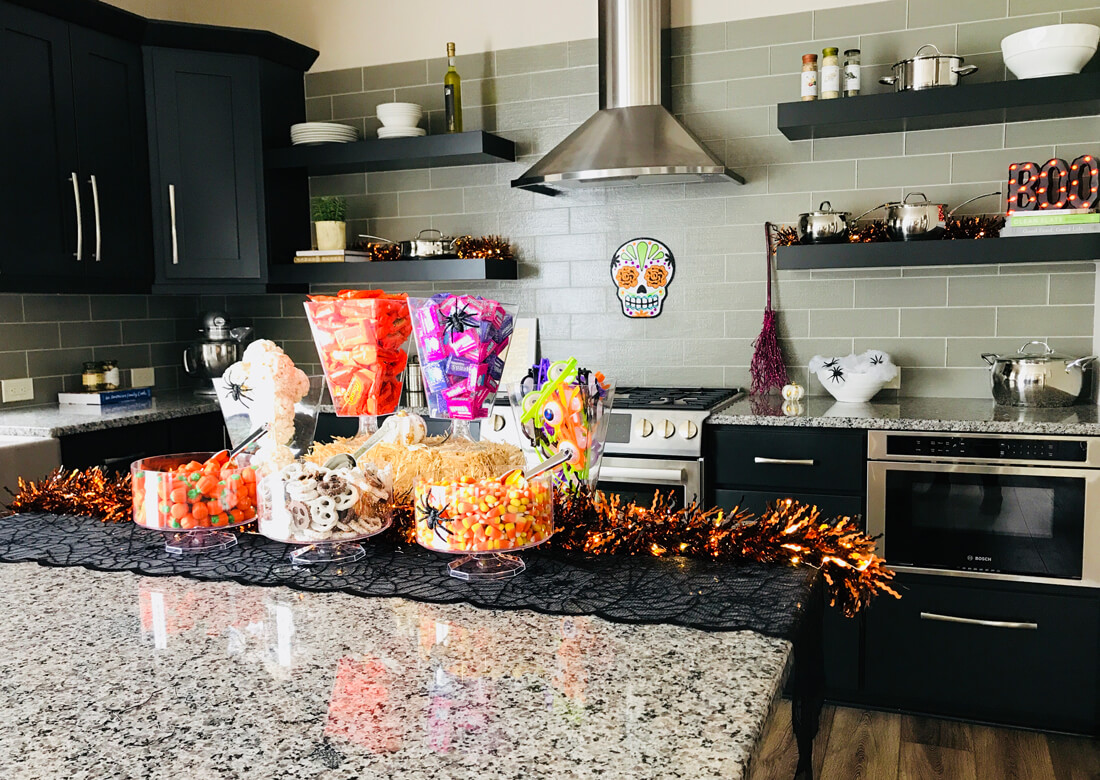 One of the best parts about this furnished model is the open kitchen, complete with a large island perfect for entertaining, or in our case, for setting up a delicious (and not so nutritious) candy bar.
To put together a Halloween candy bar of your own, start by bringing in festive textures and clear containers to show off your loot. We mixed it up with a spider web patterned lace runner, some orange and black garland and a small stack of hay for hierarchy in our candy display. Be sure to include some fun items other than candy (like these googly-eyed glasses), so those who are diabetic or watching their waistline can indulge as well.
Fun Fact: One quarter of all the candy sold annually in the U.S. is purchased for Halloween.
We had so much fun decorating the candy bar that we decided to decorate the kitchen as well. After all, these Coal painted cabinets with their gorgeous open shelving were begging to be made up.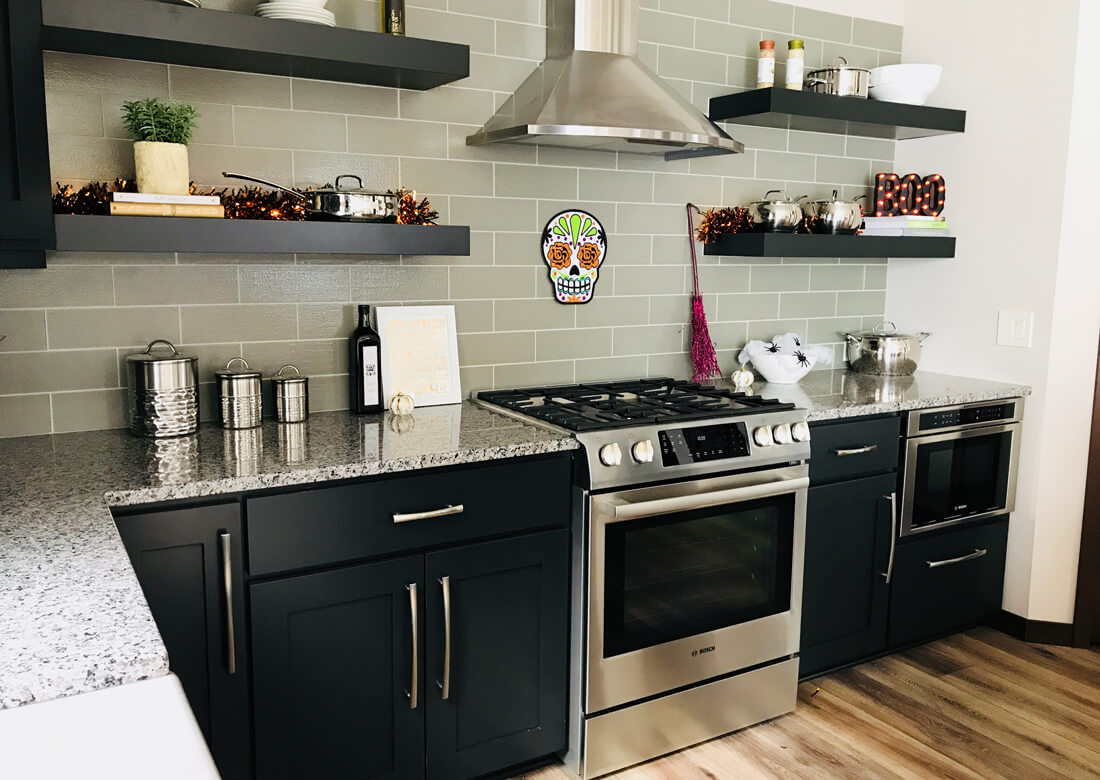 Keeping in mind that a homeowner would want to be able to easily access their kitchen supplies while working their culinary magic, we kept the décor simple with two matching strips of garland, a light up "Boo" sign, a colorful skull, a bowl full of fake glittery spiders (we know no boundaries when it comes to decorating for Halloween) and lastly a lovely little print from local artist, Lindsay Letters!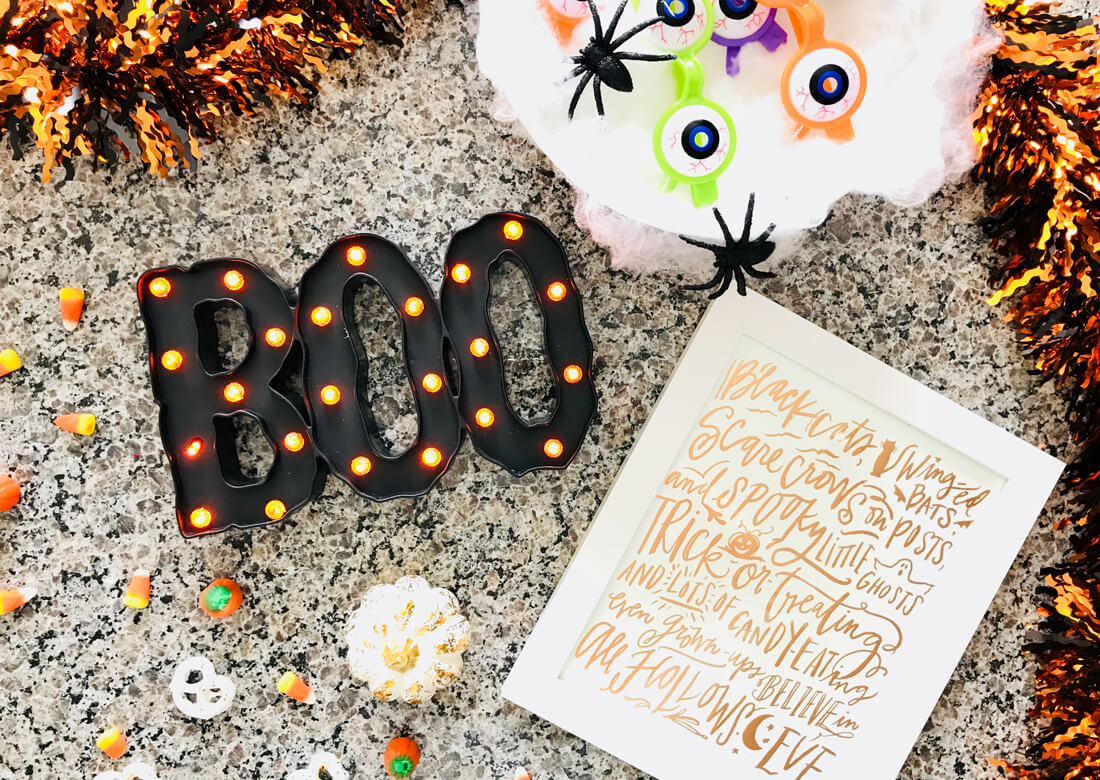 How do you incorporate the magic of Halloween throughout your home? How about throughout your Veridian neighborhood? Tell us in the comments below!